The Dead Don't Die in Lily Dale
Lily Dale Assembly in Western New York has offered mediumship since 1879
October 23, 2023 at 8:00 AM
As the leaves begin to change and fall, it is said in some traditions that the veil between the worlds of the living and the dead becomes thinnest. The month of October is especially known as a time of transition. When the days become shorter, we instinctively prepare to temporarily withdraw for the colder months ahead. The peacefulness of this slower, more inward time of year can especially be felt in Lily Dale, where the veil between the living and the dead always seems a bit thinner, regardless of the season.
A beautiful autumn drive, you can take the scenic route to Lily Dale from Erie in about an hour. Lily Dale is self-proclaimed as the largest Spiritualist community in the world, with its 160 acres governed by the Lily Dale Assembly. It is a hamlet, located in the town of Pomfret, New York, on the east side of Cassadaga Lake next to the Village of Cassadaga.
Lily Dale was incorporated in 1879 as Cassadaga Lake Free Association, a camp and meeting place for Spiritualists and Freethinkers. The name was changed to The City of Light in 1903 and then to Lily Dale Assembly in 1906. The name Lily Dale came from the abundance of lilies at the lake. The stated purpose of Lily Dale was to further the science, philosophy, and religion of Spiritualism. Lily Dale is home to the headquarters of the National Spiritualist Association of Churches (NSAC), which was founded in 1893.
Spiritualism is a movement based on the belief that departed souls can interact with the living. Spiritualists seek to make contact with the dead, usually channeled through a medium — a person believed by Spiritualists to have the ability to contact spirits directly. The town of Lily Dale is known for its registered mediums, many of whom allow visitors to knock on the doors of their homes, requesting readings. Lily Dale mediums are registered with both the Assembly and the Medium's League where they undergo testing and vetting "to ensure the highest quality mediumship," according to their website. Many who reside in Lily Dale are also ordained clergy with NSAC.
The hamlet of Hydesville, in Wayne County, New York is historically considered the original birthplace of Modern Spiritualism. It is alleged that communication between "the seen and unseen" began here on March 31, 1848 in the Fox Cottage. Margaretta and Catherine Fox, ages 14 and 12, are credited as the major participants in the Advent of Modern American Spiritualism. The Fox Cottage was later moved to Lily Dale for preservation and as a memorial. It was taken apart and shipped across Lake Ontario to Buffalo then driven by truck into Lily Dale where it was reassembled. The cottage was destroyed by a fire in 1955. The ground it sat on in Lily Dale remains a memorial and mediation garden open year-round for visitors.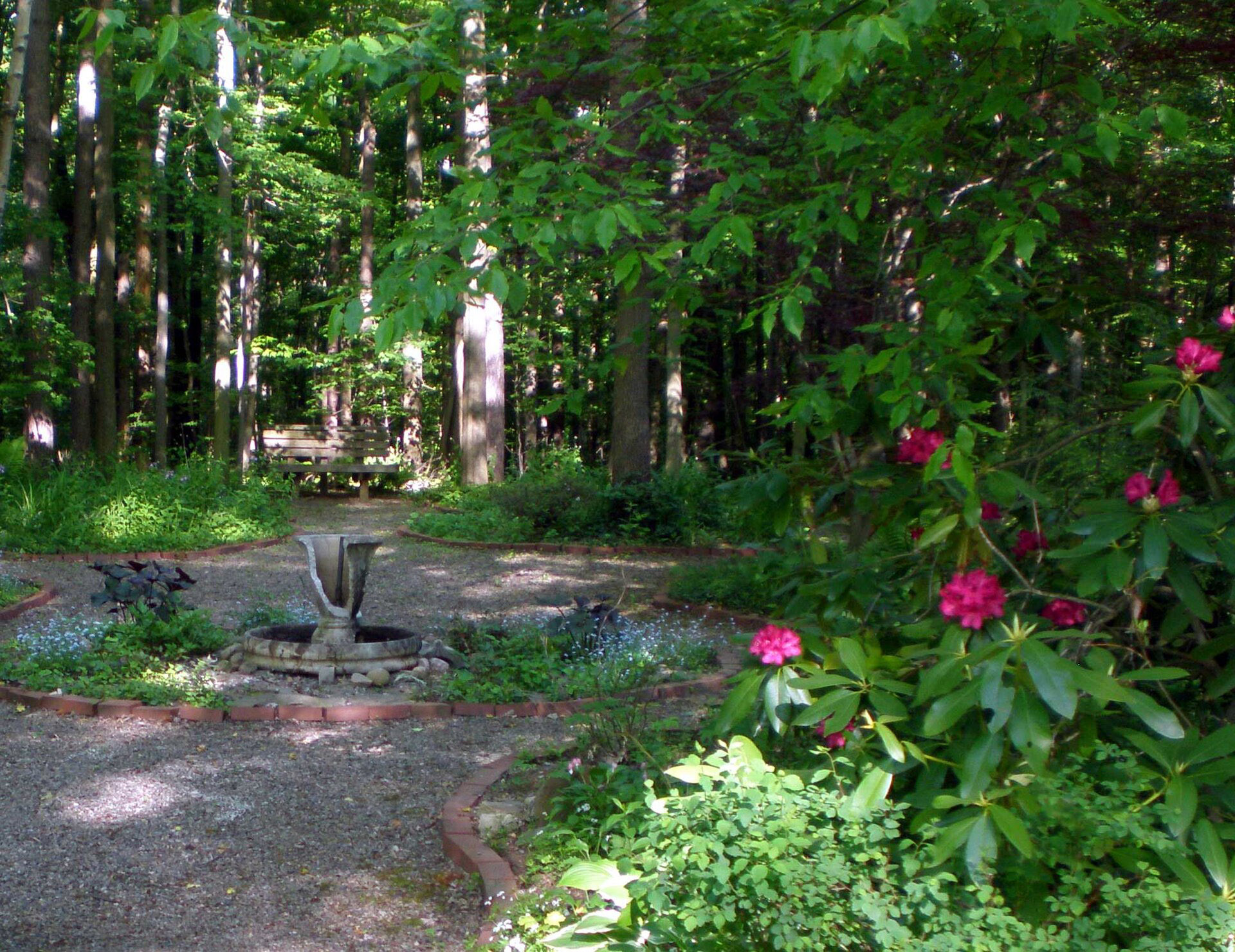 The Fox Cottage, long believed to be the birthplace of modern Spiritualism, was moved from Wayne County, New York to Lily Dale to preserve the sacred space. It burned down in 1955 and the spot where it once was is now a memorial and meditation garden.
Photo: Wikimedia Commons
In the 2011 documentary No One Dies in Lily Dale, many of the visitors portrayed are looking to connect, heal, find answers, and get closure with deceased loved ones. They travel from across the country and sometimes around the globe, with hopes of reconnecting with someone on the other side. But many say they are simply curious about what they may experience during a reading. "I just wanted to see what might come up," said Karen Hime, an Erie resident who visited Lily Dale with her family members. "I had a reading with one of the mediums and she knew about some specific jewelry that I had received after my mother's death. It was something there was no way she could have known," said Hime. "She talked a lot about my grandmother and how she was a baker and made big meals and took care of us," she said. Other family members had mixed reviews of their readings overall, but all said that they had positive experiences.
It is suggested that visitors make appointments with registered mediums before arriving, regardless of the season, but you can also check a sign at the post office to see which registered mediums are staying in residence year-round. There is also a list with contact information on their website. Registered mediums are also available for phone readings and contact information can be found on the Lily Dale Assembly website.
There seems to be a consensus among visitors that arriving at Lily Dale and passing through the community gates feels as if they are entering someplace otherworldly. The energy and peaceful nature of the town are just a couple reasons why many visitors are said to continually return. Many of the homes in Lily Dale are 19th Century Victorian, with some dating from the 1800s,  giving the town a feeling of time standing still. There is no fee to enter the gates during the offseason, which begins each year after Labor Day. Approximately 22,000 people visit Lily Dale each year, and about 250 residents are reported to make it their home. The grounds are completely walkable and much of Lily Dale is listed on the National Register of Historic Places.
Visitors not interested in receiving readings may find that the history and natural surroundings provide peace and space for quiet reflection. The area has plenty to do including outdoor activities and a walk through the Leolyn Woods, a small, 10-acre tract of largely untouched old growth forest on the grounds. The woods contain the Inspiration Stump, a spot that residents say may help you get in touch with spiritual energies if you are in an open, receptive state. The woods contain some of the most accessible old, large trees in the region, including an eastern white pine standing at least 135 feet tall. Some trees are estimated to range in age from 200 to 400 years old. The woods contain Lily Dale's pet cemetery, a final resting place for beloved pets since 1900. Lily Dale is also home to two hotels, guest houses, Spiritualist and New Age bookstores, restaurants, and a café.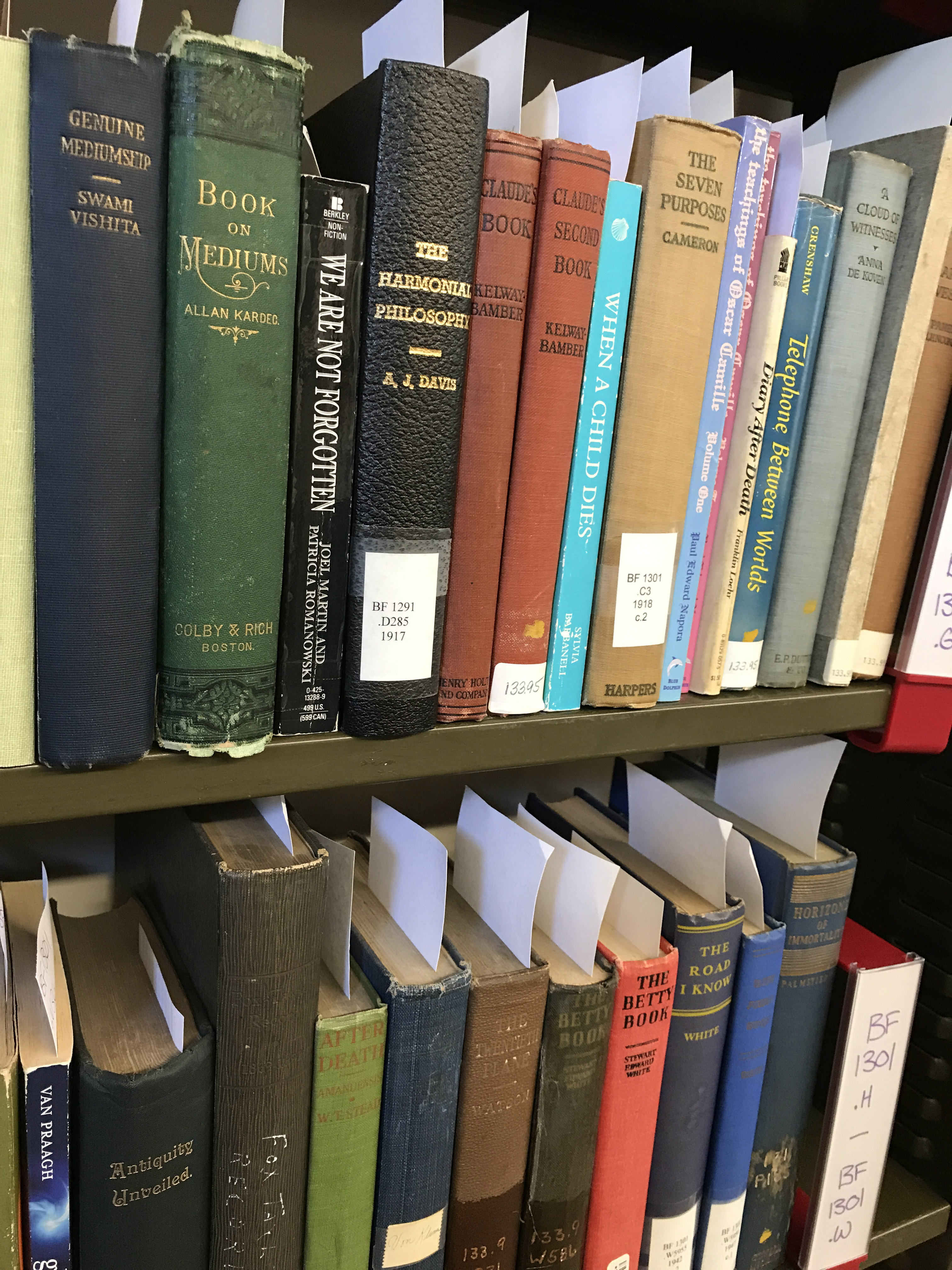 The Marion Skidmore Library was founded in 1886 and is closely connected to the history of women's suffrage. Marion Skidmore was one of the founders of Lily Dale, and was an advocate for women's rights, a liberal thinker, and a friend of Susan B. Anthony, who is said to have been a frequent Lily Dale guest. The library boasts the world's largest private collection of Spiritualist, New Thought, and psychic research materials, as well as rare books. It serves as an in-depth research library and is frequented by undergraduate through doctoral level students as well as lecturers, academic scholars, and authors. The grounds also contain a Spiritualist museum, and the Healing Temple where visitors can, when in season, attend a healing and message service. Churches offer seminars, development circles, classes, and activities throughout the offseason.
During the summer season, Lily Dale often hosts well-known speakers. Deepak Chopra, the late Dr. Wayne Dyer, and John Edward have frequently appeared at Lily Dale. Television mediums Lisa Williams and Michelle Whitedove are said to have homes in Lily Dale. The town has even served as inspiration for television episodes and a series of young adult paranormal novels by New York Times bestselling author Wendy Corsi Staub, who grew up a few miles from Lily Dale. A book about the town, Lily Dale: The True Story of the Town that Talks to the Dead, by Christine Wicker, offers more details on the town's fascinating lore and history. Through their registered mediums, lectures, and deeply rooted history, Lily Dale offers many visitors hope that just as the light will surely return, those who have left us will continue to live on.
Lily Dale Assembly can be found at lilydaleassembly.org or by calling (716) 595-8721. Their hours through the fall and winter are Monday through Friday 10 a.m. to 4 p.m.
Amy VanScoter can often be found in nature or teaching yoga and meditation at School House Yoga. She can be reached at avanscoter@gmail.com.