The Erie Reader Gives 2023
Who we're supporting on Erie Gives Day and why
August 2, 2023 at 8:30 AM
Over the last 12 years, Erie Gives Day has become so much more than an opportunity to donate to your most beloved nonprofits. Since its inception through the Erie Community Foundation in 2011, it has become a day of awareness (and, for many organizations, financial dependence) of those nonprofits making our communities richer, more fair, and more vibrant. And the folks behind the momentous day at the Erie Community Foundation (ECF) hope the day, along with the number and amount of donations, keeps on growing.
For those unaware, Erie Gives Day (this year happening on TUESDAY, AUG. 8 from 8 a.m. to 8 p.m.) is a county-wide donation event where local nonprofits can register their organizations to be included, and any donation made by anyone anywhere of $25 or more will receive a percentage match from a pool of funding from corporate sponsors (dubbed "Bonus Bucks"), including a substantial bulk sum from ECF itself (this year in excess of $250,000). This means that your individual donation gets a boost and your nonprofit is the beneficiary!
Erie Community Foundation President and CEO Karen Bilowith comments on the community's outpouring of support for the event, "Last year was my first Erie Gives experience. I was truly amazed at the demonstration of community generosity. The phones literally rang all day. In the end, Erie Gives raised over $8 million and more than 11,000 individuals participated. Extraordinary results for a community our size."
Extraordinary, indeed. The numbers have been climbing steadily since the inaugural year from an initial donation total of $776,435 to last year's astounding $8,178,207. That's a remarkable achievement of growth and shows the genuine care and generosity of Erie's community.
Most nonprofits rely heavily on grant funding, but grants usually come with restrictions on how those funds can be spent. Bilowith comments, "We hear from participating nonprofits throughout the year that they appreciate Erie Gives as it is a way to raise critical, unrestricted dollars for their organization. Many nonprofits consider Erie Gives their annual fund drive. Erie Gives also provides an opportunity for the organizations to share their story with a broad audience and secure new donors."
This year, the ECF is rolling out a new donation platform via Give Gab, which will provide more efficient service and a boost in security, while helping nonprofits promote themselves through upgraded video and image services available on their individual pages. This platform will also allow donors to cover credit card processing fees, so that the nonprofits and the ECF don't need to incur those costs.
Overall, the ECF is poised to make this their most successful Erie Gives Day yet, which will in turn make their community impact greater and effect positive change in the Erie area for all involved, on both large and small scales. Bilowith concludes, "Many nonprofits tell us they are feeling the impact of the economy, which means supporting your favorite nonprofit through Erie Gives is important and timely. The needs are great. Collective giving can make an impact."
You may already have the nonprofit in mind that you feel deserves your donation, but if you're on the fence, we've provided some information from our staff, editors, writers, artists, and photographers on the nonprofits they've chosen to support this Erie Gives Day. As always, we at the Erie Reader hope to help make 2023 the best, most successful Erie Gives yet!
To find the nonprofit closest to your heart, visit ErieGives.org on Tuesday, Aug. 8 and use the search bar to find their individual page to donate. Or you can drop off a check to the Erie Community Foundation by Aug. 7, 459 W. 6th St. or call (814) 454-0843.
Our Nonprofit Picks
Who's giving: Liz Allen, Writer
Who they are: Emmaus Ministries includes Emmaus Soup Kitchen, Emmaus Food Pantry, Sister Gus's Kids Café, Emmaus Grove urban farm and Listening Hearts, a monastic spiritual program for struggling women.
Why I'm giving: At the end of March, Sister Mary Miller and Sister Val Luckey, Erie Benedictines, invited me to do some part-time writing for Emmaus. Just as I finished a news release to announce Sister Mary's retirement as executive director of Emmaus (my first assignment) Sister Mary went into hospice care — she died days later, on May 14. Since then, I have seen firsthand the good work of Emmaus in helping Erie's most vulnerable people — those struggling with food insecurity, addictions, mental health issues, abusive relationships, layoffs, evictions, loneliness.
Dedicated staff members and legions of volunteers keep everything running smoothly; many have given of their time for decades. This year, I'm adding the Harry T. Burleigh Legacy Alliance to my growing list of Erie Gives donations. As Black history is being systematically erased, we must celebrate Burleigh's work as a composer, arranger, and singer to preserve the African-American spirituals that he learned from his Erie grandfather. Those spirituals include "There is a Balm in Gilead," promising to "make the wounded whole." Every day, Emmaus Ministries works tirelessly to make Erie's wounded whole.
Liz previously gave to: Urban Erie Community Development Corp (UECDC), All Aboard Erie, and the Sisters of St. Joseph Neighborhood Network
Who's giving: Brian Graham, Editor-in-Chief
Who they are: As the local chapter of this worldwide, iconic organization, the YMCA of Greater Erie has been strengthening our community for over 160 years by offering programs that "build a healthy spirit, mind, and body for all."
Why I'm giving: When I recently signed up for a family membership at the YMCA, it was my first time being a member since high school. I was immediately impressed by the sense of community I felt at the Eastside location in Harborcreek. The place was bustling with people, from children to senior citizens, and all were engaged in wholesome activities: kids playing basketball after school, fathers playing racquetball with their daughters, young and old alike learning the important and possibly life-saving skill of swimming. There's an abundance of programs, activities, and equipment, and no matter what you choose to do there, it's almost certainly going to make you a stronger, healthier person.
Bonus: The YMCA even offers free babysitting for kids six weeks to eight years, so you can leave your little ones in good hands while you do your workout in peace.
Brian previously gave to: United Way Imagination Library, Friends of the Erie County Library, Meals on Wheels, Hooked on Books, and Because You Care
Who's giving: Jessica Hunter, Media Editor/Photographer
Who they are: The Presque Isle Partnership is a "Friends of Presque Isle State Park" nonprofit organization established in 1994. Their mission is to enhance the Presque Isle visitors' experience by developing, funding, and implementing projects and programs on the park — thus enhancing our beloved 3,200-acre sandy peninsula while safeguarding its natural environment.
Why I'm giving: Presque Isle will always be one of my favorite parts about living in Erie. Erie's backyard is a picturesque coastline with an array of recreational activities — it remains a favorite destination for residents and visitors alike. The unique blend of sandy beaches and ecological diversity makes it Pennsylvania's only "seashore" —  a true gem. When you support the Partnership you're helping to fund improvements to public areas, public safety, and historical sites, and help bring more concerts, festivals, athletic events, and educational programs. These improvements will continue to enhance the way in which we enjoy our ecological treasure that is Presque Isle.
Jessica previously gave to: Lake Erie Region Conservancy, Inner-City Neighborhood Art House, NAMI of Erie County, and the Erie Humane Society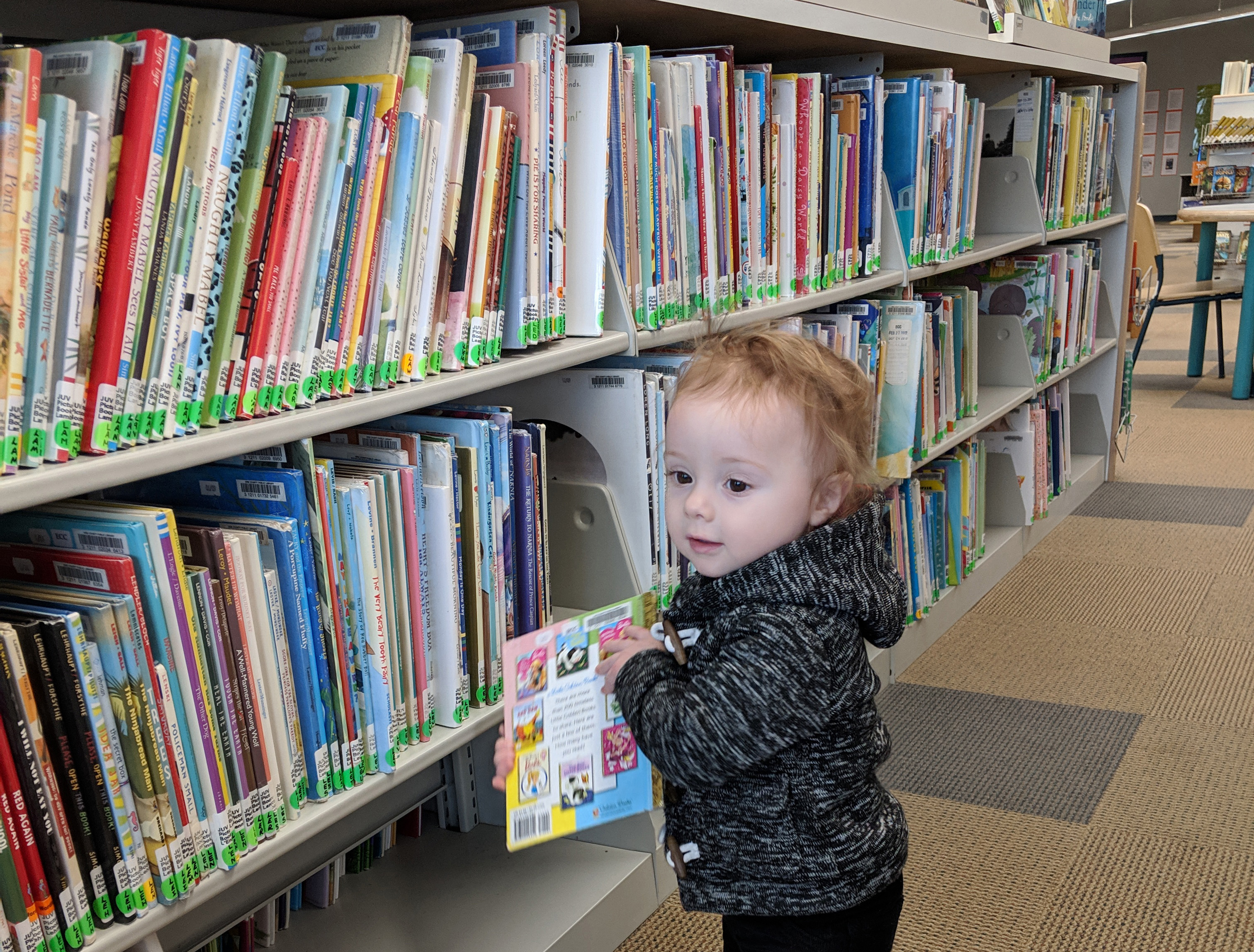 Managing Editor Erin Phillips is donating to the Friends of the Erie County Library this Erie Gives Day to help them fulfill their mission of bringing quality programming to the library – programming that Erin has utilized many times throughout her children's early years.
Friends of the Erie County Library
Who's giving: Erin Phillips, Managing Editor
Who they are: The Friends of the Erie County Library are a totally volunteer-run nonprofit that helps to provide support to the adult, teen, and preschool programs of our public library system. These classes help adults with job readiness, resume writing, and basic computer skills, while children's programs provide young people with extracurricular enrichment opportunities like STEAM programs, teen book clubs, summer reading programs, game nights, movie nights, and educational presentations. They also hold regular book sales at the library (selling donated books, so you can grab quite a pile for not a lot of money) and at their can't-miss annual Great American Book Sale. Each year they raise over $80,000 in funding for use at the library.
Why I'm giving: Reading is very important to me. Since I was a child, I have formative memories of visiting the old public library in Perry Square. These childhood trips to the library solidified my love of reading and so, when I had children of my own, visiting the library naturally became part of our weekly routine. Our daughter went through every childhood program there, from toddler storytime on up, and she still enjoys the tween book clubs (run by the incomparable Ms. Amberlee) and summer reading programs. Our younger son has followed in her footsteps, as he is about to age out of storytime programs when he enters kindergarten (this is very hard for me to accept). They are both early readers who love getting into a new book, and we have these programs, supported by the Friends of the Erie County Library, to thank for that.
The librarians at Blasco often feel like part of our family — they remember our children and will go out of their way to talk with them about the books they've chosen, engage them in an activity, or help them find a book. Any support we can give to them is the least we can do. Miss Amy (Daugherty), who passed away last year, was a shining light within those childhood programs for us. She was always so happy to see our kids when we visited, and we will be donating this Erie Gives Day in her memory.
Erin previously gave to: Erie Arts & Culture, Asbury Woods, and Our West Bayfront
Who's giving: Dan Schank, Writer
Who they are: Over the past decade, the annual Erie Pridefest has transformed from a tight-knit, grassroots gathering into a massive downtown celebration with thousands of participants and 110 vendors. Plenty of local organizations deserve credit for its growing scale, but the NWPA Pride Alliance has been at the very core of this momentum.
Since 2012, the Pride Alliance has hosted dozens of events celebrating the LGBTQIA+ community in the greater Erie area, including food drives, awareness campaigns, picnics, and happy hours in addition to June's Pride celebration.
Why I'm giving: One of the things I'm most proud of as an Erieite is our increasing dedication to LGBTQIA+ visibility. As I type this, our city council just voted to designate our city as a sanctuary for LGBTQIA+ individuals, for example. Still, reactionary rhetoric is seeping back into our politics (and libraries), so it's important to remain vigilant. NWPA Pride Alliance provides crucial support to anyone envisioning an accepting, diverse, fun, and fearless future in our community.
Dan previously gave to: Compton's Table, Inc., The Erie County Community College of PA, and The Multicultural Community Resource Center (MCRC)
Who's giving: Ben Speggen, Contributing Editor
Who they are: L'Arche is an international network of communities for people with and without disabilities to share life together. L'Arche Erie — which turned 50 last year! — is the oldest and largest L'Arche community in the United States.
Why I'm giving: I am giving because I have seen the power of L'Arche firsthand. I began my journey with L'Arche back in 2007 when I served as an assistant until we launched the Erie Reader in 2011. When I became eligible to volunteer on the board of directors, I immediately applied. I have been a part of the board since 2015 and am currently serving as the board's chair.
L'Arche has helped me gain a better, deeper perspective of the world and my place in it through shared moments with a rich and vibrant community. The work of this organization serves as a constant reminder that although we may not always be in a world that is just, we must endeavor to make the world a more just place.
Bonus: Because L'Arche goes beyond Erie, you can see the work L'Arche USA is doing on their website, and consider making an additional donation with nationwide and global impact.
Ben previously gave to: WQLN Public Media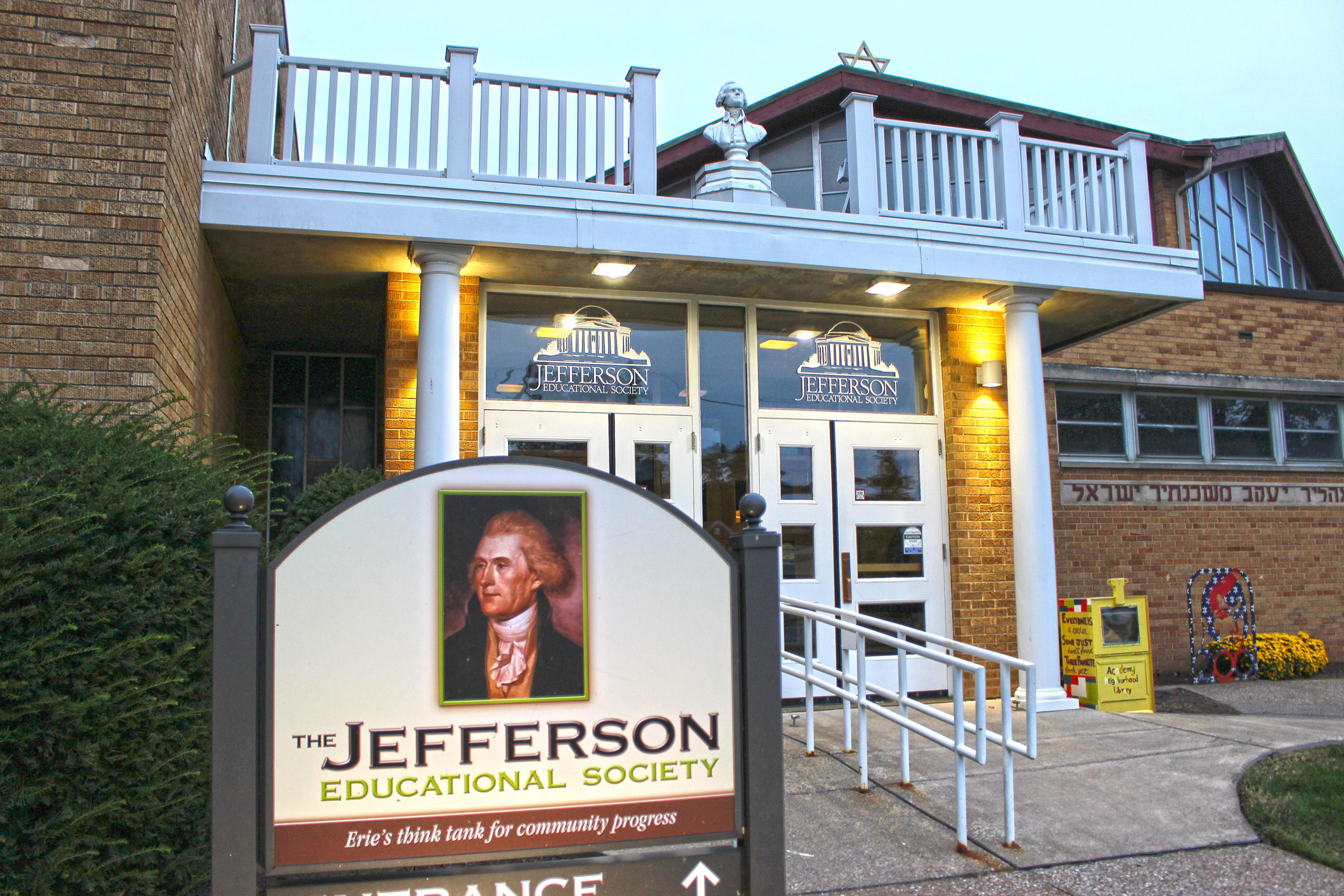 Editor-in-Chief Adam Welsh is choosing to give to the Jefferson Educational Society in their first year participating in Erie Gives Day.
Foundation for Sustainable Forests
Who's giving: Melissa Sullivan-Shimek, Comic Artist/Writer
Who they are: The nonprofit Foundation for Sustainable Forests not only protects thousands of forested acres through stewardship of the ecosystems, but also supports local rural economies who benefit from their logging practices. They commit themselves to the health of the woodlands through considerations of sustainability and restoration, mindful of diversity, and resilience over value. Their commitment to community education and recreation is as impressive as their proactive devotion to biotic communities.
Why I'm giving: See that beautiful 150-year-old home on your block? Remember seeing the greedy landlord chop it up into three or four separate units — drywalling over doorways, turning closets into kitchens, and slapping flat white paint over hardwood floors and built-ins? Now think of thousands of wooded acres, filled with 150+ year old trees being parceled into crops, prefab homes, and another Dollar General. The group Foundation for Sustainable Forests is reactive to the needs of our Pennsylvania woodlands. Creative, committed management and education are our strongest weapons against human and biological threats to our forests.
Bonus: Other local conservation efforts involved with Erie Gives Day include Asbury Woods, LEAF, French Creek Council, PennFuture, and Lake Erie Region Conservancy (among others).
Erie Arts & Music Festival (d/b/a Erie Blues & Jazz Festival)
Who's giving: Matt Swanseger, Copy Editor
Who they are: Synonymous with Erie Augusts, the Erie Blues & Jazz Festival welcomed world-class musicians to Frontier Park for 30 years running, with the exception of the pandemic year in 2020. Unfortunately, due to complications in planning and funding the event, it was canceled in 2023. Free for the community to enjoy each year, it had been an almost guaranteed slam dunk summer weekend that many were sad to see go.
Why I'm giving: What are the sultriest days of the Erie summer without the sultry sax solos to match? The blues and jazz genres are both foundational to my musical tastes, and continue to feature some of the most extraordinarily gifted musicians in the world. With things like artificial intelligence encroaching on humanity's most sacred territory, I believe it is vital to champion real artists and real art any chance we can get. I feel the Erie Blues & Jazz Festival always exemplified that, and I hope for a strong resurgence in 2024.
Matt previously gave to: Erie Food Rescue, The Performing Artists Collective Alliance (PACA), Erie Together, Bayfront Maritime Center, Asbury Woods, and the Tamarack Wildlife Rehabilitation and Education Center
National Alliance on Mental Illness (NAMI) Erie County
Who's Giving: Nick Warren, Contributing Editor
Who they are: The National Alliance on Mental Illness (NAMI) Erie County is a branch of the nation's largest mental health organization. Their mission statement is simple, being "dedicated to improving the quality of life for people with mental health challenges and their families through support, education and advocacy." Through awareness campaigns and ongoing programs, NAMI seeks to break the social stigma around mental illness, and push for increased funding for their treatment.
Why I'm giving: As someone who has struggled with depression and anxiety (as well as ADHD) all my life, this is an important subject to me. Mental illness touches nearly every important person in my life as well, mostly on a direct level. Being able to talk about our mental health struggles is essential these days, and doing anything to break the stigma around that is a cause worth joining.
Nick previously gave to: Community Access Media (CAM) Erie, Erie Latino Leadership Association, Greater Erie Alliance for Equality (GEAE), Erie Animal Network, Dramashop, and the Performing Arts Collective Alliance (PACA)
The Jefferson Educational Society
Who's giving: Adam Welsh, Editor-in-Chief
Who they are: Founded in 2008, the mission of the Jefferson Educational Society (JES) is to "promote civic enlightenment and drive community progress for the Erie Region through the study, research, and discussion of ideas and events that have influenced the human condition." In addition to their annual signature event, the always-impressive Global Summit, they offer a wide variety of courses, seminars, and lectures throughout Erie County with a focus on explaining the ideas that have formed our past, assisting in exploring the present, and offering guidance to enhance the civic future of the Erie region.
Why I'm giving: Erie's think tank celebrated their 15th anniversary this summer, and has grown over those years into one of our most important resources. The Reader has partnered with them as far back as the Perry 200 celebration in 2012, and we watched with great interest as they became the launching pad for so many of our community's most vital and transformational discussions. My collaboration with the JES grew further when I became the program coordinator of the Jefferson Civic Leadership Academy (JCLA) after completing the program in 2021. That experience has given me a new perspective and a renewed sense of engagement with the community, and that's something that I feel speaks to the heart of what the JES gives to us all.
Adam previously gave to: Career and Dreams, Erie Women's Fund, Film Society of Northwest Pennsylvania, Lake Erie Region Conservancy, and LifeThruMusic
Who's giving: Jim Wertz, Contributing Editor
Who they are: Luther Memorial Academy is a small private K-8 school tucked away on West 11th Street in Downtown Erie. Founded in 1976 as a mission of the Luther Memorial Church, the school provides a strong education that helps students grow academically and socially throughout their elementary and middle school experience.
Why I'm giving: Luther Memorial Academy (LMA) celebrates one of the most socially and economically diverse school environments in Erie County. Students there come from families within the City of Erie and throughout Erie County. Strong academic programs are reinforced with extracurricular programs like athletics and its award-winning Lego League team. The majority of LMA graduates attend Erie Collegiate Academy upon graduation. Its low tuition rates make the school affordable for most, and its scholarship programs make sure it is accessible to all. Contributions to Luther Memorial Academy on Erie Gives Day will help support those academic and scholarship programs that have made the school one of the many bright spots in the Gem City.
Jim previously gave to: The Erie Philharmonic, The Erie Police Athletic League, The Urban Erie Economic Development Corporation, the Sisters of St. Joseph Neighborhood Network, and The League of Women Voters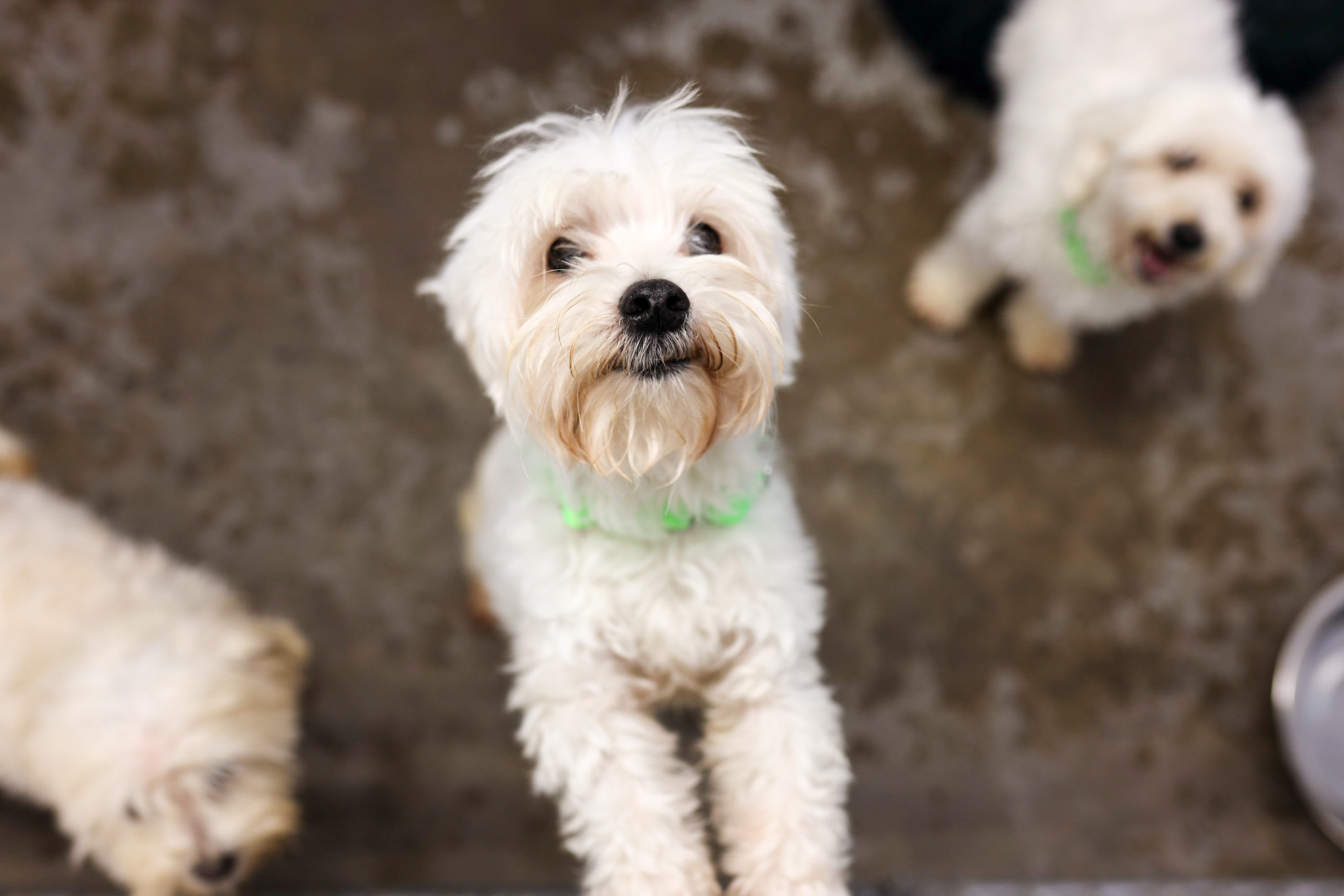 Contributing writer Larry Wheaton is choosing to give to the ANNA Shelter this Erie Gives Day. Their mission of caring for the needy and neglected animals of Erie is personal to him, as he adopted his beloved cat Miles from their shelter eight years ago. (Photo: Jessica Hunter)

Who's giving: Larry Wheaton, Writer
Who they are: The ANNA Shelter was founded in June 2004 by Ruth Thompson, with the goal of giving a warm and loving home to unwanted, stray, abused, or neglected animals. The Association for Needy Animals is a nonprofit with a no kill policy that provides a nurturing and loving environment for animals where they can either be reunited with their owners or placed into new forever homes.
Why I'm giving: While working as a news producer one of my duties was to schedule the Adopt-a-Pet segment; this is where I got to meet not just Ruth from the ANNA Shelter, but many of their residents. I would hear the tragic tales of these animals along with the uplifting stories of the people who rescued them. So when I was ready to adopt a cat in 2015, I went to the ANNA shelter, where I met my Miles, a tabby cat. He was badly injured with part of his front paw missing, had a torn ear, and was very skinny. The care they provided saved his life and helped get him into a caring home where he has become a very loving and social cat. Since adopting Miles over eight years ago, I have donated annually to the ANNA Shelter on Erie Gives Day.
Bonus: Animal rescue takes a village. In addition to the ANNA Shelter, the following animal welfare nonprofits are participating in Erie Gives Day: Because You Care, Erie Area Rabbit Society and Rescue, Erie Humane Society, and Happy Bark.
"Previously gave to" notes only reflect previous write-ups that appeared in the Erie Reader.