The Erie Reader Guide to the 2012 Blues and Jazz Festival
Once again, Erie Art Museum director John Vanco has cobbled together a strong lineup culled from several genres and sub-genres of Blues and Jazz. I recently sat with him to discuss the lineup for this, the 20th Annual Erie Art Museum Blues and Jazz Festival.
July 25, 2012 at 12:30 PM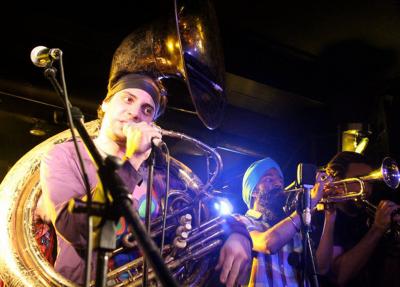 Once again, Erie Art Museum director John Vanco has cobbled together a strong lineup culled from several genres and sub-genres of Blues and Jazz. I recently sat with him to discuss the lineup for this, the 20th Annual Erie Art Museum Blues and Jazz Festival.
Saturday, August 4, 2012
Noon - Shades of Polynesia
This DC-based group of pan-Polynesian dancers includes members from Hawaii, New Zealand, Samoa, Tahiti, and Tonga. "This is Kelly Armor's initiative," said Vanco. "We brought them into Erie for the week preceding the festival. They're going to be meeting and working with dancers from the Bhutanese community here in Erie and sharing their various traditions and techniques, but we look at it as an opportunity for the Bhutanese community to learn from the Polynesians because these people have already gone through the process of interpreting their traditions in a way that they can be shared with the broad public."
2 p.m.  - BluesBeaters with Celtic Brass
These guys claim that they will beat your blues away, which, to me sounds a lot like "the floggings will continue until morale improves." Nevertheless, they are a versatile and veteran ensemble sure to whet your whistle, if not bloody your nose, with their modern interpretations of the Blues. "These guys have been around forever," Vanco said. "I've invited them repeatedly to play at the festival, and each time they've had a gig. So, finally, we can put them in the festival; the 20th anniversary is their first appearance."
4 p.m.  - Travis "Moonchild" Haddix
Old favorite Travis "Moonchild" Haddix is from Mississippi, but a part of north Mississippi that's just 30 miles from Memphis, which, for a Blues guitarist, is like having B.B. King for your daddy and Albert King for, umm, your other daddy? I don't think that type of family structure is permitted in Mississippi, but…anyhow, although he's been based in Cleveland for some time now, Moonchild's Mississippi cred is legit – he's a veteran bluesman with a firm command of his axe and an inborn knowledge of the critical, subtle inflections demanded of Blues vocalists. "He appeared at the festival quite awhile ago, and it was quite a night. These guys have a repertoire of like 200 songs. It's a really tight band, and Travis is just the sweetest guy," said Vanco.
6 p.m.  - Super Chikan
James "Super Chikan" Johnson continues the Mississippi vibe, albeit from a bit further south – Clarksdale. If this obscure little town sounds familiar to you, give yourself a pat on the back – you know your Blues. Usually, the adjective "fabled" precedes the proper noun "Clarksdale," and with good reason – it's the crossroads of the fabled (see what I mean?) Highway 61 and the fabled (again!) Highway 49, where Robert Johnson sold his soul to the Devil for tragic immortality.
"He's the real deal," Vanco said. Nowadays, Super Chikan is a regular at the Morgan Freeman-owned Ground Zero – a Blues club in Clarksdale – and is rumored to be God Himself's favorite musician. Super Chikan's playing is possessed of gritty authenticity that other Delta players often lose with electrification; one way he retains that authenticity is with the guitars he creates from shotguns, axes, ceiling fans, and cigar boxes. "I ran across him because of his guitars – somebody sent me a link to a video. I hadn't heard of him prior to that; I tried to get him last year, but he was already booked, and so this year, he was the first one I lined up," Vanco continued. "I'm really excited about him; he's a great Mississippi bluesman, he comes out of John Lee Hooker and Howlin' Wolf. But it's all his own music. He does his own songs. There's some topical material, and I always like that, and of course there's the guitars, which are amazing." No disrespect to the other fine artists in this year's lineup, but this is my can't-miss performance of the day.
8 p.m. - Oliver Mtukudzi and the Black Spirits
Ah ha! I see what you're trying to do here, John Vanco. Ever the teacher, you start us off with the Blues Beaters at 2 p.m., Moonchild at 4 p.m., and Super Chikan at 6 p.m.; as time moves ever-forward on Saturday, you hold our hands and walk us backward through the Blues – from contemporary Blues, to the Stax era, to the Delta, and then finally back into dusty African antiquity with Oliver Mtukudzi and the Black Spirits at 8.
Although I'd call Mtukudzi a bit more of an Afro Pop or World Beat artist along the lines of Fela Kuti, if you don't hear the roots of the Blues in Oliver's phrasing and pentatonics, you haven't been paying attention all day long and will probably fail Vanco's pop quiz that's sure to crop up Monday morning.
"If people don't already know it, they're going to learn that you don't have to understand what they're signing in order to enjoy the music," said Vanco. "That's something that's always been a part of my enjoyment of music; I've never been a big one for understanding the words [laughs], even when they're in English. I mean, the ability of music – this pure, abstract sound – to cut across culture is going to be clearly demonstrated by Mtukudzi's performance."
Sunday, August 5, 2012
Noon  -  Glarner Group
Vanco likes to give the Jazz traditionalists their fix nice and early every year, which is why he tapped the Glarner Group as Sunday's opening act. "They play traditional Jazz, which is the classical music side of Jazz, where musicians are playing melodies and arrangements that were done by the original artists many years ago. Unlike contemporary Jazz, which is a constantly evolving thing that is looking for a new way of expressing ideas, traditional Jazz is more like classical music in that you're trying to capture that sound of Jazz in the first half of the 20th century."
2 p.m.  - Allen Zurcher Quartet
For a long time, this spot was occupied by "TBA," which I assumed meant "To Be Awesome." I was right.
I just caught these guys – the Allen Zurcher Quartet, not TBA – at the opening reception for the Blues and Jazz Walk at the Erie Art Museum just a few weeks ago, and they wowed the crowd with a cool version of the Gil Evans tune "So What," made famous by Miles Davis. On Sunday, they'll add a special guest – trombonist and composer Chris Dempsey – to Jim Madden's keys, David Blatez's bass, Matt Ferguson's drums, and Zurcher's sax.
4 p.m.  - Mary Alice Brown
Mary Alice Brown currently reigns as Erie's "Queen of Jazz" and John Vanco has given us, her loyal subjects, yet another opportunity to hear her royal proclamations. "I don't think I can say anything about Mary Alice Brown that hasn't already been said," he told me. "Mary Alice has been on the festival lineup many times; it's been several years since she's been on there though. I specifically had in mind that I wanted her on there for the 20th anniversary show. Same with Travis ["Moonchild" Haddix]. Both of those, I anchored the middle of each day with an old favorite."
If you miss the Queen's royal proclamations at this year's Blues and Jazz Festival, Mary Alice Brown currently holds court the first Monday of every month from 6 to 9 p.m. at the spacious, elegant, and oft-overlooked BayBreeze Lounge, 25 W. 10th Street. Drop by this cool spot, kiss the ring, and enjoy an Apple Martini or six.
6 p.m. – Lee Konitz Trio
It's hard to overstate the Chicago-born saxophonist Lee Konitz' influence on Jazz – Cool Jazz, in particular. This guy's been performing professionally since before you were born, unless you're older than 67, in which case, congratulations!
You know that record, that one record you always throw on the turntable when you're cooking dinner for your friends, drinking wine, laughing, talking, having a great time and life doesn't seem to be able to get any better? Yeah, you know the one – "Birth of the Cool." Yeah. He's on that, so he's obviously worked with Miles Davis; he's also worked with Stan Kenton, Gerry Mulligan, both Bill and Gil Evans, and Max Roach, but don't overlook the hundred-plus albums he's released as band leader. People like this get the words "legend" and "special" thrown around in the same sentence as their names.
"He is a legend. He is truly a legend," Vanco said of Konitz. "I wanted something really special; I wanted it to be something kind of mainstream in the sense of an act that will appeal to the die-hard Jazz fans. I found out he was available, and I called around to a few people, because he's in his 80s, and they had seen him within the past few years, and they said, 'Yeah, he's playing great!'"
8 p.m.  - Red Baraat
"Sunny Jain [of Red Baraat] has been corresponding with me for some time," Vanco said. "He's had a number of conventional Jazz groups over the years."
Whatever that means, Red Baraat is the opposite of that. Their website proclaims them "Bhangra Funk Dhol and Brass," and if you're like me, there are at least two words in that last quote that you are unfamiliar with. Those words are neither "Funk" nor "and" nor "Brass." Bhangra is basically Punjabi Indian music filtered through Britain. A Dhol is a big ol' double-headed drum.
"It's an exciting, different kind of music, because it mixes that north-Indian element into Funk and Jazz and whatever else you call what Sunny does, and I really like that," said Vanco. In just over three years, Sunny Jain and Red Baraat have both crafted and circumscribed an intense and manic genre of music that reminds you of a brassy New Orleans second line comprised of Punjabis playing a house party in Brooklyn for a bunch of Beastie Boy-George Clinton fanatics. Again, no disrespect to the other fine artists in this year's lineup, but this is my can't-miss performance of the day.
Want more information on these bands? Check out Vaillancourt's Web Exclusive on www.ErieReader.com for clips, quotes, and interesting tidbits of knowledge about this year's stellar Erie Art Museum Blues and Jazz Festival.
Want to comment on this story? Click here!