The Historical Institute of Culture and the African American Experience
Erie's new art and cultural center: where creation meets curation
Appreciation for and involvement in Erie's rich art scene should not depend on the size of your wallet. That's one takeaway Mabel Howard has after the successful opening of Break Free, the inaugural art exhibit at the new Historical Institute of Culture and the African American Experience (HICAAE). An opening-night reception for the art show was held on June 15 as part of Erie's multifaceted Juneteenth celebration.
Many in Erie, including people of color, assume that you need a wealthy pedigree to become an artist or even just to pop into an art gallery, Howard said. "I want to take that stigma away," she said. "Art is created for all to enjoy and should be part of everyone's life. Just as important as going out to dinner, art should be part of the African American experience."
Howard, 45, owns the 7-10 Café with her mother, Thelma Blanks. She also works as a health and wellness educator at Bethany Outreach Center, and she shares her poetry as "Mabeline the Artist" at the 1020 Collective and other outlets.
Adding one more activity to her busy schedule — curating the art that graces the first-floor walls at the cultural institute — doesn't slow her down, because creativity has been part of her DNA since her mother taught her the "art form" of martial arts at age nine, she said. When her mother became ill in 1992, Howard, a teenager, took over running the martial arts studio. "I had to learn the importance of guerrilla marketing at a very young age. I understood how to make things happen with little, so therefore when I was given more, that just flowed over into this new sector," she said. "Even at 14, I knew I wanted to bring people together and give them something positive and fun to look forward to."
The HICAAE has already brought people together, starting with Howard, Bishop Curtis Jones Sr. and Pastor Vickie Jones, the bishop's wife of 48 years. The institute is housed at the New Life and Spirit Revival Center, 315 E. Ninth St., formerly St. Mary's Catholic Church, where the Jones family holds their worship services.
In 2017 when they bought the historic church building, which dates to 1854, and the adjoining priests' residence, built in 1922, they started to imagine how to repurpose the 33-room rectory, with its finely crafted woodwork, tiled fireplaces, beamed ceilings, leaded-glass bookcases and cabinets, into a community hub.
"The artists were a great place to start," said Bishop Jones, as he led a tour through the former rectory after the artists introduced themselves at the opening reception. The idea is to hang art on the walls of three floors of the building, which boasts 9,700 square feet, and to use the rooms themselves to display local, national, and international African American museum artifacts. There will be both permanent and mobile museum exhibits, he said.
"Erie is sort of late coming" to the concept of developing an African American history museum, Jones said. "We want to take it to a whole other level that Erie has not seen."
One inspiration for him is the National Civil Rights Museum in Memphis, Tennessee. Vickie, his wife, fondly recalls visiting the Erie Public Museum every Saturday when she was growing up on West Second Street. Her widowed mother, Mattie Riley, welcomed the opportunities the museum presented for her 11 children to explore and learn from the exhibits.
That museum, now the Hagen History Center, left a huge, positive impact on her, she said. But no one at that museum "looked like me." When today's youngsters and future generations visit the new cultural institute, they will see artists who resemble them and learn history through the lens of the African American experience. "It's hard to know where you are going, if you don't know where you're coming from," she said.
In addition to the art gallery space and the museum exhibits, Bishop Jones revealed other plans for the institute building — using the library for a collection of African American literature, adding retail space in the dining room to support the museum, opening a café in the basement, hosting lectures and creating the Frederick Douglass Think Tank. The worship space in the old church will continue to be used for services, because "the church has always been the heart of the African American community," he said.
Bishop Jones has also been conversing with Bishop Dwane Brock of Victory Christian Center, whose own revitalization project, the East Side Renaissance, is centered on Parade Street, around the corner from New Life and Spirit. "I think we're going to enhance one another," Bishop Jones said.
Indeed, "unity in the community" was one of the themes sounded at the artists' reception. "This is a movement of God that has been a long time coming," Vickie Jones said. "I've been in Erie my whole life. I love Erie but unity is one of the things that has been missing. There is a message in each one of these art pieces."
The art exhibit, which will be expanded and updated quarterly, mostly focuses on visual arts but poets and essayists also have their work displayed. Roland Slade also has a multimedia piece with a video component.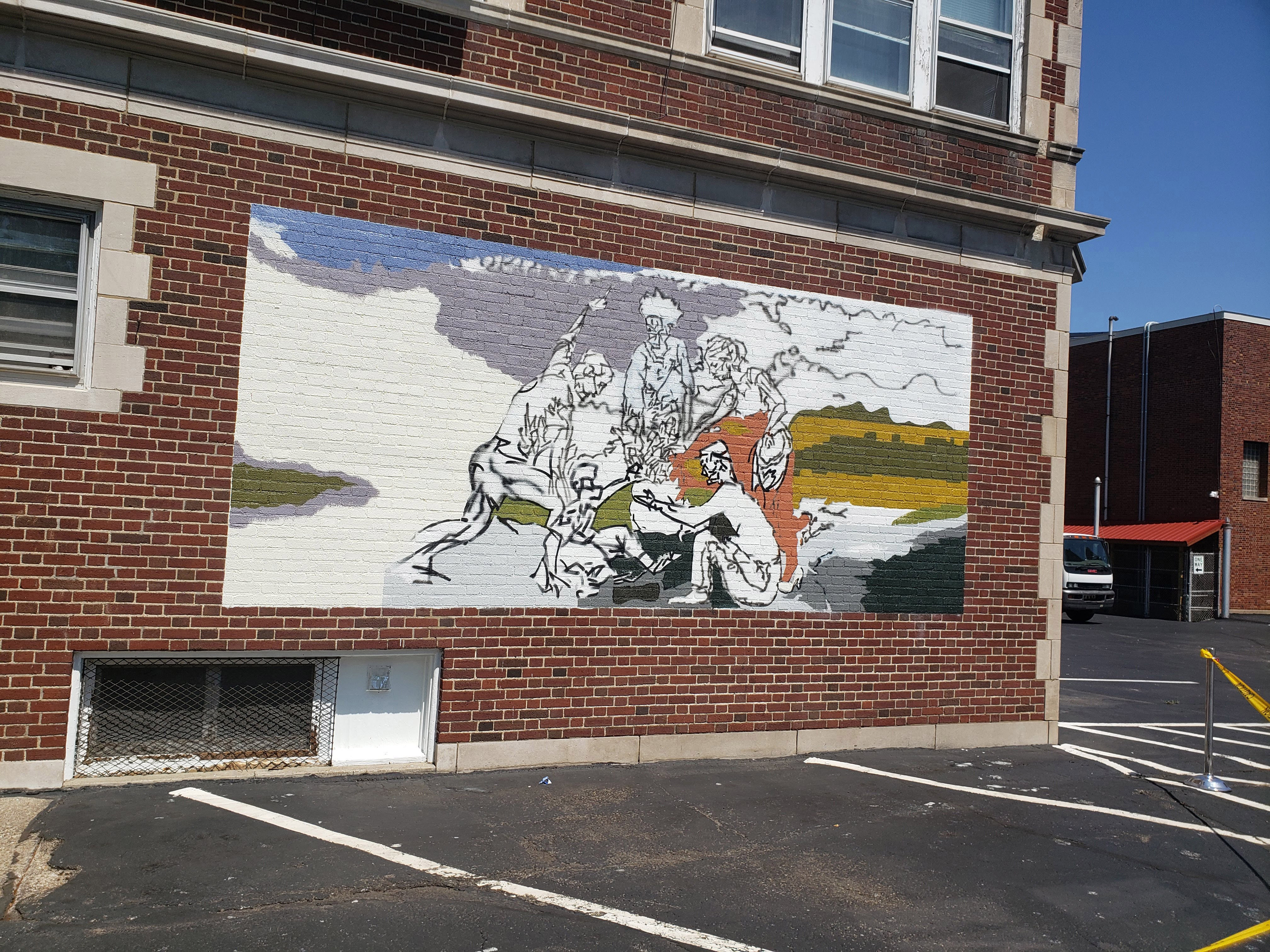 Artist Antonio Howard is leading the work on a new mural on the west side of the Historical Institute of Culture and the African American Experience at 315 E. Ninth Street. Volunteers are welcome to help complete the mural, which is now in outline form.
The exhibit's featured artist is Antonio Howard, known for his Erie murals and for his candor about his 26 years in prison, starting at age 15, until he was paroled in 2018. His work at Break Free includes the stunning piece in which two skeletons embrace, Prison Is Where Relationships Go To Die, in the front hallway. He is currently working on a mural on the west side of the rectory, depicting four adults lifting up a child.
Mabel Howard is quick to acknowledge the positive influence of Antonio Howard, her "older, famous cousin," on her work. "We have a very special bond. We always encourage each other and continue to help each other open doors," she said.
Like the artists whose work is exhibited, Mabel Howard cherishes several "wow" moments and the mentors who led her to become an art curator. Her idea to create art space for people of color in Erie dates to her 2018 visit to the Savannah College of Art and Design. "I took a vacation there and fell in love with the active curation, tens of thousands of square feet of art. It meshed together so well it seemed like it was the body of work of one artist, this seamless movement throughout a building," she said. "That visit was like a 'wow' for me."
"Wow" is also the way she describes the influence of Patrick Fisher, the former director of Erie Arts and Culture, who left at the end of April to become CEO of the Greater Pittsburgh Arts Council. "He believed in every person that came into his presence. It wasn't what you showed him, it was what you told him you wanted to do. He always had encouraging words. That gave me a 'wow' factor," she said. In 2021, Erie Arts and Culture honored Howard with its Diversity, Equity and Inclusion Award.
The beauty of the new Historical Institute of Culture and the African American Experience is that the "wow factor" leaps out from so many participating artists and those who influenced them. Jazzpoetictruth, a painter and freestyling poet whose real name is Jasmine Lamison, credits her mother for introducing her to poet Maya Angelou's book, I Know Why the Caged Bird Sings.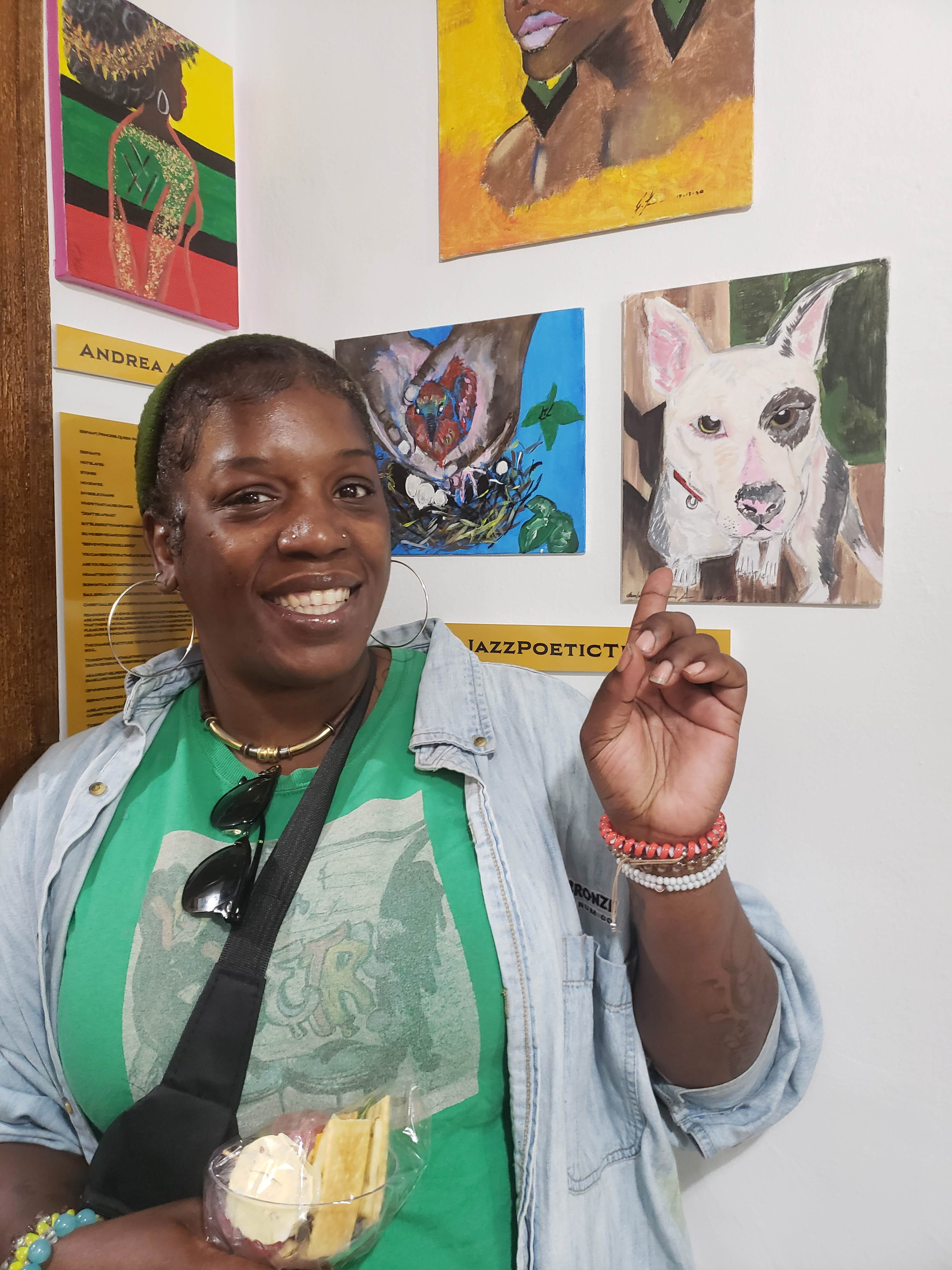 Jazzpoetictruth, a painter and freestyling poet, shows off her work at the Break Free art exhibit. Jazzpoetictruth, whose real name is Jasmine Lamison, is a New York City native who came to Erie on vacation and decided to make Erie her home.
Trapped herself during the isolation of COVID, Jazzpoetictruth began to paint with acrylics. One piece she painted is a portrait of Ola, the dog abandoned by a roommate. "I got to watch Ola grow. She was my best friend. All I had was a dog," she said.
Kathy Woodard, too, started painting during COVID. When she was a child, no one celebrated the features of Black women in art, she said, so she "felt a sense of duty to focus on Black women" when she paints.
Born in Nigeria, Deb Adebayo has lived in America for most of her young life, leading to her struggles with identity. Her art celebrates the texture and designs of Black women's hair. "It is my hair — whether I bought it or grew it," she intoned.
Cathy G.g. Mitchell's poem, Taking Turns to Learn, was inspired by the true story of pioneering Black teacher Ada Lawrence, while Will Smith's film Emancipation led her to write the poem Scars.
For Nicholas Constantino, composer and music arranger, Harry T. Burleigh provided the spark for his poem, His Rhythm Remains.
Lourdes Jasso said her three paintings of women who are muzzled, blindfolded, and deafened "are very, very personal," depicting her life as someone born in Mexico, raised in Chicago and living in Erie. "Our youth need to see themselves in places they normally aren't in," she said.
It is fitting, then, that among the two dozen artists whose work is on display, Mabel Howard has a special place in her heart for a painting by Abigail Allen, who also started painting during COVID, at age 12. "We were able to watch her blossom before our eyes," Howard said. "If this young artist is this gifted at age 12, I know she is going to be famous someday." Anticipating that future, she bought Abigail's first piece of art.
Liz Allen dabbled in acrylic painting during COVID, with encouragement from her daughter-in-law and granddaughter, but nothing worthy of exhibiting. You can reach her at lizerie@aol.com.
If You Go
The Historical Institute of Culture and the African American Experience, 315 E. Ninth St., is open on Wednesdays from 11 a.m. to 5 p.m. Admission is free but donations are welcomed.