The I-90 Comfort Food Corridor
Drawing a greasy line between Erie County Pa. and Erie County N.Y. on a bar napkin
September 12, 2018 at 9:00 AM
By: Matt Swanseger
Grease and mortar. Physically, they don't seem to have a lot in common. Grease is slippery to the touch, the unctuous byproduct of caloric excess, liquid shame meant to be wiped away and discarded. Mortar, of course, is the thick, pasty, and wholly inedible substance layered between the bricks and masonry that build civilizations, intended to endure for ages.
But when it comes to a sense of locality, the notion of being home, grease is the mortar that binds our collective identity. A city's comfort foods help convey a sense of the general mentality and make-up of its people — in short, what they're all about. With the proliferation of mass transportation and immigration in the 20th century, a city's comfort foods oftentimes became a region's comfort foods, points of communal pride and the basis of friendly competition. In the era of the Internet and social media, all it takes is one Tweet or Instagram post to go viral and it's not long before a local curiosity becomes a national one, like the cotton candy-wrapped hot dog pioneered by the Erie SeaWolves this year.
Erie's thriving bar culture can be in part attributed to large influxes of German, Irish, Polish, and Italian immigrants who quickly filled a number of blue collar roles in the city and were apt to enjoy a beverage after the working day had ended. Add working class tradition to our location — roughly smack dab in the middle of three NFL cities (each with rabid fan bases) — and bar and finger foods have elevated to celebrity status throughout Erie County. The relationship is not always glamorous, but it is always amorous — to hear locals speak of their love of chicken wings, ox roast, and pepperoni balls is to hear the sound of a slightly labored heartbeat.
Erie has undoubtedly felt the cultural and economic ripples of nearby Pittsburgh, Cleveland, and Buffalo throughout the years — but when it comes to its favorite foods, it is Western New York whose influence has resonated the most. As the days grow shorter and darker and our metabolisms gear up for the heartier fare of pre-hibernation, it would serve us well to examine how and when some of our most beloved game-day fare got here.
JUST WINGIN' IT
For a food of such humble origins, humility is in short supply when it comes to chicken wings. Just about every bar and pizzeria in Erie boasts the "best wings in town!" You'd be setting yourself up for major trust issues if you were to fall for every player in the game. If you were to ask native Buffalonians, however, they might dispute that our wings are even "real" wings to begin with. From an anatomical perspective, they'd be wrong. But if you're arguing semantics, it's true that the most authentic "Buffalo" wings are found in the city where they were invented.
Arthur Bovino's Buffalo Everything: A Guide to Eating in the "Nickel City" chronicles the somewhat convoluted origin story of the chicken wing in its initial chapter. Chicken wings could be found listed on Buffalo menus dating back to before the Civil War — on July 1, 1857, the Clarendon Hotel's were even being served fried! However, their flavor profile and preparation methods were a far cry from the Buffalo wing America has come to know and love. Almost everyone agrees that the Buffalo wing phenomenon was born in Frank and Teressa Bellissimo's Anchor Bar on a Friday night in 1964. Where the idea came from, though, is a subject of some debate.
The narratives align on a couple points: 1) that the Bellissimos' son, Dominic, and his friends were the guinea pigs for the first batch of Buffalo wings, and 2) that "Mother Teressa" concocted the recipe. They diverge as to whether: 1) the excess of chicken wings was delivered by mistake or was going to be used for soup (back then, chicken wings on their own were essentially disposable), and 2) whether they were born of divine inspiration (one legend claims Teressa woke up at around four in the morning with her "Eureka!" moment) or adapted from another Buffalo restaurateur's specialty.
African-American entrepreneur John Young also sold chicken wings out of his Wings 'N Things eatery starting in 1966, although he claimed to have been frying them up much earlier. Unlike the Anchor Bar's wings, which were cut in half (the flap and drumette) and coated in butter and Frank's RedHot Sauce (allegedly for no other reason other than Frank being Teressa's husband's name), Young's wings were breaded, fried whole, and slathered in "mombo" sauce, a sweet and spicy ketchup-like condiment that had circulated through the African-American community in Chicago in the 1950s, penetrated the Washington, D.C. market through a popular African-American run, Chinese-owned establishment also called Wings 'N Things, and made their way to Buffalo with Young.
Needless to say, it was the Anchor Bar's version that stuck. The wings were set out on the bar in place of traditional bar snacks such as peanuts or pretzels and quickly disappeared. The Bellissimos discovered that customers were not ordering as many dinners (the Anchor originally served Italian fare) because they were gorging themselves on the wings. Consequently, Frank added them as a menu item with the auxiliary elements of celery and blue cheese (both components of the antipasto dish), now standard. In Buffalo (not Erie), carrots only make the occasional cameo, but Ranch dressing is roundly shunned (although you're welcome to ask for it).
The concept of "heat levels" was likely the innovation of Ron Duffney, co-owner of Duff's, another Buffalo wing institution. Duff's was founded as a gin mill by Ron's mother in 1946 and started selling wings in 1969. The disclaimers Ron posted around the original location have become the chain's slogan: "Medium is HOT! Medium hot is VERY HOT! Hot is VERY VERY HOT!" (I can personally verify this based on a recent trip) Although today's wing joints offer a panoply of unique sauces and flavors, mild, medium, and hot are almost universal. With this, the heat was on. Between 1972 and 1977, hot sauce sales to restaurants and food services in Western New York quadrupled.
Despite wings' obvious boom in popularity, they were seldom written about, even in the city that so ravenously devoured them. In 1978, a stockbroker named Robert M. Budin contributed a lighthearted piece to the Buffalo Courier-Express suggesting that the city rally behind the chicken wing as its official symbol and mascot. Buffalo natives might have gotten a (zesty chili pepper) kick out of that, but it made little impact outside the already wing-obsessed municipality. The phenomenon only began to enter the national consciousness when Calvin Trillin of The New Yorker penned "An Attempt to Compile a Short History of the Buffalo Chicken Wing" in 1980, a wryly humorous account of the Anchor Bar/Young's story recounted above.
The article is prophetic in places, especially a passage that mentions Buffalonians' dream of "introducing Buffalo chicken wings to some virgin territory." It is around this same time frame that Erie's wing craze caught on, with current champions of the area's pizza-and-wing scene pointing to the early '80s.
Cris Leszek (a.k.a. "Lizzard"), who manages the Park Tavern in Lawrence Park, traces his wing heritage back to "Erie's original wing haunt," Stack's, which was technically located in North East at the corner of Route 20 and 89 (now Speed'eez Sports Bar & Grill). "My parents started their food board in the early '80s. We have decades of experience as one of Erie's perennial favorites." For the record, the Park Tavern finished third in last year's Best of Erie polls for Best Chicken Wings — "pretty awesome for a little tavern on Route 5." Lizzard also made mention of the all-you-can-eat wing special at the former Warsaw Cafe (for a now unheard of $2), which was situated in one of Erie's old Polish neighborhoods at 620 E. 24th St.
Writer Kevin Cuneo reflects warmly on Stack's wings in a column for The Erie Times-News, denying the notion they were Anchor Bar clones. Word is owner Dwayne "Stack" Dye did try to replicate them in his kitchen after driving up to Buffalo, but the experiments yielded something different. Cuneo notes a "toastier" quality that was totally individual. From there, wings took their saucy grip on the area's residents, with places like The Red Fox Inn, The Fiddle Inn, Chippers Tavern, Lefty's, and Eli's House of Wings each building substantial followings of loyal acolytes under the shadow of towering bones. Aside from Eli's (closed in 2013 and warmly remembered by former patrons), all of these places are still welcoming new devotees.
If the '80s were the decade that chicken wings began to strut their stuff on a bigger stage (the Hooter's and Buffalo Wild Wings franchises were also founded in these years), the '90s were the decade they took flight, blazing new trails from coast to coast. John E. Harmon marks 1992 as a pivotal year for Buffalo wing dispersement in his Atlas of Popular Culture in the Northeastern United States. At the time, the country was wild about Bills (both newly-elected President Clinton and the football team, which was in the midst of four consecutive, albeit unsuccessful, Super Bowl runs) — national pizza chain Domino's seized on this publicity by spotlighting Buffalo wings, testing them first in the Western New York market before rolling them out nationwide in 1994. Pizza Hut and Little Caesar's (more tentatively) soon followed suit.
Independent and family-owned pizzerias in Buffalo had already been offering wings for decades, but Erie's mom-and-pop shops seemingly didn't give into the trend until the national franchises set them as an expectation. John Wildwood, who has been in the business for nearly 40 years (and was a 2017 Best of Erie winner in the pizza category), does not recall adding wings to his menu until the mid-'90s, adding that they "were much smaller then!" This is because geneticists have been breeding progressively larger specimens for bigger breasts. Eyes up here for a startling statistic: the average chicken in 1920 weighed 2.5 pounds; today the average chicken weighs in at 6 pounds!
The more bountifully bosomed birds coupled with the rising demand for wings has spawned the oxymoronic "boneless wing" — which as you probably know is a chicken tender playing dress-up with wing sauce. Despite being made from white meat and a cheaper price tag, connoisseurs routinely snub them for their bone-in counterparts. Whether you attribute that to the power of tradition or simply the primal appeal of the experience, chicken wings have indelibly left their saucy imprint on two Erie counties (Pennsylvania and New York) — and if the football crowds at places like Best of Erie award-winner Odis 12 are any indication, we can safely expect the aftertaste to linger.
WELL, IF YOU OX ME…
…the origin story of Erie's signature roast beef sandwich is a little easier to digest. According to Mike Weber, the semi-retired chairman and de facto historian of Smith's Provisions, ox roast far predated his company's beloved product, which was only introduced to supermarkets about a decade ago: "The story starts with volunteer fire departments and the carnivals and fairs they'd hold as their big fundraisers. The [North East Firemen's] Cherry Festival is a throwback to that. They would roast a half or a quarter of beef, carve off pieces, and put them on a semi-hard roll."
Counterintuitively, the meat is not actually ox — oxen are draft animals (usually castrated males) used for heavy labor and (sadly) work until they can't — tough break, tough meat. Smith's had a great burden to haul in its quest for the product to be officially sold as "ox roast." There were acres of federal regulations to plow through before the USDA approved the label. "They wanted to know why ox wasn't in it. They'd never heard of it," Weber chuckles.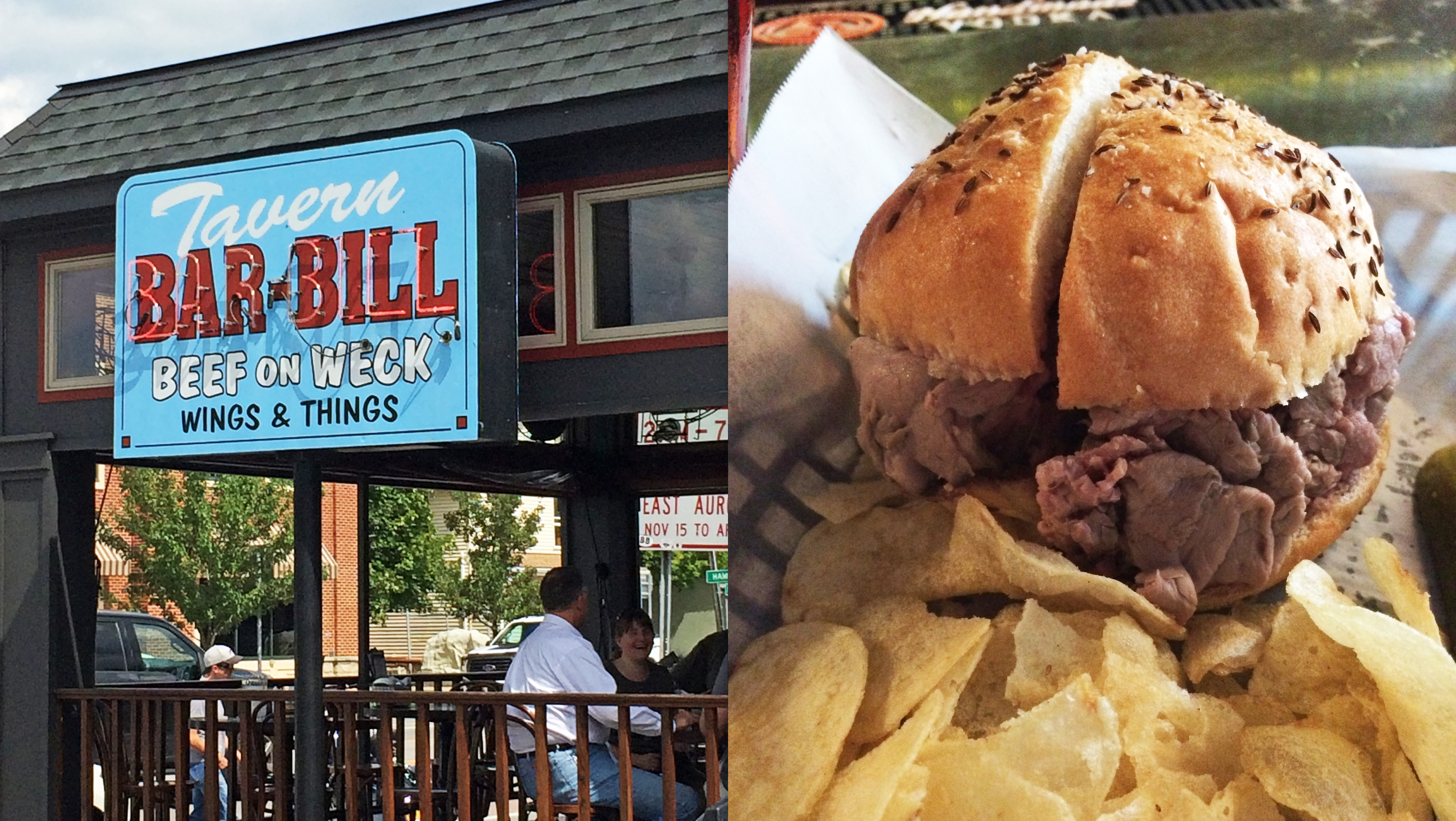 What is ox roast then? "Generally it's a lean cut, like a round of beef … we use choice round fully cooked with an au jus. We roast it in a bag with its own juices and dilute the au jus — otherwise it would be too salty and too spicy — then carve it and slice it," explains Weber. Weber gives a nod to Urbaniak's, Bello's, Top's Market, and McDonald's Meats in Girard as other good takes on the local delicacy.
He cannot pinpoint any relationship to Buffalo's signature beef-on-weck sandwich, other than both feature a generous portion of roast beef and are best served with horseradish (he is a big fan of Trawka's on East Seventh and Payne). "There are only so many ways to cook and serve it." The "weck" in beef-on-weck is short for "Kümmelweck," a pretzel salt and caraway seed-topped roll introduced to the Buffalo area by German immigrant and bakery owner William Wahr (German Kümmel, or caraway seed + Weck, or roll). In doing my due diligence for this article, I stopped at the famous Bar-Bill Tavern in East Aurora, N.Y., which also boasts incredible (hand-painted!) wings, to try to discern the difference. There was considerably less seasoning and juice to the meat itself and a consequently softer roll — the beef stood out more on accord of its inherent beefiness. Commendable, yes — but somehow less fun.
LET'S GET THE PEPPERONI BALL ROLLIN'
Whether it's underappreciated, misunderstood, or just mysterious, the pepperoni ball has never gained much traction outside of Northwest Pennsylvania. These roly-poly, doughy globes of pepperoni are hearty, satisfying, and portable, not to mention aerodynamic. It is the pepperoni ball, not the hot dog, that should be shot into the stands during the seventh inning stretch — after all, it and a baseball are about the same size. Speaking of sporting events, so iconic is the pepperoni ball in Erie that the G League's BayHawks totally rebranded their team after it this past March — including launching a brand new website!
Our own Jonathan Burdick delves into the spicy, greasy core of this Erie delicacy in "The Mythical Origins of the Pepperoni Ball" on eriepepperoniballs.com. Although it has parallels to the pepperoni roll, a popular comestible of West Virginian coal miners during the 1930s, in Erie it evolved from the fish ball generations ago. Similar in concept, the fish ball ensconced scraps of seafood in a casing of baked or fried dough, but just didn't have the same allure. Once the family-owned stores and bakeries of Little Italy replaced their hearts with pepperoni, they anchored themselves in our cultural identity — and our stomachs.
Culinary traditions travel with the people that carry them; thus the pepperoni ball diaspora aligns with the Erie diaspora living in other states around the country. While several bakeries and pizzerias offer pepperoni balls (International Bakery, Arnone's, Barbato's, Valerio's, etc.), one brand stands as the most ubiquitous. Stanganelli's Italian Foods is one of the few outlets that wholesale pepperoni balls, distribute to grocery stores, and ship them out of state. According to a Stanganelli's representative, however, the biggest buyers tend to be Erie expatriates.
Bonnie Raimy, who operates the online store Bonnie's Balls, has experienced a similar phenomenon with her product. But, she adds, "I'm absolutely interested in taking my product nationally." She named shipping costs the biggest obstacle in getting her startup off the ground and into toaster ovens across America. "Honestly, the best way to get my product into cities around the country would be through bars.  The product is simply reheated (just like the original pepperoni ball)." Bonnie's Balls are a little more gussied up for broader gustation, incorporating seasoning into the shell and mozzarella into the center — which a purist might sneer at.
If you're looking to make some dough, making inroads into the watering holes of America remains the golden-brown path to success. Perhaps the pepperoni ball could follow the blueprint of pizza logs, another Buffalonian bar food innovation that has spread well beyond Western New York and into Pennsylvania (PNC Park and PPG Paints Arena in Pittsburgh, the Wells Fargo Center in Philly), New Jersey (MetLife Stadium), Florida (Universal Studios Orlando), New York City, Boston, Wisconsin, Texas, and Las Vegas.
Described by Original Pizza Logs owner Jason Cordova as a "gourmet pizza egg roll," the product has become a staple of pub appetizer menus in the Northeast, including local establishments like the Plymouth Tavern. His father, Robert, "muscled through it," working hard to build accounts with local bars and spread the word. "The harder you work, the more you're lucky," Cordova said in an interview with Buffalo Everything author Bovino.
Are we not marketing the pepperoni ball aggressively enough? Are we just going to keep these gems all to ourselves? It won't keep me up at night — unless, you know, heartburn.
Matt Swanseger gained at least 5 pounds in the writing of this article. Keep him active by directing all questions, comments, and comprehensive fitness plans to mswanseger@eriereader.com