The More Things Change…
2020 Oscar Nominees Are Somehow Both Surprising and Predictable
January 29, 2020 at 1:00 PM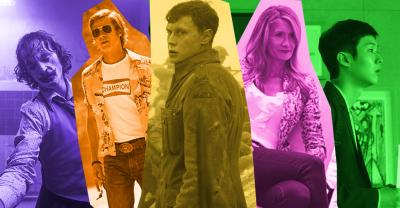 Last year was an amazing year for movies; one of the best in a long time. Great films seemed to be hitting both theaters and streaming sites nonstop throughout the last twelve months, so with that said, why are the Oscar nominations so sub-standard this year? After so many interesting and entertaining films, the Academy once again settled for an impressive but gimmicky war film (1917), a schmaltzy, sentimental bit of pap (Jojo Rabbit), and some middlebrow real-life crowd-pleasers (Ford v. Ferrari and The Two Popes). None of these films were bad per se (except Jojo Rabbit), but they were far from the best of the year. The Farewell, Uncut Gems, A Hidden Life, Her Smell, The Last Black Man in San Francisco, and Us were all shut out completely in favor of these predictable choices.
Because of that, we are now left with no clear frontrunner, which means that Bong Joon-ho's masterful Parasite is suddenly in the running as a possible upset — a very surprising turn of events. And after all the talk, controversy, and hot-takes, who would've thought that Todd Phillips' Joker would be the belle of the ball this year? Its 11 nominations have made it the most nominated comic book-based film in history (beating The Dark Knight by three nominations). Thus we have an Oscar season that is both predictable and surprising at the same time. With that said, let's take a look at the nominees:
Best Picture
Before the nominees were announced, I thought this would go to Once Upon a Time in Hollywood easily. Tarantino's Hollywood epic has been racking up accolades all year, but it missed out on an editing nomination. It's rare for a Best Picture nominee to not be nominated for its editing, so that leaves the door open for either 1917 or Parasite as possible upsets. However, those two films aren't sure things either. 1917 also didn't score an editing nomination and Parasite has no acting nominations (plus the foreign film factor might hurt it). I think with the race this close, they'll split the major awards between the three and that gives 1917 the edge.
Best Director
Once again, I thought this one would be Tarantino's to lose, but then Sam Mendes came from out of nowhere to possibly run away with it. His direction in 1917 is very showy, and the Academy loves showy direction. However, there's been a dark horse looming this entire time in the form of Bong Joon-ho. He's never left the conversation and his popularity only seems to get stronger. I think it's safe to say we may have a big upset in this category.
Best Actor
All the acting categories this year are one or two-horse races and as everyone predicted, this one comes down to Joaquin Phoenix and Adam Driver. It's really a clash of two different acting styles. Phoenix is amazing, but also really noticeable. Meanwhile, Driver is so subtle and subdued that when the big emotional moments in Marriage Story hit, they hit with a much bigger impact. That said, the Academy loves really extreme actor transformations and that makes this an easy win for Phoenix.
Best Actress
Everyone's been saying for months that Renee Zellweger has this in the bag, but I have my doubts. Judy is a movie carried by its lead performance and nothing else. However, Marriage Story has a lot more for the Academy to admire. First of all, Scarlett Johansson's performance in the film is the best of the year (male or female), and she's also double nominated this year. I don't think they'd do that and let her leave empty-handed, so expect this to be the only possible upset in the acting categories.
Best Supporting Actor
Once again, this is one that has been called for months. Brad Pitt has carried a momentum that just hasn't stopped this entire year. It doesn't hurt that he's the only nominee in this category who hasn't already won an Oscar. It would be nice to see some recognition given to Joe Pesci for his incredible performance in The Irishman, but at this point, Pitt is a lock.
Best Supporting Actress
Since the Academy decided not to nominate Jennifer Lopez, this one has been Laura Dern's all the way. Not only was she great as the no-nonsense lawyer in Marriage Story, she's also long overdue for a win. The Academy loves that. But it's not a lock yet. There is some competition from Florence Pugh's scene-stealing turn in Little Women. And then there's Scarlett Johansson. Once again, I expect her to win something and her supporting role in Jojo Rabbit may be what does it.
Best Original Screenplay
All solid nominees (except for 1917. Seriously, Academy? You picked that over The Farewell?), but I think the edge goes to Quentin Tarantino for this one. The scripts to Parasite and Marriage Story are both great and could be upsets. Also, it'd be nice to see some love thrown to Rian Johnson's near-perfect Knives Out. This one may still be up in the air.
Best Adapted Screenplay
Greta Gerwig's impressive, time-hopping adaptation of Little Women is the frontrunner here and deservedly so. Steven Zaillian's pitch perfect script for The Irishman is some serious competition though. And then there's Jojo Rabbit. I didn't care for it, but the Academy has never met a Holocaust film it didn't love, especially not one as cloyingly sentimental as this. Still, I think they'll give Gerwig her "sorry we didn't nominate you for Best Director" prize.
Best International Film
Parasite. This is the easiest prediction of the night. Bet your bottom dollar on it.
Forest's Predictions
Best Picture: 1917
Best Director: Bong Joon-ho – Parasite
Best Actor: Joaquin Phoenix – Joker
Best Actress: Scarlett Johansson – Marriage Story
Best Supporting Actor: Brad Pitt – Once Upon a Time … in Hollywood
Best Supporting Actress:  Laura Dern – Marriage Story
Best Original Screenplay: Quentin Tarantino – Once Upon a Time … in Hollywood
Best Adapted Screenplay: Greta Gerwig – Little Women
For a full list of nominees, go to eriereader.com