The Nerdist Comes to Erie
Comedian and podcast hero Chris Hardwick joins SNL star Seth meyers for an evening at Penn State Behrend.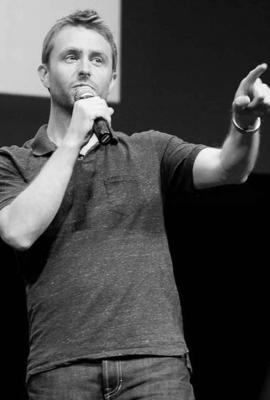 Seth Meyers and Chris Hardwick both rolled into the Penn State Erie, The Behrend College's Junker Center on a typical and bitterly cold "Erie-in-Spring" night a few Fridays ago. "Seriously, it was 80 degrees yesterday," I told them during the meet-and-greet after the show.  I felt compelled to apologize to them on behalf of all of Erie for the miserable weather that we've grown accustomed to.
For many in attendance that evening, the draw to the Junker Center was the chance to see Seth Meyers of Saturday Night Live fame perform. For me, however, it was the chance to see Hardwick.
Hardwick is known originally for his hosting of MTV's "Singled-Out."  Or perhaps you may recognize Hardwick from AMC's "The Talking Dead," where he hosts a panel of celebrities to discuss episodes of "The Walking Dead." But if you are like me and dabble on the Internets, you know him from "The Nerdist," his wildly entertaining and incredibly inspiring podcast.
Hardwick's opening act was exactly what one could hope for, as he eased the crowd into the proper mindset with his opening bit: a dance tutorial that in all actuality was about deflecting unwanted phalluses away. His style of humor, be it from his standup or his podcast, is sharing seemingly innocent and adorable stories, but then leading the audience to an angle of observation that is equally awkward, endearing, and, well, hilarious.
And that was just the start. Hardwick followed up with a tale about his girlfriend and the purchase of a Kigurumi suit. Allow me to explain: a Kigurumi suit is a Japanese onesie for adults made to look like small animals. Have you ever wanted to be enveloped with fleece while simultaneously looking like a red panda, blue fox, or a purple wolf? Then Kigurumi suit is for you. And so is Hardwick's sense of humor.
Given Hardwick's stage presence, I applaud whoever was assigned the spot light that evening. Hardwick was at times pacing across the stage, moving up and down the rows of audience members, and even sitting down in the middle of the crowd near the end of the show. His enthusiasm was contagious, as audience members gleefully interacted with him as he zipped up and down the aisles, awaiting the chance to hear the comedian's take on their answers or occupation.
This comes as no surprise. Anyone who has listened or seen him before knows he thrives on interaction with others – and his Erie show was no exception. Hardwick's generally able to find that endearing and awkward humor from his own standup in the small nibbles of information participants dish out.
But possibly more incredible is how unbelievably positive he is at all times. You can't help but smile and go in for the complimentary hug he offers at the end of each joke at an audience member's expense.
Yet the reason I am more interesting in Hardwick – and braved the chilly, wet "spring" weather to see him in person – is very simple. He is among one of the reasons why I started my own podcast and came to write for the Reader.  His podcast, "The Nerdist," drew me into this realm, because I love talking to people and finding out, as Hardwick puts it, "hows and whys" of a thing.
If you haven't heard his podcast I recommend looking up the episode where he talks with Mel Brooks. The outpour of anecdotes and industry knowledge was amazing, as Brooks explained to Hardwick the difficulties of pitching movies, and listening to Brooks' own interest in new media is fascinating – something Hardwick captures quite well in his interview, as he draws out these incredible stories and thoughts from talented and notable people. It is something to aspire to for all interviewers, be it work in podcasts, journalism, or comedy.
It is rare that we are given the opportunity to meet one of our inspirations; rarer still is the chance to meet them in our own backyards. While not necessarily a backyard per-se, it was an incredible set of coincidences that placed Hardwick in Erie. He is incredibly talented and positive in the realm of new media, something we all can take note of regardless of beginning podcasts because of him. A lot of people like to give Erie a bad rap – the weather alone has that covered – but it goes to show that even in our small city you can still rub shoulders with those whom you admire and have some of that positivity rub off on you.
John Lindvay can be contacted at jLindvay@ErieReader.com, and you can follow him on Twitter @FightStrife.