The Path of Innovation
Forging ahead with Velocity Network and Behrend's AMIC. 
August 17, 2016 at 2:45 PM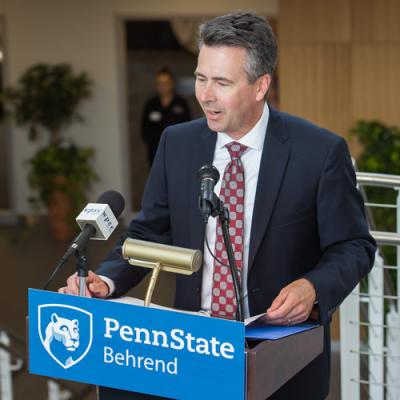 There are many paths to prosperity and progress. But today, it's hard – perhaps even foolish – to ignore the path paved by innovation.
"We know the pain of holding onto the past for too long," says Chattanooga, Tennessee Mayor Andy Berke, "because we've done it."
Berke opens his Big Ideas for Cities presentation, "How the City of Chattanooga Became a Destination for Innovation," with that lament. He adds, "When we talk about economic resiliency and the way mid-size cities can be a part of the future of our new economy, it has special meaning for Chattanooga."
The Volunteer State's fourth-largest city has become a darling among innovation hounds and urban planning enthusiasts. Chattanooga went from what Walter Cronkite called "the dirtiest city in America" in the late '70s to a place entrepreneurs and millennials gravitate to in 2016.
Coupled with strategic investment in waterfront property, Chattanooga's continuing recovery comes from embracing its duality: deep roots in a manufacturing past, and a future sprung from innovation.
Addressing the power of cities and regions to rebuild, reimagine, and reemerge, Brookings Institution Centennial Scholar Bruce Katz famously – and often to comedic effect – quotes Dolly Parton: "Find out who you are and do it on purpose." When the laughter subsides, he often adds: "Be the best 21st century version of yourself you can be."
Successful cities and regions like Chattanooga haven't run kicking and screaming from their past. Instead, they've made use of it.
"What we all have in our cities are unique assets that we have to take advantage of," Berke says in his National League of Cities-sponsored talk. "We spend all day trying to get more out of what we already have. There are a lot more cities that look like Chattanooga than look like San Francisco, New York, or Boston, and for America to be great, we all have to be participating in the economic resiliency that comes from the new economy."
Berke is referencing an innovation-first economy, spurred in Chattanooga's case by its innovation district: an area encouraging connection and inviting the clustering of development for start-ups, business incubators, and accelerators. Chattanooga was the first mid-sized city to launch one.
"Everywhere can't be Boston or the Bay Area—and other cities shouldn't try to be," claims Brooks Rainwater, senior executive and director of the Center for City Solutions at the National League of Cities. "Innovation districts need to harness what makes each city tick, be it the culture, the technology, or the policies."
Erie likewise isn't Boston, San Francisco, or New York; nor should it endeavor to become them – or Chattanooga for that matter. But intentionally or not, Erie is taking notes from Chattanooga's playbook. If drawn up smartly and applied aptly, Erie could win big with two key moves from familiar players in its economic ecosystem championing innovation.
One day, we'll look back and declare that the week of July 18, 2016 was good for Erie and its economic future. Amid stalled negotiations between GE Transportation and local labor unions – the fallout of which remains to be determined but likely signals continued regional job loss – two big local stories broke, delivering refreshing news.
On Wednesday, July 20, Penn State Erie, The Behrend College held a grand opening for its new state-of-the-art Advanced Manufacturing and Innovation Center. The $16.5 million facility will eliminate – as the media release boldly declared – "barriers between academic and industry partners."
Two days later, news broke that Velocity Network, after a state Commonwealth Court decision choked the information technology-based company's plans to purchase the former Ridgefield Elementary School in Millcreek Township, would still be moving – just not within Millcreek. Rather, the company would be relocating its headquarters to downtown Erie with the purchase of the Rothrock Building at 121 West 10th Street, along with four nearby parking lots and the building currently occupied by the Toni & Guy Hairdressing Academy.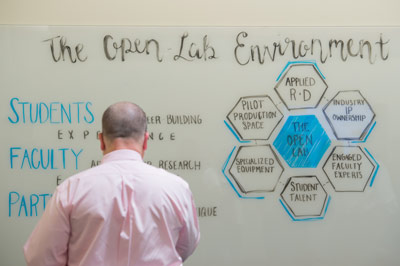 The differences are evident in both time and space. One development is polished and ready for use; the other awaits a closing date later this fall. One is housed on a burgeoning university campus; the other breathes new life into downtown.
Nonetheless, the approach to innovation is similar. At a time when ideas and creations drive development, the space in which they occur must encourage interaction and connectivity.
"If the idea behind this new center could be summed up in a single word, it would be collaboration," says Scott McCain, chair of Behrend's Council of Fellows, in the atrium of the college's new Advanced Manufacturing and Innovation Center during the building's grand opening. "We're not talking about a warm and fuzzy concept here. We're talking about an orchestrated effort to bring individuals and organizations from both the academic and business worlds together to engage in research and development as teams."
And it's not the first time Behrend has embraced a collaborative notion.
Ten years prior, Behrend co-located its business and engineering schools under the shared roof of the Jack Burke Research and Economic Development Center – the first such academic co-habitation in the nation. The move was made, according to Chancellor Ralph Ford, to encourage learning across disciplines, and has since led to the creation of cross-disciplinary endeavors.
"Innovation seems to occur at the places where people and ideas intersect," Ford says during the opening. "This center will provide the ideal environment for interconnectivity … We expect this to be a win-win for the college, for area business and industry, and for our region."
The win comes from a concentration of people: The more people, the more ideas; the more ideas, the more creation – all under one roof.
"This building will allow us to grow in terms of student enrollment, to grow the applied research that we are known for, and to advance our support of innovation," Ford adds later in an interview. "Even more important than that is the philosophical shift that this represents. The world has moved toward a far more collaborative approach to product development and R&D. Gone are the days of the large industry research labs that provided so much impact in the last century. My hope is that it further shows the value in what we call the Open Lab strategy, which is a highly collaborative approach to the development of new products and ideas."
That strategy encourages regular interactions between faculty and students along with industry partners. And Behrend's position on intellectual property speaks to that collaborative culture and free flow of ideas.
"At Penn State, we made a significant change to our approach to intellectual property policy several years ago. If industry funds research, they own the intellectual property that results from it," Ford explains. "That was an intentional shift from a focus on deriving residual revenue from research to one that said we would like to place the emphasis on partnerships with industry and the value those interactions bring to our students and faculty."
Ten years ago, though, collaboration would've simply been internal. Create a silo and fill that silo with ideas, but don't let the ideas spill over lest a competitor pilfer and subsequently profit from your creation.
Today, however, profit-driven development has been pushed out by collaboration because collaboration accelerates production. The innovation that will take place at Behrend is designed with Erie in mind.
"In terms of the community, we want this to support the region's economy, but in a specific way, which is growing new product development and research investment that leads to job growth and business attraction," Ford says. "As [we] know from a recent Brookings Institution report, the Erie region lags in research investment, and in order to grow as a technology and manufacturing hub, we need to increase this key area of investment."
According to Brookings, areas strong in advanced industries – those employing and investing in workers with skillsets high in STEM education – typically grow stronger with a greater regional presence of university-driven R&D. Given that Erie's advanced manufacturing, a subset of advanced industries, contributes 27 percent to Erie's GDP, fostering advanced industries is vital to evolving Erie's current economic ecosystem.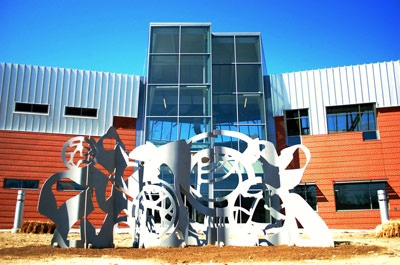 Although ideas come from people and not physical structures, what people have access to is vital to the creative process. The list of features for the AMIC building is impressive, to say the least.
The west wing will house the school's mechanical engineering program – the college's largest major in terms of enrollment – along with its industrial engineering program. Amongst the 27 faculty offices, five classrooms, and two specialty work areas – a design lab for first-year students, and a collaborative projects room for senior design teams – there's a servo-hydraulic test system, a Stratasys 3D printer, an industrial oven capable of heating materials to 2,000 degrees, and a Tinius system that can apply up to 120,000 pounds of tensile strength (the weight equivalent to 20 SUVs).
But perhaps most emblematic of the building's purpose is the region's most powerful environmental scanning electron microscope – valued at more than $900,000 and secured through a National Science Foundation grant. The microscope, which can magnify both hard and soft-surfaced materials, will be available to researchers throughout the region – not just those at Behrend.
"To be competitive, we need to be at the forefront of technologies such as 3D printing, the industrial internet of things, and cybersecurity," Ford says. "This building supports the spectrum of innovation from start-up companies to larger, more established organizations."
The 60,000-square-foot building also features nearly 19,000 square feet of manufacturing space for industry partners. To date, SKF Aerospace North America, a leading global manufacturer of bearings, seals, and structural components for aviation engines and frames, has laid claim to 2,700 square feet, doubling its previous footprint in Knowledge Park.
"This is at the forefront of approaches to innovation and what needs to be done for regions and their institutions to be competitive," Ford says. "It is a great experiment, and it will be most exciting to see what happens over the next five years."
"Our tagline is: Built for Erie," says Matt Wiertel, director of sales and marketing for Velocity Network. "Fiber network built for Erie. Our new building built for Erie. Everything we do," he summarizes, "will be built for Erie."
Velocity Network's Erie-first philosophy is slated to head into the city with the recent acquisition of the Rothrock Building and several other surrounding properties, thanks largely in part to Velocity's CEO Joel Deuterman opting for what he calls his "fall-back plan."
After nearly two years of back-and-forth over the former Ridgefield Elementary property, Deuterman says he couldn't afford to wait any longer. A Commonwealth Court ruling in favor of Montessori's appeal over the sale of the property to Velocity stalled any potential development, so Deuterman moved on – and chose to move downtown.
"When the city location presented itself and everything began to flow more easily, I put my effort into the downtown," he says. "Meetings with the city have been good; they're welcoming me with open arms and are doing everything in their ability to help."
Although Deuterman's not giving up on the Ridgefield property – he's still pursuing it as a potential call center – he's made the move to relocate his headquarters more quickly because, he says frankly, "We're out of space."
Velocity's currently situated in the Yorktown Plaza in Millcreek Township, off of West 12th Street. While they'll secure more room once their neighbor, Claytopia, relocates out of Yorktown, Deuterman's ultimate vision simply requires more real estate.
The move downtown, he says, will quickly add at least 10 new members to his 55-strong workforce, but he envisions reaching 100 once renovation of the Rothrock Building is complete – which he anticipates will begin in January 2017, led by Kidder Wachter Architecture and Design, who purchased the building in 2013. The Rothrock Building will offer Velocity 40,000 square feet for expansion, plus another 12,000 in the building currently housing Toni & Guy, now looking to relocate.
"This time in 2018, we'll be fully occupied," he says. "It'll happen in stages. It isn't just moving people for us – it's moving systems. We have to swing fiber over. It takes months and months of planning and engineering."
First delivered in cities like Austin, Texas, Kansas City, Missouri, and Provo, Utah, Google's gigafiber – with the same fiber capacity as Velocity's: 1 gigabit, or 1,000 megabits, per second (much faster than the typical five to 30 megabits per second of standard high-speed cable) – transforms regions by making them attractive to both businesses and personal consumers. Beyond the cool factor of being on the bleeding edge of technology, gigabit fiber allows a city and region to work more efficiently and productively. It also creates options for customers – especially attractive for those looking to shop locally.
Velocity's no stranger to the internet business. They've already deployed fiber in the region, and two decades ago when dial-up from AOL was at a premium of $25 per month, Velocity offered the same quality services for $15 less per month.
The proximity of fiber internet to a downtown region spells success through attraction and growth, and Chattanooga is a prime example of that. Although that city owns and operates its internet, parallels can still be seen: The gig grew the entrepreneurial market since entrepreneurs want to be close to the best tech in a region – and thus, an innovation district (albeit through a coordinated public-private effort) was born.
Chattanooga also took stock of its regional assets and built on them. Erie, like Chattanooga, doesn't lack attractive assets, and Deuterman knows this.
"Look at our assets. Just one: We sit on the water in this great area with the peninsula between Buffalo, Cleveland, and Pittsburgh," he says. "Great assets – literally at our fingertips."
Assets attract people. But once they're attracted, they need reasons to plug into a region. For Erie – so known for manufacturing that 68 percent of its total job loss during the Great Recession came from that sector alone – that means creating jobs that create.
Aside from expanding their current offerings, which immediately creates new jobs, Velocity's downtown development involves a feeder system for both the company and the region. For that, Deuterman envisions a niche, tech-based, co-working space in the Toni & Guy property.
Deuterman hopes to give displaced workers "a soft place to land to embark on whatever it is they may desire to do, but never tried because they were gainfully employed elsewhere." He's quick to acknowledge that such a development in the Erie market wouldn't aim to compete with other companies like Radius CoWork, currently offering space in the Renaissance Centre at 10th and State streets. Rather, his co-working space would focus on tech-based start-ups; plus training, to not only create or sustain a workforce but to educate it.
In addition to what'll be happening inside the property – the embracing of the internet of things, where vendors can display technology that employees use and customers interact with – Deuterman is looking to make aesthetic improvements to the area, including streetscaping, lightscaping, and championing for bike lanes. The corporate culture of Velocity will evolve, too, as he wants to build a gym and recreation area on site.
"We want to make sure our employees enjoy their work and enjoy where they work," he says.
Beyond recruiting talent for Velocity, Deuterman believes that they can become recruiters for Erie in general. "Someone will hear that there's this company that they may have never heard of before that has all of this to offer and if they're displaced workers, maybe they'll consider Erie," he says.
"We want people to say: 'Wow, this is possible, and it's right down the street' – that they won't have to travel to Pittsburgh, Buffalo, or Cleveland, and that we're using [the technology] ourselves," Wiertel says. "We are practicing what we preach.
"We've been in this market for 25 years, so we know the pains and the pressure points," Wiertel adds. "We have to ask: How can we build services for Erie and also build jobs and opportunities for people who come out of school and will stay here, because they see a company that has continued to innovate for the last 25 years, and to make changes and investments in the community – even though the technology has flipped over 10 times if not more in the last decade?"
Erie must now take a page out of the Chattanooga playbook in strong community collaboration, championing, and support.
"Chattanooga faced certain challenges that confront many mid-sized cities," writes Rainwater. "One way in which the city met those challenges was by building upon its history of collaboration."
Further, he notes: "Any city may dream about becoming a magnet for innovation, but it is incumbent upon city leaders and stakeholders to be realistic. Chattanooga knew it had to stem the brain drain of talented young people to other cities. To do that, the city identified and highlighted its critical assets."
Erie has its assets: Presque Isle and Lake Erie. And it has its legacy in manufacturing. It also has assets in Behrend's Advanced Manufacturing and Innovation Center and Velocity Network's downtown relocation and expansion: two strong examples of how we can potentially evolve our legacy in the 21st century by becoming better versions of ourselves.
Ben Speggen can be contacted at bSpeggen@ErieReader.com, and you can follow him on Twitter @BenSpeggen