The Police and the Public
Bridging the divide and creating accountability  
March 29, 2017 at 3:15 PM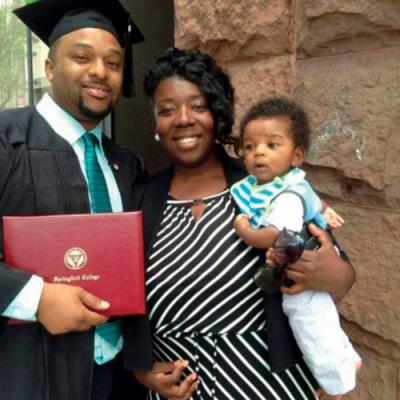 One month to the day after the 9/11 terrorist attacks, Pennsylvania Army National Guardsman Travis Cooley, 22, played pool with some buddies at Big Daddy's, an alcohol-free dance club at 13th and State streets. He says he knew enough not to drink that night. Like many military personnel across the country, his unit was on high alert.
When a fight inside the nightclub spilled into the streets, Cooley and his friends headed for the door, distancing themselves from the crowd by crossing the street to the L. Press Parking lot while they waited for a friend. City of Erie police officers, fearing a riot, approached Cooley. "Get the f--- out of here. Do you want to go to jail?" one of them asked.
Turning to walk away, Cooley says he felt an officer grab his Sean John coat – the expensive designer jacket he had saved up for – and snatch it from his back. Later claiming it was Cooley who threw down his own coat and then assumed "a fighting stance," four officers slammed him against a burgundy Chevrolet Astrovan and threw him to the ground. One officer pressed his head into his back and put him in a chokehold, while another beat his head four or five times with a flashlight after he was handcuffed, flat on the ground.
Cooley says what hurt him more than the bleeding gash on the back of his head before he passed out that night was hearing an officer shout "You are not in the military, you f---ing, lying nigger."
Cooley, now 38, says he remembers every detail as if it happened yesterday. I remember it, too. I was on the all-white jury of nine men and three women that eventually convicted Cooley of failing to leave the scene, a misdemeanor that has followed him ever since.
Cooley, now 38, remembers every detail as if it happened yesterday. I remember it, too. I was on the all-white jury of nine men and three women that eventually convicted Cooley of failing to leave the scene, a misdemeanor that has followed him ever since. The police officer who cracked Cooley's head open and sent him to the emergency room was acquitted of all charges, including aggravated assault, in a separate trial. He resigned from the Erie Bureau of Police, pocketing $70,000 in back pay.
Turns out Cooley could have avoided a trial altogether by pleading no contest to a summary charge of disorderly conduct, a fact I read for the first time in the newspaper the day after our verdict was announced. But Cooley knew he was innocent. He says he believed a jury would clear his name.
Unfortunately, as I would later discover, our jury never heard a full account of Cooley's story.
"This was supposed to be Travis's day in court," his mother, Mary Taylor, told Erie Times-News reporter Ed Palattella. "This was the police's day in court."
To understand how encounters like these can undermine African-Americans' trust in the police – at a time when their cooperation is desperately needed to stem Erie's rising tide of gun violence – I tracked down Cooley at his home in Hartford, Connecticut, where he lives with his wife and two-year-old son.
I also talked with members of a new community-law enforcement group, a gathering of about 20 law enforcement professionals and concerned citizens that has been meeting every other Friday since August to share their perceptions about racial profiling and excessive force, improve relationships, and take personal responsibility for keeping neighborhoods safe.
The community group was convened after the U.S. Department of Justice opened a civil rights investigation into the possible use of excessive force by individual officers who arrested Montrice Bolden on June 27 in the parking lot of a local tavern. What to some looked like police brutality was captured by a surveillance camera and shared on YouTube, sparking protests and opening up old wounds. Was the force justified or was it an example of police misconduct? The ongoing probe by the FBI seeks facts in that case and examines patterns and practices within the Erie Bureau of Police.
Members of Unified Erie, Police Chief Don Dacus, Assistant U.S. Attorney Marshall Piccinini, and representatives from the FBI are participating in the ongoing community discussions, and by all accounts conversations have been sincere, brutally honest, and might just result in significant breakthroughs. The group hosted a public forum on Feb. 20 at Pfeiffer-Burleigh Elementary School, which was recorded by WQLN Public Media and is available online.
Not long after the federal civil rights investigation was announced and the Erie Bureau of Police launched its own internal investigation into the Bolden arrest, three Erie police officers came forward following another incident, reporting that a fellow officer, patrolman Justin W. Griffith, kicked a handcuffed suspect in the face "like he was kicking a ball." The police report said the suspect, Patrick Gehrlein, who is white, spat at officers and said he had AIDS. Gehrlein suffered fractures around his eye and cheek. Griffith was arraigned on a criminal charge of simple assault on Feb. 27. A trial date in Erie County Court is expected in April or May.
What Cooley's case tells us
Grateful that Cooley was willing to talk with me by phone after all these years, I pulled out my notes and the newspaper clippings I'd saved from his 2003 trial and began to ask how his experience with police and the criminal justice system affected the trajectory of his life. Maybe this could help explain why other African-Americans in our community are reluctant to work with police.
From the time he was a kid, Cooley wanted to be a police officer, he recalled during our telephone interview. "There used to be a group of police officers who would walk along my block on West Fourth Street. The neighborhood was starting to get out of control with people coming in from Detroit and Chicago to set up shop and sell drugs. And there were these older cops who walked with us, talked with us, and asked us how we felt about the neighborhood," Cooley said. "They were some of the coolest guys I ever met. It seemed like they really cared about us."
Cooley believed the police force had a culture of family, just like the military he volunteered for considered itself a family. "Values get passed down as they teach new recruits how to treat the general public, the people they swore to protect," Cooley said. "And then I ran into those guys that night on State Street and it was like, 'where did you get your teachings from?' I saw nothing of those older guys in these younger guys."
Cooley learned to respect police from his mentor, David Morris, the legendary Gannon College basketball star and Strong Vincent basketball coach who taught him the value of community service and volunteerism. They spent a lot of time together at the Martin Luther King Center while Cooley was growing up.
"David was everybody's dad. He took me under his wing; he employed me. He didn't owe my family anything. He had a family of his own. He still found time to raise me, teach me to be respectful, and love God," Cooley said, growing emotional. "The way I conduct myself, the way I treat others, he pretty much chiseled me into a man."
When I paged through the transcript of Cooley's trial, I wondered why our jury had never seen this side of Travis Cooley.
As it turns out, according to Cooley, the attorney assigned to defend him hadn't met with him ahead of time to get all the details about what happened. The only thing he seemed to know was what he had read in the newspaper. Cooley tried to fire his attorney before the trial began, but the judge said it was too late. 
The trial transcript revealed that despite numerous sidebar discussions called by Judge Ernest J. DiSantis, Jr., both on and off the record, and being given three chances to correct himself, Cooley's defense attorney failed to properly "ask the questions in the right way." Calls for character witnesses who could vouch for Cooley's performance in school and his record of community service were dismissed.
The exception was one woman who gave an eyewitness account of the incident at Big Daddy's. She recalled seeing a police officer push Cooley and grab him by the jacket as he tried to leave the scene. She said Cooley did not assume a "fighting stance" as police officers alleged. He was trying to walk away. She heard the officer call Cooley a nigger.
At trial, several police officers testified Cooley was taken to the ground and beaten by an officer they couldn't identify by name. All that some officers remembered seeing was a hand, a flashlight, and Cooley's bloodied head. One complained his hair gel had been mussed up while trying to subdue Cooley.
But shortly after the incident, another officer at the scene, corporal Keith Kaschalk, had come forward. He reported to his street sergeant that he saw patrolman Edmund C. Libell assault Cooley. Two days after Cooley's beating, the Erie County District Attorney's Office charged Libell with aggravated assault, simple assault, and recklessly endangering a life. He was suspended from his job without pay.
Then top Assistant District Attorney Robert Sambroak (who later served for thee years as an Erie County Judge and died unexpectedly March 2 following a brief illness) turned to the jury and told us to concern ourselves only with the charge against Cooley under the narrow definition of "failure to disperse." Sambroak, known for his calm, matter-of-fact demeanor, assured us the assault case against Libell would be prosecuted later.
After listening to instructions from Judge DiSantis and following nearly three hours of deliberation, during which I and one other woman argued Cooley had been railroaded (it seemed to us the only reason he didn't leave the scene was that police officers held him there against his will, handcuffed on the concrete), we gave in and went along with the other jurors. Cooley was convicted of failure to disperse but was acquitted of resisting arrest.
Cooley paid his fines, and served one year probation and 50 hours of community service after Judge DiSantis, at his own discretion, added the original charge of disorderly conduct.
Three months later, officer Libell was acquitted of all charges, including aggravated assault, simple assault, and recklessly endangering a life. He walked away with $70,000 in back pay. An hour before then-Erie Mayor Rick Filippi was to announce his decision on Libell's future as a police officer, Libell voluntarily resigned.
At the time, Filippi said he "wanted to stress that Erie's police officers are held to a high standard, and that there has to be a level of confidence in police officers by the public" (Tim Hahn, Erie Times-News 7/25/03). "People have to feel safe, feel as though police officers are out there to protect the community, to have that level of trust," Filippi said.
Cooley filed a federal police-brutality lawsuit against the city. But before the case was heard in federal court, Erie City Council approved a $20,000 settlement with Cooley (Kevin Flowers, Erie Times-News, 2/10/05). Cooley told me he signed the settlement to avoid going to trial on a gun charge after he alleges being picked up by some of the same officers who arrested him at Big Daddy's. He says he was told he could spend 14 years in prison if convicted by a jury. If he dropped his lawsuit against Edmund Libell, he says he was told those charges would disappear. Given his previous experience in court, Cooley says he had lost faith he would get a fair shake from a "jury of his peers."
According to Cooley, 40 percent of the settlement went to his attorney.
"As soon as I cashed my check at DeLuca's, I bought a Dodge Caravan, kissed my kids on their foreheads, gave my kids' mom some cash, and moved to Las Vegas. I wanted to get as far away as possible," said Cooley. His brother, who lived in Vegas, helped him land a job as a security guard.
"I felt robbed," Cooley said. "It ruined my life. It cost me my relationship with my kids. I was passed over for promotion and my military career declined."
But Cooley didn't give up. After a couple of years he returned to Erie, and in 2010 volunteered to serve a tour in Iraq, working at the maximum-security prison in Taji. After he left the military, he went on to earn a Bachelor of Science degree in Human Services from Springfield College, in Springfield, Massachusetts. Now he's studying to take the LSAT exam so he can get into the University of Connecticut Law School. If he succeeds, he'll go tuition-free because of his wartime service.
In the meantime, Cooley works odd jobs and helps with his father-in-law's landscaping business. He attributes gaps in his employment to his disorderly conduct and failure to disperse convictions, misdemeanors that remain on his record. He said he still suffers from migraines and has trouble with his back.
When he thinks about the deaths of unarmed black men and boys at the hands of police – people like Michael Brown, Tamir Rice, and Eric Garner – and reads about continuing violence in Erie, Cooley said he's concerned for the safety of his two oldest sons, ages 14 and 15, who still live in Erie. "I worry about them running into the police more than I worry about them running into some crazy kids with guns," Cooley said.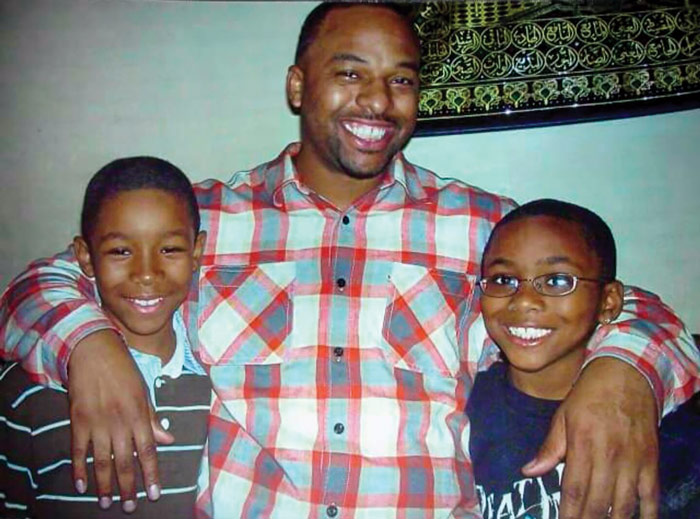 "My advice to parents? Protect your kids, protect your families, and continue to teach your kids how to avoid the police. Stay away from trouble. Don't even look like you're in trouble.
Dialog, new initiatives aim to rebuild trust
Over the years, others have come forward with stories questioning police conduct, from racial profiling and harassment to outright assault. Some have been referred to the Justice Department by the NAACP. The family of David Johnson received a settlement of $410,000 from the city's insurance carrier, ending a federal civil rights lawsuit filed over Johnson's 1991 death, which allegedly followed a scuffle with police. In one highly publicized 2009 case, an off-duty patrolman, James Cousins II, publicly mocked a homicide victim's mother at a bar one night in a racially charged rant, which was recorded and shared on YouTube.
The black community asserts the reality of police brutality must be acknowledged, even if committed by only a few rogue cops.
But if real progress is to be made, everybody must dig in and get to know each other as people, including what they are up against every day – in a conference room instead of a courtroom. The community-law enforcement relations group accepted that challenge six months ago and pledged to keep talking for one year, in the hopes of rebuilding trust, healing old wounds, and ultimately, working together to reduce violent crime.
"It's so good for the police and law enforcement to get the perspective of someone who's been pulled over [in their car] for no reason at all," said Erie County District Attorney Jack Danieri, who attends the sessions. "But what makes these discussions work is that the community leaders – the mothers who lost someone to violence, the social workers, the clergy, the security guard at a local hospital – that they, too, get the perspective of a police officer. Because if you've never been one, and you've never had one in your family, how do you know what it feels like to get out of your vehicle at a domestic scene when there's 30 people on the lawn? How do you know someone is not going to put a bullet in your head as you get out of your car?"
Erie Police Chief Don Dacus said he's proud of the men and women on Erie's police force. He believes they are the best trained in the region, and pointed to a number of programs that are putting police on the ground in the neighborhoods they serve.
When he was sworn in last September, Dacus, a 21-year veteran on the force, said his goals include strengthening ties between the police and community. He said a lack of cooperation from crime victims and the community is keeping police from doing their job effectively.
"They don't feel that they can trust law enforcement to such a degree that they're willing to take on the additional responsibilities of being good victims or witnesses for law enforcement when the time comes to prosecute individuals for crime," Dacus said.
"I want to be visible. I want to put in the extra time, the extra effort, and the extra hours to show them that I am committed to building those relationships, doing the right thing, and moving the community forward," he said. "I'm expecting my command staff to follow my lead and be just as proactive and visible."
In other words, Dacus wants people to know there's more to police work than making arrests.
There is much to build upon.
His predecessor, Chief Randy Bowers, partnered with Parris Baker, a Gannon University social work professor and member of Erie's African American Concerned Clergy, to run an intensive diversity training program for all 172 members of the police force.
Bowers made a concerted effort to recruit minority candidates without much success. Currently the force includes five African-American men, two Hispanic men, one Native American man, nine white women, and 155 white men.
During Bowers' tenure, the department secured a $600,000 Byrne Criminal Justice Innovation Grant from the U.S. Department of Justice to fund community-policing efforts such as neighborhood patrols. Last year the patrols worked in Little Italy, covering the area between West 14th and West 21st streets, between Sassafras and Liberty streets. Dacus said he's hoping to expand the program in 2017.
"We've had very positive feedback," said Dacus. Six to 10 officers go into the neighborhood with the Erie Bureau of Police mobile precinct, get out of their vehicles, and walk around the neighborhood in four-hour shifts. "We're engaging with neighbors in general conversations and to find out what their concerns are. We've partnered with code enforcement, and other city services, to try and address whatever their needs might be, from trash collection to drugs and prostitution."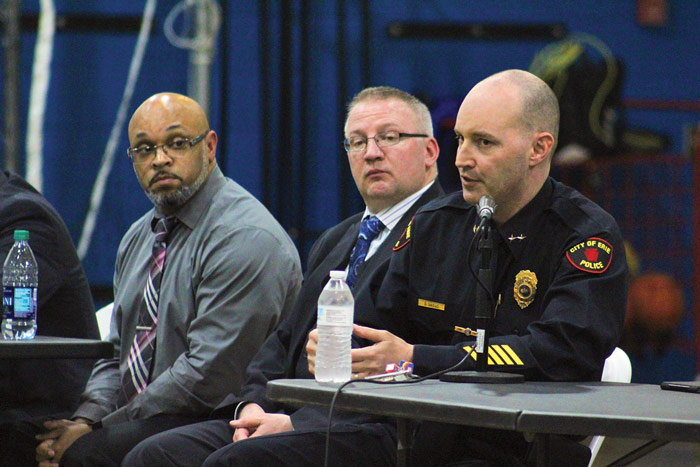 Also last year, city police and the Erie County sheriff's office, together with Erie attorney Ron DiNicola, revived the Erie Police Athletic League (PAL), which flourished in the 1950s and 1960s and disappeared in the 1970s.
Sheriff John Loomis said, "If we can point our youth in the right direction at a young age, and keep them from going astray and going down a path that may lead to crime, drug addiction, or incarceration, that's our goal, to get them on a better path."
Dacus said the Police Athletic League also placed two city police offers and two sheriff deputies at Pfeiffer-Burleigh School every Wednesday from 2:30 to 5:30 p.m., working with 60 children who are deemed at risk. They help them read, do homework, and play sports as time allows.
"We want to keep the officers consistent, so these children have the opportunity to build a relationship with these officers," Dacus said. "We've had several parent nights, where parents can come and engage our officers and ask questions, and just see that these policemen are impacting their children in a positive manner."
Dacus said he hopes that kind of cop-kid relationship will help them have a different outlook on police when they grow up.
"We want people to understand the police are their biggest fans," Dacus said. "We're in their neighborhoods trying to make a safe place to live and raise their children to be productive, and we're looking to eradicate the criminal element to keep them safe. We want to make these safe neighborhoods for everybody."
Rooting out violent subcultures wherever they are
Marcus Atkinson, one of the most passionate participants in the community discussion group, is thankful for these efforts and agrees there has been excellent dialog about what needs to happen next.
Atkinson, pastor of community engagement at Grace Church and director of ServErie, an association of Erie churches that is working to improve and restore some of Erie's most neglected neighborhoods, is also host of NEXT on WQLN Radio and Erie Now on WQLN TV. He serves on the board of the Martin Luther King Center and is a former director of the YMCA's Teen Center.
"I can tell you to a person, we are being honest and open," Atkinson said. "If people didn't walk away from that first meeting or two offended or frustrated, we were probably not being honest with each other because this issue is so sensitive. And we passed that test in my mind. So now let's see who is coming back. Let's see who's interested in coming to some resolution. And you know what? Everyone including the chief is coming back."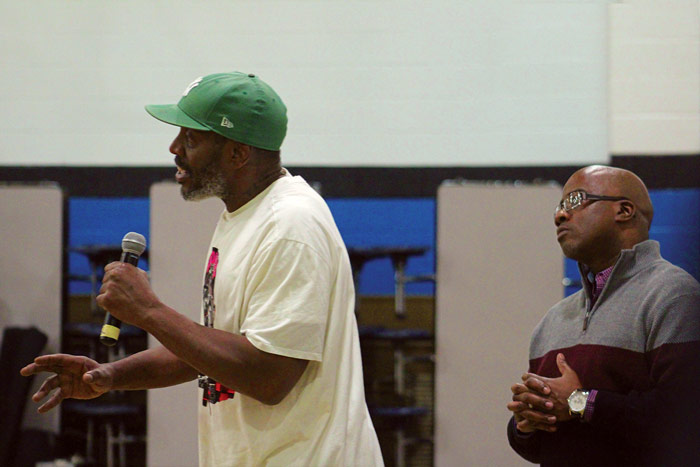 Atkinson said the issue that brings him the most angst and frustration is the subculture that he believes exists in many police precincts.
"I know that for every profession there is a subculture. But when you have a profession that is paid by the public and that has the ability to use deadly force, that's a powerful position to be in, but it's also a position of accountability".
"I know that for every profession there is a subculture. But when you have a profession that is paid by the public and that has the ability to use deadly force, that's a powerful position to be in, but it's also a position of accountability. So the people in charge have to go back to their officers and say, 'Here's the standard, and you don't get the luxury of violating that based upon some blue code, albeit unwritten, and it won't be tolerated on our watch.'
"I was the former YMCA Teen Center director. If I have a teen terrorizing the other teens, and I do not handle that, my authority as a director is weakened when I try to discipline or even encourage another student who comes to the teen center and says, 'Mr. Atkinson, you've let this person run amok, he's beating up on people, he's disrespecting people, you haven't done a thing about him, so I don't want to hear your encouragement or I don't want to hear you preach to me. Handle that if you want my respect, if you want me to listen.'"
The community feels the same way about the police department, Atkinson said.
"You want me to trust you? Do something about this guy who's always putting his boot on my neck when he sees me, who's always pushing me around when he sees me," Atkinson said. "That conversation probably lasted a good month, and we were meeting every week. Because it was at the epicenter of how most of us felt, and strikes at the very heart of the distrust issue."
Chief Dacus said he's come to understand there is confusion over what kind of force police are allowed to use in certain circumstances. The law, he said, affords police to use more force than what's being used against them, as long as that force is reasonable and proper. He admitted police need to do a better job of educating the public about that.
"If officers make decisions that are not in accordance with our department's policies and procedures, there are mechanisms to hold them accountable," Dacus maintained. He said the public might not be aware of the disciplinary actions he takes because, unless an officer has committed a criminal act, it becomes a private personnel issue.
On the other hand, he said, "If an officer commits a criminal act, we've demonstrated we're willing to make the hard decisions."
Dacus would not list any specific actions, but said, "I can tell you that we have been able to use information gathered from these meetings to address neighborhood situations, and to address situations within the police department."
Danieri said while there is a perception of police brutality, black community members in the discussion group "would be the first to tell you, 'Listen, we've got problems within our community. It's a problem that individuals are not assisting police. We know that. We're not going to blame officer so-and-so for us not telling you what we know about this. That's not suitable anymore.' I think they'd be the first to agree that the community has as much work to do as law enforcement does."
The give-and-take is not always easy, and there's a long way to go to rebuild relationships, but everyone agrees they need to work together to root out violent crime in Erie.
"These individuals have a great voice in the community," said Danieri. "They have been going and will continue to go into the community and say, 'You think you can paint all these officers with the brush of a few? You shouldn't do that. Here's why. I've sat with these people, we've shared stories, we've shared tears, we've shared experiences.' Nothing gets better if we all just stand with our arms crossed on each side of that line in the sand."
This article as it appears online has been edited for clarification. 
Lisa Gensheimer is a documentary producer and writer who lives in North East. She can be contacted at lisa@onmainstreet.com.