The Press for Local
Loss of Titusville Herald further underscores critical endangerment of independent journalism
December 16, 2022 at 8:30 AM
On Nov. 2, 2022 the Titusville Herald published an article introducing their newest reporter. In it, she spoke of her eagerness to hear and report on the stories of those in and around Titusville, Pa. for the historic newspaper that had served the community since 1865.
Her chance to do so would be short-lived. Three days later, the paper stunned its readers with its front page headline: "The Titusville Herald says goodbye, and thank you."
The neighboring Oil City News-Herald soon reported on how the closing jolted the Titusville community. As the news spread across social media, comments online from Titusville residents overwhelmingly suggested that they were blindsided by the news. While Mike Sample, the longtime owner and publisher who referred to Titusville as "the center of the universe," had died in early 2022, the newspaper — at least from the community's perspective — was still publishing as usual. While the announcement was vague, it only stated that the family had "desperately" desired to continue publishing, but it was "evident" that they no longer could.
Publishing a newspaper is not an easy task. It never has been, but this is particularly true considering the unique challenges of the digital age, which has upended the traditional business models. The Titusville Herald is not the first historic newspaper to close up shop in recent years. According to a recent New York Times report, over 2,500 newspapers have folded in the U.S. since 2005 with more closures on the horizon — leaving one-fifth of Americans already living in news deserts, where residents have little to no access to essential local news and information.
The University of North Carolina's Hussman School of Journalism and Media has been tracking the growth of these news deserts, sounding the alarm on the dangers of communities losing local coverage. "Local newspapers have historically been a 'tie that binds' people in a community," they explain. "Our sense of community and our trust in democracy at all levels suffer when journalism is lost or diminished."
Smaller market newspapers are the hardest hit. Many are also being bought out by corporate giants. In 2015, for instance, the family-owned Erie Times-News was purchased by GateHouse Media, which then merged with Gannett Co, Inc. in 2019, making it the largest newspaper publisher in the country. At the time, journalist Clara Hendrickson reported that this merger — granting Gannett control over one out of every six newspapers throughout the nation — would likely "deepen America's local news crisis."
CEO Mike Reed celebrated the merger by stating that these changes would bring $300 million in "annual cost saving synergy." What became clear very quickly was that this "synergy" was corporate-speak for gutting newsrooms. Layoffs and furloughs were immediate. The pandemic didn't help. More layoffs, furloughs, and buyouts emptied newsrooms further — although unionized Gannett journalists were quick to point out that while newsrooms suffered, the CFO was awarded a $1.2 million bonus and the CEO was bringing home an $8 million salary (on top of receiving $16.4 million from the Paycheck Protection Program).
These cuts, which have continued into 2022, are described by the unions as a result of "financial mismanagement," unable to be solved by more staff reductions. However, as reported by Poynter on Nov. 17, Gannett is again laying off more from their news division in order to cut costs, this time a reduction of 6 percent — or roughly 200 more of their remaining 3,440 journalists. This is after laying off 400 last August and deciding to not fill 400 open positions, as well as requiring mandatory unpaid five-day furloughs and halting contributions to employee 401(k) plans. The newsrooms most affected are those lacking unions with contracts protecting its membership. Erie Times-News journalists are unionized with the Erie News Guild Local 38187, but as some journalists have already pointed out, contracts won't protect even unionized newsrooms from long-term mismanagement and lack of local investments at the corporate level.
The reaction from journalists online was swift and highly critical of Gannett.
"Journalists already have to convince so many people that the work we do matters," journalist Kati Kokal tweeted in response to the news. "[Gannett] shouldn't be on that list."
"Slashing newsrooms is not what our communities deserve," tweeted Detroit Free Press reporter Andrea May Sahouri.
Others feared how the industry's increasing instability would crush the morale of young reporters while also scaring away those who might be interested in studying journalism. Reporter Andrea Ball stressed the importance of "smart, analytical, passionate, [and] curious" journalists, who, she argued, expose corruption and mismanagement at the local level, but also inspire communities. "They tell stories that make you laugh, make you cry, and make us better people," she wrote. "They demand accountability."
These latest cuts at Gannett began on Dec. 1, a day described by journalist Tom Jones of Poynter as "brutal" and a "grim day in journalism." Dallas Morning News reporter Meghan Mangrum noted that thinning out newsrooms "while asking readers to pay more and more for the product still being produced is lunacy."
There is no doubt that the industry has changed significantly in the digital age and the economics of publishing isn't for the squeamish, but for many who entered journalism believing they were providing a public good, corporate leadership's lack of imagination and lack of desire to support the work of its journalists is the most frustrating. Furthermore, some allege, it's also clearly resulting in less desirable products. Stretching newsrooms too thin and filling space with aggregated content not specific to the community is leading people to cancel subscriptions, attracting fewer new subscribers, and in turn leading to fewer local advertisements, which reduces revenues. Gannett leadership offering that journalists work shorter weeks or take unpaid six-month sabbaticals is only a band-aid that doesn't solve these long-term revenue problems. It also does nothing to improve the product itself, which is what makes it worth subscribing to.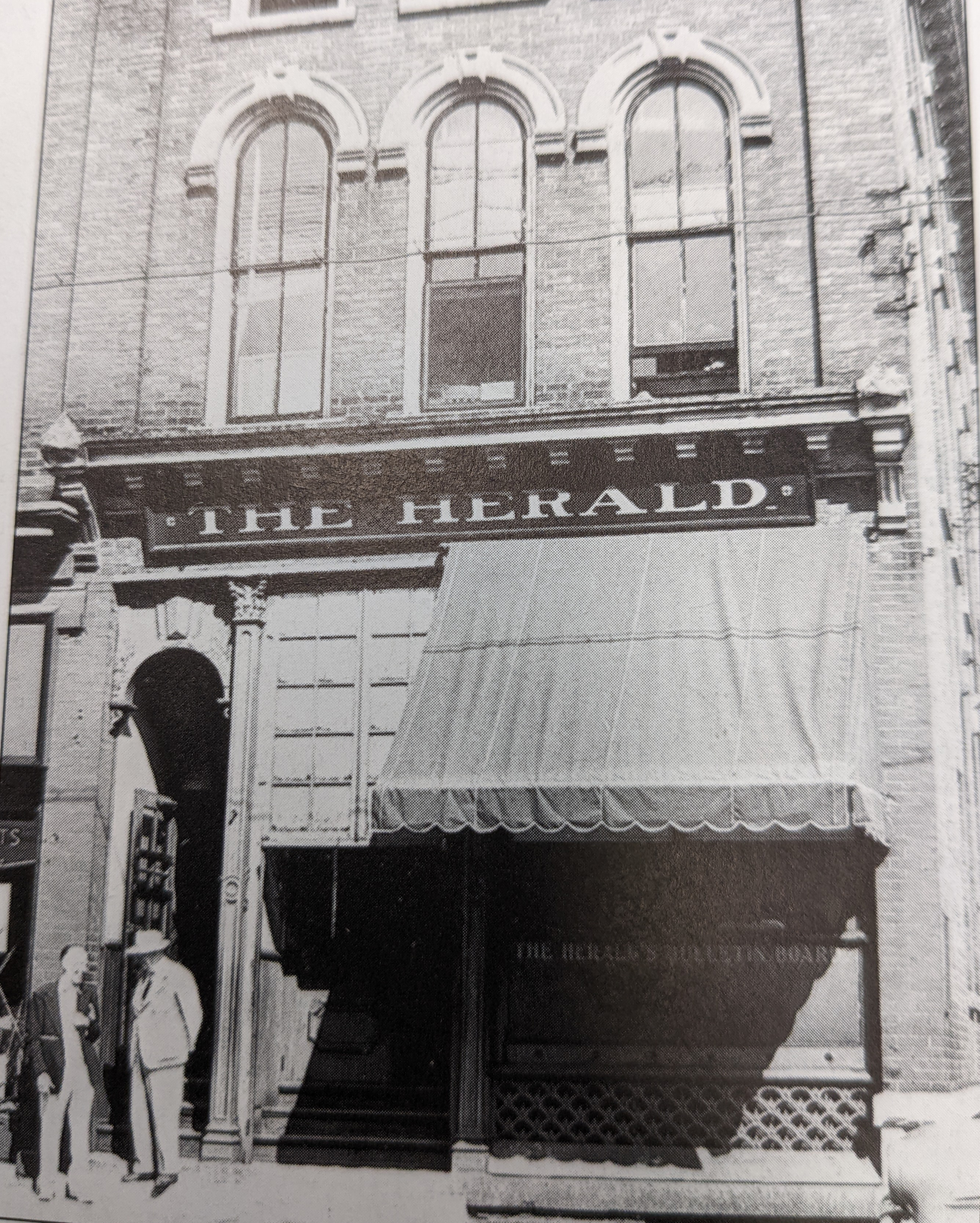 From 1865 onward, the Titusville Herald was largely run by two families: the Bloss and Stevenson families. Joseph M. Bloss (right) is shown with his successor, Edgar T. Stevenson at the newspaper's former South Franklin Street office. This photo was taken in 1955. (Photo credit: Around Titusville, David L. Weber)
Gannett's corporate approach also seems to be to sell off as much real estate as possible (as seen in Erie in 2020 when they sold the longtime Times-News building at West 12th and Sassafras to Logistics Plus for $2 million), followed by investor-friendly cost cutting.
As former USA Today journalist Brian Munoz wrote, "Journalism is supposed to serve our communities, not shareholders." Yet, serving shareholders is exactly what Gannett is doing, according to the Arizona Republic Guild. In a statement, they stressed that Gannett is choosing profits for its shareholders and executives over investments in its newsrooms, adding that while underpaying journalists and overpaying corporate leaders, its executives were "earning millions and spending ridiculous amounts of money on anti-union attorneys to negotiate their contracts."
The SJ-R Newspaper Guild out of Illinois added that Gannett gave over $9 million to its top two executives just last year while concurrently reducing its staff by 24 percent. "You couldn't have a more out of touch CEO [than Mike Reed]," the guild alleged.
Indeed, just this year, Gannett published a press release for investors announcing its authorization of a "share repurchase program for the repurchase of up to $100 million of the Company's common stock." Otherwise known as stock buybacks, the purpose of this is to artificially create demand for one's own stock, which will increase the prices of its shares to reward investors (as well as providing corporate compensation for those whose salaries are tied to stock prices). It's complicated, but in simple terms: money invested in buybacks is money not invested elsewhere in the company.
In Sept. 2022, financial advisor Roger Wohlner wrote that stock buybacks may seem good for investors at first, but that effects are temporary because the market will eventually self-correct when the company hasn't actually done anything to increase its value. "Some economists and investors argue that using excess cash to buy up stocks in the open market is the opposite of what companies should be doing, which is reinvesting to facilitate growth (as well as job creation and capacity)," he explained.
Of course, in terms of newspapers, especially smaller regional papers, in order to sustain long-term and increase in value, one needs to adapt to the changing economies of the digital world, but even more importantly, continue putting out a product that consumers are willing and eager to spend money on. Potential subscribers and advertisers likely are not too focused on Gannett stock prices while weighing their decisions to subscribe or advertise.
Alternative newspapers, such as the Erie Reader, Pittsburgh City Paper, Cleveland Scene, and Buffalo Rising help fill in the gaps, although they are not immune from financial struggles as well. As Poynter points out, there were 135 alternative papers in the Association of Alternative Newsmedia in 2009, but the number has dwindled to 88 as of this year.
There are solutions. The easiest is simply supporting local journalism. Whatever the problems with corporate ownership, Erie is fortunate to have the Erie Times-News and the excellent, dedicated, and fair-minded journalists employed there. That shouldn't be taken for granted. Nor should the Erie Reader, which also provides a valuable service to the community.
There are other regional newspapers worth supporting as well, whether it's the Corry Journal, Meadville Tribune, Erie Gay News, West County News-Journal, North East News-Journal, Union City Today, and even local university and high school newspapers. Support their journalists. Share their work. Click on an advertisement every so often.
Despite the loss of the historic Titusville Herald, there is still a positive development. Days after its closure, the Corry Journal announced that they, along with owners Sample News Group, would be starting a free, advertisement-driven weekly newspaper called the Titusville News-Journal. Corry Journal publisher Bob Williams promised to save as many Herald jobs as possible, which included the reporter who had only been on the job a few days before the closure announcement. The first weekly was published on Nov. 18 (which included reporting on the local school board and city council meetings), a Facebook page is already set up, and a website is in the works.
While the realities of the industry should be discussed candidly, there are ideas on how to move away from a model of self-destruction. UNC's Hussman School of Journalism and Media has offered their solutions: invest in human capital, tie newspaper business strategies to the particular communities, create meaningful partnerships, and, perhaps most importantly, remember that "advertisers follow audiences," not the other way around. Invest in a product that is worth the subscription and the subscribers and advertisers will follow.
Jonathan Burdick runs the historical blog Rust & Dirt. He can be reached at jburdick@eriereader.com