The Promise of Pot
Ideology, science, and the politics of medical marijuana.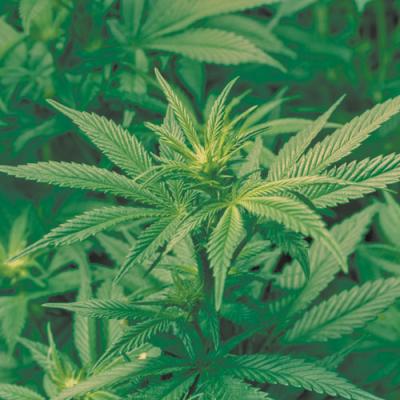 Leah Barnes struggles every day. She has a rare genetic disorder that hinders normal brain development and causes seizures. To date, Leah has had more than 10,000 seizures.
Leah is eight years old.
Her condition is known as CDKL5, which stands for cyclin-dependent kinase-like 5. It has been diagnosed in approximately 800 cases worldwide. The CDKL5 gene essentially tells the body to produce a protein needed for normal brain development. For Leah, this means she is confined to a wheelchair with limited physical and cognitive abilities. Little is known about the this gene that lives on the X chromosome – the sex chromosome present in both men and women – or the protein it helps produce, but doctors and parents search for explanations as well as a cure.
Like Leah, who was just eight weeks old when she had her first seizure, people who live with CDKL5 usually suffer their first seizures when they are just a few months old. And like Leah, most cannot walk or talk. They are confined to wheelchairs and need help to feed themselves. They are dependent on others for everything.
Leah's parents, Brian and Kelly, want more than anything for their daughter to be happy and healthy. They are Leah's primary caregivers. They administer to her multiple medications – most of which are prescribed to control the seizures – and they are at Leah's side when the medication fails.
"She has seizures daily," Kelly says. "Right now, it's pretty controlled, so she has one or two seizures a day. At the beginning, she might have had fifty a day. She's been on twelve antiepileptic medications. They all failed."
Brian and Kelly struggle with the realities of medicating Leah on a daily basis. Where is the balance between enough medication to control the seizures and so much medication that it negatively impacts Leah's physical and cognitive abilities, her quality of life? It's a problem understood by anyone who takes or administers medication for an acute or chronic illness. It's a problem that keeps patients and caregivers searching for solutions.
Some families affected by CDKL5 have tried medical marijuana to treat the seizures caused by the disorder. But Kelly Barnes knows that, like all treatments, it's a possible solution, not a guarantee.
"It helps in 50 percent of the cases," she says. "The other 50 percent keep looking. But if it helps anyone, it's worth a shot."
Medical marijuana is a controversial treatment for a variety of conditions and its use is driving debate in state legislatures across the United States. The Barnes family hasn't tried medical marijuana, yet. But it's not because they're opposed.
So far 23 states and the District of Columbia have legalized marijuana for medical use. Of those states, only Alaska, Colorado, Oregon, and Washington permit recreational use.
Here's where the conversation gets complicated: opponents of marijuana, and medical marijuana, in particular, choose to reinforce decades old stereotypes about "Reefer Madness" and the plant's position as a gateway recreational drug. These anecdotal arguments diminish the impact of medical science that demonstrates the pharmacological benefits of the cannabis plant.
But then again, the medical community hasn't had much of a chance to make a case for marijuana. The Controlled Substance Act of 1970 defined marijuana a Schedule-I drug deemed to have no medical value and a high potential for abuse, placing pot in the same category as cocaine and heroin.
This was the era just after the "turbulent sixties," when marijuana was seen by the Nixon Administration as a drug taken by dangerous radicals intent on destroying America. But instead of saving the country, the Controlled Substance Act of 1970 changed the anti-drug paradigm in the U.S. from treatment to crime. No longer would the federal government put financial resources – strained by the Vietnam War and the Cold War abroad, and the federal oversight of domestic police actions on poor and minority communities throughout the U.S. – into the treatment of drug offenders.
Instead, changes in state and federal drug policy led offenders to be imprisoned through the criminal courts rather than rehabilitated in state or federally funded treatment programs. Since 1980, the number of people serving sentences in a state or federal facility for drug offenses has skyrocketed from just more than 41,000 to nearly half a million people, most of whom are non-violent drug offenders with no prior criminal record, according to the research and advocacy group, The Sentencing Project.
The stigma attached to recreational marijuana use limited cannabis research and commerce in the United States for most of the 20th Century.
However, research abroad during that same time – most famously in Israel and the United Kingdom – found that cannabis contained multiple chemical compounds known as cannabinoids. While more than 60 cannabinoids have been discovered, medicinal properties are most significant in two compounds, Tetrahydrocannabinol (THC) and Cannabidiol (CBD).
THC is the psychoactive chemical in pot that gets people stoned. But when THC binds with receptors in the brain, called endocannabinoids, it can also have analgesic, anti-spasmodic, anti-tremor, anti-inflammatory, and appetite-stimulant properties. THC has proven effective in helping patients with HIV/AIDS increase their appetite to help treat weight loss. It's also been effective in helping cancer patients deal with the side effects of chemotherapy, including nausea and appetite suppression, and conditions like glaucoma, Crohn's disease, Tourette's syndrome, asthma, and diabetes.
For the past 25 years, more extensive testing has been conducted on CBD, a non-psychoactive, low-THC strain of cannabis, because it's less controversial than the more common high-THC strains that are prevalent on the recreational drug market. It's being used to treat anti-inflammatory, anti-convulsant, anti-psychotic, anti-oxidant, neuroprotective, and immunomodulatory effects.
"Interest in CBD is in part because of the need to find drugs that don't have the full on effect that other drugs might," says Dr. Peter McLaughlin, a neuroscientist and professor in the Edinboro University department of psychology who studies behavioral pharmacology. He's spent his career researching cannabinoids – marijuana-like chemicals, including THC and CBD – that activate what's known as the CB1 receptor as well as the drugs that block them. "You may be able to give someone more beneficial doses of CBD for seizures without the psychoactive effects," he says. "With THC it's much harder to have that light dose window where it's beneficial but it's not sedating or it doesn't have other detrimental cognitive properties."
This is what makes CBD research so attractive to parents like Brian and Kelly Barnes who have struggled with the sedation caused by prescription medication administered to their 8-year-old daughter, Leah. As CBD research becomes more mainstream in the scientific community and more accepted in political circles, they have more opportunities to seek out medical alternatives that may give Leah the best possible quality of life.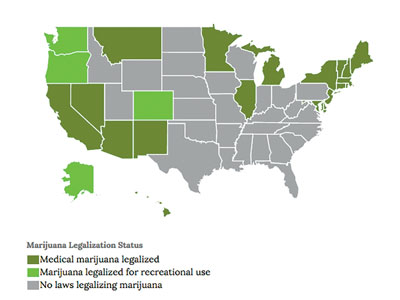 "Leah was accepted into a clinical trial at New York University," Kelly shares. "But we would have had to travel to Manhattan every two weeks. We just couldn't afford to do that and there are a lot of logistics involved with getting her to New York and home again. That's an expensive and stressful undertaking for something that may not work."
When Leah was accepted to the NYU trial, Brian and Kelly also had to consider the legal question of bringing CBD oil into Pennsylvania to treat their daughter.
"We've heard horror stories of parents being arrested for giving their children medical marijuana. But if you're participating in a clinical trial, you're allowed to use it and transport it across state lines, even though there are still a lot of unanswered questions," she added.
The Cleveland Clinic is expected to begin a CBD trial in January 2016 and Brian and Kelly expect Leah to participate. She already goes to the Cleveland Clinic for regular treatments. But they continue to hold out hope that maybe one day they could access trials like this closer to home.
CBD research is now legal in 15 states beyond those where marijuana had been legalized previously for medicinal and recreational use because state legislatures took action on behalf of patients who sought alternatives to traditional prescription medication. Those states include Alabama, Mississippi, Tennessee, Utah, Georgia, and Texas, among others. The Keystone State has yet to pass any laws decriminalizing marijuana use of any type for any reason.
But the Pennsylvania Senate did pass Senate Bill 3, "providing for the medical use of cannabis in the Commonwealth of Pennsylvania," in May 2015 with a bipartisan 40-7 vote after many amendments since it was first introduced in January.
SB3 requires that patients register for a medical cannabis access card issued by the Pa. Dept. of Health and it limits the use of medicinal marijuana to 15 medical conditions, including epilepsy or seizures, cancer, HIV/AIDS, diabetes, Parkinson's disease, post traumatic stress disorder, and chronic pain for which other therapies no longer prove effective. It creates a state board to oversee the regulation of medical marijuana and it also limits the production and sale to regulated dispensaries. It does not allow those with a cannabis access card to grow their own plants at home for personal consumption. There are many other regulations associated with SB3, but legislators saw it as a starting point that needed to satisfy multiple constituencies in order to move the bill forward.
"Overall, it's critical that we offer medicinal cannabis as an alternative in this state," says Pa. Senator Sean Wiley (D-Erie), who co-sponsored SB3. "It's clear that if you look at the statistics and the studies that have been done, this is an opportunity to relieve so many people from across the commonwealth of chronic pain. This is medicine."
But Wiley's colleagues in the state House of Representatives disagree. SB3 sat in the House Health Committee for months, held hostage by the committee's chairman, Rep. Matt Baker (R-Tioga), who opposes the legislation.
"Too many times we allow ideology to get in the way of good decision making on policy," says Wiley. "I really feel that those who are opposing this legislation in the House simply haven't given it enough effort to figure out what we're talking about. Unfortunately we're allowing ideology to get in the way of really supporting and benefiting people across the state, people of all ages and all ailments."
And this isn't a partisan issue. SB3 passed with overwhelming bipartisan support in the Senate and it has lawmakers in the House straddling party lines in a way that we haven't seen in a very long time. One of Baker's staunchest critics on his holdup of the medicinal marijuana bill was Rep. Nick Micarelli (R-Delaware), who initiated a rarely used discharge petition, which would have forced SB3 to the House floor for a vote, where it was likely to pass, if it had enough support from the membership. Before the discharge vote was finalized, Rep. Baker called an emergency meeting that sent SB3 out of his committee to the Rules Committee, and of which Baker is also a member, where it is likely to sit for the remainder of the legislative session.
Gov. Wolf has promised to sign a medical marijuana bill – should one reach his desk.
However, complications in the House make that unlikely to happen. There are currently two medical marijuana bills active in the House in addition to SB3.
Rep. Mark Cohen (D-Philadelphia) sponsored HB193, which more closely resembles legislation in states that allow personal cultivation with few restrictions on how the plant is used. Cohen's bill, which was first introduced six years ago, has been all but ignored in the House because of its breadth.
The other bill, HB1432, was introduced by Reps. Ron Marsico (R-Dauphin), Mike Regan (R- York), and Sheryl Delozier (R-Cumberland) in late June after Baker sat on SB3. Marisco, who chairs the House Judiciary Committee, has cache in the House that may move HB1432 toward a vote on the House floor. Co-sponsors of the bill are mostly Republican by a 14-6 margin, which may help maintain momentum among the cantankerous conservative majority.
Sen. Wiley sees HB1432 as the only possible alternative at the moment, and sources in the state House say that if a medical marijuana bill is going to pass, it would likely be HB1432, not SB3.
Here's the problem: HB1432 is not a great piece of legislation. It tries to fit medical marijuana into extant frameworks rather than creating appropriate bodies that would oversee the administration and potential expansion of a medical marijuana program. Specifically, it outlines the regulation of medical cannabis through the Department of Drug and Alcohol rather than through the creation of a new entity – The State Board of Medical Cannabis – as proposed in SB3. The Department of Drug and Alcohol is the agency that oversees the intervention and treatment of people addicted to drugs, alcohol and gambling. Placing marijuana with the DDA reinforces misguided suppositions about pot that have guided state and federal policies for more nearly half a century. SB3, however, gives the introduction of medical marijuana to the commonwealth the fresh start it needs and deserves. If there's going to be bureaucracy, it might as well be targeted at the appropriate protocol.
Moreover, it limits the conditions that could be treated with prescription pot and limits the ways in which the medicine could be consumed. SB3 included 15 named conditions and allowed medical marijuana to be prescribed in a number of different forms including liquids, liquid extracts known as tinctures, ointments and gels. HB1432 covers only ten conditions, apparently excluding things like PTSD, traumatic brain injury, glaucoma and diabetes, and limits the forms of medical marijuana to vaporizing, oil, and pills.
By limiting access to medical marijuana with such narrow legislation, the general assembly is drafting a self-fulfilling prophecy that undermines the movement for compassionate healthcare.
Perhaps most important, if the general assembly ultimately passes HB1432 and you do receive a medical cannabis card, you may have trouble finding a dispensary. Under the House bill, there will be no more than five so-called "medical marijuana organizations." Each organization will oversee the growing, processing and distribution of legal cannabis derivatives, and each organization can have no more than four dispensaries. That's a maximum of 20 dispensaries statewide. A similar system in New Jersey has driven up prices toward $500 an ounce and curbed access for many of the state's qualifying patients. Exorbitant prices driven up by disparate distribution centers are likely to drive people in need back to the black market, where drugs are plentiful and cheap. The laws of supply and demand have never been more present. By limiting access to medical marijuana with such narrow legislation, the general assembly is drafting a self-fulfilling prophecy that undermines the movement for compassionate healthcare. It's legitimized the needs of patients only to criminalize one's ability to follow the doctor's orders.
SB3, on the other hand, permits 65 growers, 65 processors, and as many as 130 dispensaries, each of which will pay $50,000 for its license and $5,000 per year in renewal fees in addition to the taxes paid on the sale of medical marijuana. In times when every bureaucrat in America is looking for alternative revenue streams, this makes cents... lots of them. Colorado reported $53 million in tax revenue last year. In Washington State, state and local taxes top $70 million. A Seattle medical marijuana dispensary owner told the Associate Press in late June that his total tax liability – state and federal – was more than $1.25 million.
Compound those kinds of revenues with a reduction in crime rates in every state with a medical marijuana program and Pennsylvania's got itself a win-win proposition. That's if the legislature chooses to join the majority of U.S. states that now have some form of legalization or active research agenda.
Jim Wertz can be reached at jWertz@ErieReader.com, and you can follow him on Twitter @jim_wertz.