The Quiet Race to City Hall
After the blistering primaries, a mild summer for local politics  
August 30, 2017 at 12:45 PM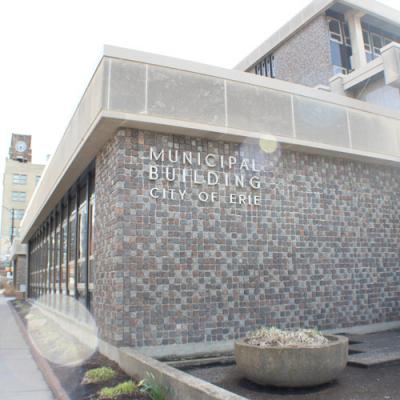 Did you hear that this summer in Erie? 
No, not the sounds of hundreds of volunteers showing up to help transform Erie Central Tech into Erie High School. No, not the sounds of both blues and jazz rippling outward from their previous two-day festival in Frontier Park to a three-day jubilee at various sites. And no, not the sounds of 3 Doors Down playing three blocks down from City Hall, as Celebrate Erie punctuated the transition from summer to fall with a long dash.
No, I'm talking about the silence that largely followed Erie's primary election in May. 
I heard it, and maybe you did, too. And if you're like me, you may not have noticed it for a few weeks because you might've been suffering from a local politics hangover, or been wanting to enjoy as much summer in Erie as possible, or tirelessly stockpiling material goods to survive a potential nuclear war started on Twitter. But now that at least the first two items in that list have calmed, you — if you're like me — may be wondering when things will get loud again, locally, if at all.
Three months ago, I wrote my "Primary Postgame" report for the Reader, a more thorough and thoughtful recapping of my thoughts I offered just a week before Erie headed to the polls to determine who'd battle whom in the general election. As for Erie's Mayoral race, that pits Republican John Persinger against Democrat Joe Schember — both of whom are seeking to hold the office for the first time. The key party difference is while Schember would be the latest dot on a decades-long blue line, Persinger would be the first Republican to hold the office since 1961 when Charles Williamson, Erie's last Republican mayor, was elected. 
This matters (more on that in a second), but what also matters is how and why we're here and what here is. 
The short answer (longer answers to come in future writings but also featured in primary coverage) is term limits, which were put in place during the Savocchio administration and limit Erie mayors to three four-year terms. Erie Mayor Joe Sinnott, put simply, cannot run again. He won against various challengers in 2005, unseating one-term incumbent Democratic Mayor Rick Filippi. After that, Sinnott won both of his reelection bids, both of which saw him run unopposed.  
So here means that for the first time in more than a decade, Erie will have new leadership helming the city. Here also means that Erie has a choice between a Democrat and a Republican, but here in the City of Erie, where a more than 2-to-1 Democratic voter registration edge exists. 
That means that by sheer numbers, the edge goes to any Democrat and that a path to victory for a Republican needs to be creative — as in: convince enough Dems to swing right, or convince enough Dems to stay home. Either way, a Republican needs to get damn near every Republican in the city to the polls and to vote for the GOP. 
But it'd be foolish to count out a serious candidate like Persinger on numbers alone. Although his path to victory is much more challenging based on history and numbers (and that Schember is also a serious candidate with a solid platform and a strong primary victory), I subscribe to the never-say-never camp. I also subscribe to the competition-brings-out-the-best-in-us camp. 
But back to the relative hush that settled in over local politics at the end of May. 
While both candidates have been visible, making the usual rounds, including 8 Great Tuesdays, National Night Out, and the home-opener for the Erie Royals football team, neither did much to rile up Erie voters over the summer. Too, both pledged not to run negative campaigns heading into the general election, meaning prospective voters can expect to see more hugs than mud. 
Perhaps both are in response to the tone of national politics. Put mildly: President Trump has had an interesting summer. Put not-so-mildly: The President has treated his inner circle like a new season of "The Apprentice," hired The Mooch, fired The Mooch, threatened nuclear war in 140 characters or less, couldn't get a health care bill passed, still hasn't built a wall, played some golf, continued to campaign for 2020, and as a self-proclaimed law-and-order executive, pardoned a sheriff who bragged that his tent city, which housed people profiled because of their ethnicity, was a "concentration camp."
And there's a lot missing from that list. Like the re-opening of a yet-to-be-healed wound in racial tension and inequity in our nation in light of the events in Charlottesville, Virginia.  
So it's easy to understand why Erie might've wanted a summer vacation from politics. While we couldn't ignore national headlines (thanks, WaPo and NYT app for push notifications that terrify the bejesus out of me to click on), we could cool the jets on local politics.
That is, until now.
At a critical juncture, the direction we take and the speed at which we take it will determine the trajectory for Erie for decades to come.
Although some might make the case that the election was decided in May when the Democratic Party elected its representative given the party's successful election history and voter registration edge, Erie's Nov. 7 election remains one of the — if not the — most important elections in its history. As I wrote before in my primary coverage, Erie's challenges are great. But so is its potential. At a critical juncture, the direction we take and the speed at which we take it will determine the trajectory for Erie for decades to come.  
I'd be shocked if we weren't again feverishly discussing this race and why it matters within the next month, clamoring for details on platforms, speculating on turnout, trying to determine what the future will be. I want to be shocked by voter turnout — one that's not complacently 30 percent, or shockingly lower, but one that shows that we've been actively participating in the democratic process.
After all, we're less than three months from Election Day. And we can only hope that a race that started out with a bang in 2016 won't end with a whimper less than a year later. 
Ben Speggen can be reached at bSpeggen@ErieReader.com and you can follow him on Twitter @BenSpeggen.