The Rebirth of Hip Right Here at Home: The Erie Jazz Scene
Kristen Wright needed to get reacquianted with her hip. No, not the one on her body. She needed cool, so she hit the local jazz scene.
April 30, 2011 at 12:00 AM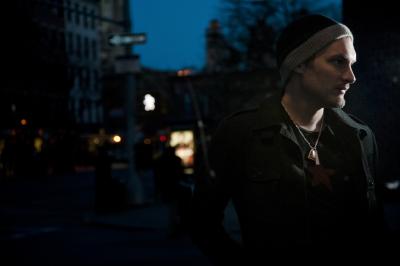 Cannonball Adderly once said, "Hipness is not a state of mind; it is a fact of life."
I rediscovered that fact a couple months ago when I decided to bring some much-needed jazz into my life by stepping out and hearing some live music. I walked into the show a bit tense, but I walked out uplifted. I felt the weight of the workweek melt into the melodic waves sailing from Ernie Krivda's tenor saxophone.
Erie has a thriving jazz scene, and doses of hipness are included, free of charge.
I needed reacquainted with hip. I once let music shape my life. I started playing the piano before my fifth birthday. I spent my high school years chasing tickets and rides (not always in that order) to concerts and music festivals anywhere within a 500-mile radius of Erie. I promoted up-and-coming East Coast jam bands during my college years in Baltimore and reveled in my opportunities to meet songwriters and musicians who dazzled me with their unparalleled hipness.
I was living the hip life, and I smiled often. I danced much. Somewhere, in an attempt at a graceful adulthood, I lost myself in the syncopation of uncertainty and lost the hip heartbeat.
I know. I know. Wait! No one needs to cue Springsteen's "Glory Days." While a great deal has changed, one fact remains the same—
The music has not stopped. And Erie can testify.
A variety of venues offer the sounds of swing and vocal feats of bebop.
One option is Matthew's Trattoria, where I feel fortunate to have caught a show from visiting artist, Ernie Krivda, who transformed the restaurant lounge on East 13th Street into a hub of hip. For just a few dollars, everyone in attendance enjoyed the playful pulses and soulful swoons of a truly satisfying jazz session.
Range, in my opinion, is the key to a satisfying musical experience—range in the texture, the dynamics, the kinesthetics, even the audience. Through the culminations and transmigrations of musical genres, any attempt to shove music into a neatly labeled category will most likely prove a waste of time, not to mention a blasphemy to sacred sounds that defy ordered management at every turn of phrase.
Yes—this was jazz. Krivda delivered. The solos and harmonies were organic and lively. The sounds were many and then they were one. I felt the stir; these sounds were hip.
While Krivda returned to Cleveland, we have a number of incredibly talented musicians right here among us. Krivda was joined by Joe Dorris, Frank Singer, and bassist, Tony Grey.
These guys have talent. A listen to their live performances and recorded releases reveal their musical prowess. Independently, they have their own credentials; together, their collaboration provides a healing dose of hipness
Ernie has a history that speaks for itself. From his ability to flavor a big band number to his seamless leaps over octaves with a swing band, Krivda is indeed hip and beyond categorization. When I asked him how he came to play jazz and, more specifically, the saxophone, he reminded me with existential simplicity that sometimes one must question, "whether you choose it, or it chooses you."
Tony Grey, a bass player with an eclectic style all his own, has made his home base right here in Erie. He has toured all over the world and released three albums as leader—the most recent, "Unknown Angels," earning him a nomination for an Independent Music Award.
He has played with the likes of Herbie Hancock and Branford Marsalis. He has played for the like of Steely Dan and the Dalai Lama. I recently met with Tony to learn his story.
As a DJ in England, Grey decided to join the army as a refuge from the reckless rave scene. Badly injured in a car accident, he was laid up and down in the dumps. His stepfather gave him a bass to pass the time and lift his spirits.
He describes the revelation of accepting the role music would have in shaping his journey, when playing the bass went from, "something to occupy my time to—OK, this is what you do now."
Music had already been a significant part of Grey's life. He started playing the piano from a young age. His uncle, John McLaughlin, ranked 49th in the "100 Greatest Guitarists of All-Time," according to Rolling Stone in 2003. It was McLaughlin who guided Grey into Boston's Berklee College of Music.
Grey left school to play with his band Bliss for two years, touring mostly in Asia. He returned to Berklee, a more experienced performer, confident to define himself in his own right.
He has also worked on music instruction, publishing a book in Japan and preparing another book/DVD for release right here in the states by the end of the year. When it comes to understanding and learning the basics of playing and composition, Grey focuses on lessons in harmony, ear training, technique, and improvisation. The most important advice: "Be creative with the tools you have."
His albums have progressed from what he calls the "mish mash" of his first album, 2004's "Moved" to something more sincere and profoundly personal in "Unknown Angels," where he "took a risk" in creating songs that reflect emotional changes, "like a diary."
His work is a fusion of genres with sounds and styles reflecting an Eastern influence woven throughout. The best part of all: Grey is right here. In Erie.
We have an incredible talent in our neighborhood, and the pulse of the jazz scene has quickened.
After touring in Spain and working on some musical projects in New York and Los Angeles, Grey will return to Erie. He will be the musical resident at Bay Breeze Lounge, downtown on East 10th Street, where he can perform with a variety of other local talents. Look for these weekly sessions to begin in June, most likely on Saturday evenings, where you can kick off your summer nights in style.
So—get the pep in your step and get ready for Summer 2011. Erie can, and does, boast a thriving jazz scene. Listen to 88.5 JAZZ FM and check out JazzErie's website for upcoming events.
Upon discussing notions of place and possibility, particularly our sense of home, Grey mentioned his recent visit to his hometown in the UK after a long absence. I mentioned my own sense of Erie, my hometown, and the sense of urgency I had as a teenager to escape it. Returning as an adult, I see a resilient community with abounding talents and limitless possibilities.
This wanderlust ache meets the grass on the other side, and it's not much greener. Grey summed up this coming-of-age wisdom beautifully: "We're kind of brainwashed to think the dream is someplace else."
It's time to make hip a fact of life. We have everything we need right here.