The Rocky Horror Show
Don't just dream it. Be it!
September 28, 2016 at 12:15 PM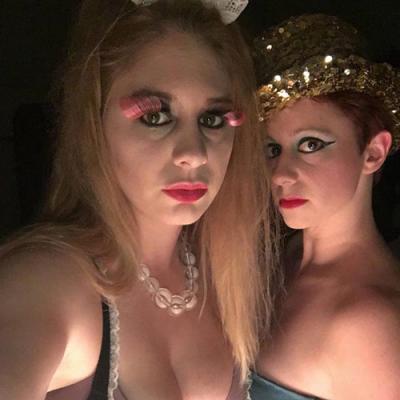 October 7 to 29
If you like your rock with a touch of glam, a swagger like Marc Bolan's and a velvety voice – plus a sultry stage presence – then you, my friend, are the perfect audience participant for The Rocky Horror Show.
Erie's own Performing Artists Collective Alliance (PACA) will present Rocky Horror for the second year in a row. Come armed with glitter, naughtiness, a costume or two (no outside props, please; they're available for a small fee at the venue), and the willingness to get in on the action. This year, additional shows have been added due to popular demand; last year's run was entirely sold out.
Incidentally, The Rocky Horror Picture Show is the film which came out in 1975. The Rocky Horror Show play originally hit London's Royal Court Theatre in June of 1973.
As for the esteemed cast at PACA, most are last year's repeat offenders, except for those playing Janet Weiss and Eddie. Janet will be played by Earl Kunsman, who is four-foot-nine and performs as a Sweet Transvestite under the name Vicky Bendme. He "has the ring to prove he's no joker" both onstage and off: In real life, Bendme – aka Kunsman – is engaged to fellow cast member Chris Gaertner, who will be playing Brad Majors.
Janet is not the only character whose gender is bent, as Brit Soule reprises her role as Dr. Frank-Furter. So there's a woman playing a man playing a woman, who's really – spoiler alert – an alien from the planet Transsexual in the galaxy of Transylvania.
The role of Eddie will be played by a rotation of local talent: local bluesman Ron Yarosz (of Ron Yarosz and the Vehicle) and jazz/folk loop-master Justin Moyar will drop in, and "Matty B" (Matt Boland, frontman of Matty B and the Dirty Pickles) will reprise his role for just one weekend.
Last and certainly not least, the Narrator is played by Jerry Brace, who is also co-directing Rocky Horror with PACA's Mark Tanenbaum. Brace estimates that by the time the show closes in October, he will have performed the role a total of 86 times. He was first cast as the Narrator in the mid-90s, in a Roadhouse Theatre production. "It was fast, funny, edgy, and sexy," he says of the gig.
So what does this Narrator do, exactly? Brace explains: "The premise is that the Narrator, a criminologist, has accumulated evidence and testimony from survivors of a past event. As he tells the story, it unfolds as a series of recollections: 'Two young ordinary, healthy kids … cross-dressing transsexuals from another planet … sex, drugs, and rock 'n roll.'" He adds, "The fun part is that many in the audience already know the story and heckle the daylights out of [the Narrator] … in good fun, of course."
The tradition of audience participation dates back to shortly after The Rocky Horror Picture Show film release when a cult following emerged. Crowds at the Waverly Theatre in New York City began to interact with the film.
So naturally, there's plenty of audience "partici.................(say it!!!)..........pation" at Rocky Horror performances. This tradition dates back to shortly after The Rocky Horror Picture Show film release when a cult following emerged. Crowds at the Waverly Theatre in New York City began to interact with the film, starting with the first instance of a moviegoer bellowing "Buy an umbrella, you cheap bitch!" as Janet put a newspaper over her head. Eventually, props and other running commentary came into play. For instance, another audience prop often handed out is "cards for sorrow, cards for pain" inspired by the song "I'm Going Home."
Brace feels that his role provides the "ideal" spot from which to direct Rocky Horror, and he is excited about the "really talented blend of new and seasoned actors and musicians" who have come together to make this show sparkle in the highest of high heels. These musically-inclined "creatures of the night" providing the utmost in sonic accompaniment include Nick Warren (bass), Pete Gool (guitar), Morgan Brace (drums, and Jerry's son), and bandleader Graham Scott (piano).
Brace adds, "All I have to do is bring it all together and make sure the entertainment value stays as high as the energy level."
And you naughty, naughty people just have to show up. With plenty of glam, naturally. – Miriam Lamey
8 p.m. Oct. 7, 8, 14, 15, 21, 22, 28, 29, and 30; plus midnight shows on Oct. 15, 22, and 29 // 1505 State St. // 434.0687 // paca1505.com