The Rum Diary ? A Preview
Creative meets purely unsolicited and uncensored humor ? that was Hunter. And this is a preview of ?The Rum Diary,? which hits theaters later this month.
October 8, 2011 at 4:45 PM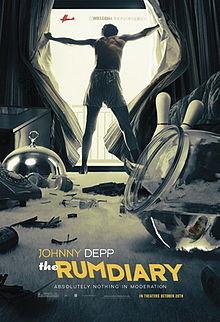 At the time, it was a frontier relatively unknown to America.  It was filled with barrels of rum, sunset laden beaches, exported goods, yachts, filthy rich blue-bloods, and provocatively dressed women.  A country that bared witness to the spillover of the American post-WWll drug era, Puerto Rico was a playground for badly behaved Americans with plenty of cash to spare.  Trouble and deceit were fervent in the salty air.  This is where ?The Rum Diary? was born.  This?was Hunter S. Thompson. 
?The Rum Diary? was originally set to be adapted to film in 2000, but between misappropriations in the film industry and finding the correct cast and screenwriters, it seemed like the film would never get off the ground.  But eventually, ?Diary? finished filming in 2009 after almost a decade of Thompson?s 1961 novel being pin-balled. 
Directed by screenwriter Bruce Robinson, ?The Rum Diary? is full of intrigue ? you know, the drama, the mystery, and the confused moviegoer ?I don?t understand what?s happening, but I like it? scenario.
Characteristically, ?The Rum Diary? seems to put everything back into perspective for Johnny Depp?s career.  Putting aside his Bruckheimer blockbusters and Alice?s in Wonderlands, Depp seems to take a side step to let fans know he hasn?t forgotten his true acting persona.
Depp is no rookie when it comes to adapting Thompson, though.  ?Fear and Loathing in Las Vegas,? a 1998 film, starred Depp as Raoul Duke, a magazine writer on assignment while driving through the Nevada desert with a suitcase of contraband and outspoken comrade Dr. Gonzo (played by Benicio Del Toro).  Depp?s character closely symbolized Thompson and his lifestyle at the time.  Having played Duke in ?Fear and Loathing,? Depp?s new role mimics the erratic and directionless thoughts and actions of his previous role.
Like most crime dramas, each character lays the foundation for a suspenseful story ? like corresponding puzzle pieces.
Paul Kemp, a traveling journalist without a story to tell, finds himself in San Juan stumbling upon some work with The San Juan Star, an English-speaking chronicle.  Living from periodical-to-periodical, bottle-to-bottle, Kemp unwinds from the New York City hustle and a recent divorce.  Chenault (Amber Heard) poses as a sexy love interest for Kemp (Depp), but is engaged to semi-villain Sanderson (Aaron Eckhart) who is a successful consultant/businessman who seems to be unethical and possibly unlawful.
A love triangle filtered with money and motive always serves as a pedestal for intense crime thrillers like ?The Rum Diary.?
The trailer for ?The Rum Diary? can be found just about anywhere on the Internet.  As a whole, it left me excited to run to the theater on October 28 to put ticker tape up to reserve my seat front and center.  Classic 1950s noir and vintage clothing that makes you want to go to the local library and pick up a Raymond Chandler thriller.
Thompson, who died in 2005, had built up a tremendous cult following through his writing, guns-blazing personality and reported drug use, and Depp?s role in ?Fear and Loathing? played a big part in increasing that following.  On screen, many fans began to see the clear similarities between Duke and Thompson.  Could we see similarities arise in ?The Rum Diary?? 
I think most people have such an affinity for Thompson and his work because of his originality and complete disregard for public opinion.  Creative meets purely unsolicited and uncensored humor ? that was Hunter.  He lived it.  He breathed it.  It was what he was.   And, hopefully, the adaptation by Depp in ?The Rum Diary? will emulate his legacy.