"The Spirit of Erie" comes to life through the Erie Playhouse
The Perry 200 Commemoration continues with this $200,000-plus production.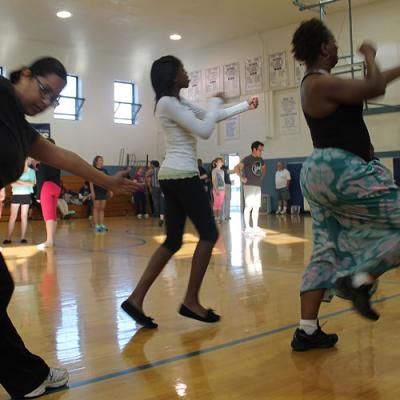 The spirit of nature. The spirit of discovery. The spirit of victory. The spirit of resolve. The spirit of community. The spirit of the future.
That's the stuff "The Spirit of Erie" – a history-making celebration of Erie's storied pasts, its amalgam of presents and its panoply of possible futures – is made of.
And for the Erie Playhouse's creative minds and their all-local cast and crew of 200-plus, bringing Erie's spirit to life means delivering (and, later this month, premiering at the Bayfront Convention Center) the most abounding all-original theatrical spectacle ever to be seen in the Flagship City.
At $200,000-plus in production costs, the multi-media extravaganza that is "The Spirit" is "truly the biggest thing we have ever produced – and certainly the most costly," says Playhouse Executive Director Almitra Clerkin, who co-wrote the show with Richard Davis (the Playhouse's producing director), her husband the Rev. Shawn Clerkin (who's also directing), and Teri Marshall (the Playhouse's assistant development director); composer Andrew Rainbow penned original music.
"It's huge," says the Rev. Clerkin, "easily the biggest thing ever produced in Erie."
The initial funding to produce the city's biggest-ever show has come from the Perry 200 Commission Board, the Jefferson Educational Society, and a multi-tiered community-sponsorship campaign, says Davis. And with a total of 14,000 seats available (2,000 at each performance) over its six-day run between June 25 and 30, organizers are banking on ticket sales to make all the efforts worthwhile.
"Hopefully, (audiences) will come out," says Davis. "That's the world of show business."
Back in 1963, when city players produced a community pageant commemorating Perry's 150th to the tune of about $150,000, "a lot of people didn't even have TV," says Davis, "so it was easy for them to wow the masses."
But "audiences today expect more," he says, "(They want) big, spectacular production."
In terms of making that happen, "I think we've succeeded so far," says Davis.
Through six take-your-breath-away segments, the community pageant – a big part of the city's ongoing Perry 200 Commemoration – has been crafted, according to its creators, as a sweeping journey across all things Erie history: A sensational 70-minute ride from pre-civilization and the Eriez natives' first arrival to the subsequent comings of white settlers; colonization and, later, the great naval Battle of Lake Erie; the advent of the Industrial Age and its impacts on the growing city, as well as tests of its strength; and through to today – and beyond – with celebrations of the city's unique and interwoven diversity and of all that could be its future.
Along with molding hundreds of actors into the one-of-a-kind, history-rich roles "The Spirit" calls for, the mega-sized production also incorporates an array of multi-media auditory and visual elements, costume and set changes and more… including flying.
"I'm excited – this'll be the first time I've ever flown in a show," said actress Kelley McDonald, who's taken on the task of physically embodying the "Spirit's" star role.
For the city theater veteran and Erie native, "the character of the 'Spirit' is like Mother Nature, or a divine essence that binds all of Erie together. She's the original light that created Erie, and (that light is) passed from generation to generation to all of us who love this town.
"She's kind of the heart and soul of this town," says McDonald, and, that said, the role represents "a tremendous responsibility for me" in terms of "accurately portraying who she is… because she could be something different for everybody."
From a production standpoint, bringing the spectacle that is "Spirit" to life is "what we do (with every Playhouse effort), just times 10," says Davis. "It's going to really be something spectacular."
And for now, within the wide circle of people who are making it all happen, "it's a little terrifying" too, he adds.
So far, says Clerkin, "it's been a wonderful and exhausting and anxious journey – we're all hearing and feeling our heartbeats. …We've been given a huge responsibility, and we want Erie to know we've taken it on full-force."
Echoing Davis' sentiments, Clerkin adds, "That's what we do."
'The Spirit of Erie" runs June 25 (its world-premier opening gala event) through June 30 at the Bayfront Convention Center. For tickets and more details, visit EriePlayhouse.org or call the Playhouse box office at 454.2852.
Ryan Smith can be contacted at rSMith@ErieReader.com.