The Standby: Feeling the "Wintersun"
Local indie rock trio releases single and music video with help of Dreambound, Alternative Press
April 15, 2019 at 2:39 PM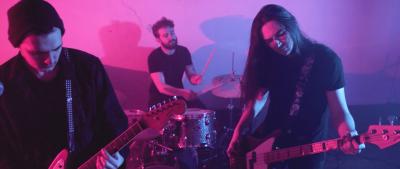 Erie hard-hitters The Standby are making waves internationally with the release of their new single "Wintersun" and corresponding music video. On April 2 the video, which was directed and filmed by Alex Zarek, was released by Alternative Press and Dreambound.
The three-piece band — which consists of guitarist and vocalist Jordan Sigmund, drummer Jake Brown, and bassist/vocalist Lyle Sallade — find influence in bands reminiscent of their own sound, such as The Cure, Nirvana, and Citizen.
With the help of Zarek, a Chicago-based filmmaker, the band captured their music and personality in "Wintersun," a colorful music video with intimate and creative shots made possible by the combined talent of cinematographers and musicians.
"'Wintersun' took us a while to figure out how to deliver, and required a different writing process than we usually use," the band said. "It was shaped around the lyrics, which is not something we usually do, and we developed a visual aesthetic in our minds at the same time we were developing the music. We ended up trying to create a dreamy and fractured story in the song, which we also wanted to reflect on in the video … Alex worked super hard with us to make it cohesive, and it turned into its own thing in the end."
Dreambound is an organization focused on supporting and promoting up-and-coming bands around the world. This publicity – added to that gained by the media giant – Alternative Press, got the video for single "Wintersun" nearly 10,000 views and almost 100 shares in just two days.
"Alt Press and Dreambound are names that we grew up with in our teens, and we always looked up to the bands they wrote about," said members of The Standby. "Needless to say, when our manager told us that they wanted to do the premiere we just couldn't believe it."
Following the releases, The Standby have embarked on a midwest tour through 12 states in just as many dates. The next time the band will be in their home city will be at the end of next month to headline Aorta Music & Management Erie's first annual Memorial Day Yeehaw at Ballet Haus on Holland.