The True Story of Boe Bladen
Piecing together the legacy of one of Erie County's first Black settlers
February 16, 2023 at 8:00 AM
Warning: this article contains multiple excerpts from newspapers and books published in the late 1800s. Some language within those quotations may be offensive.
One of the first non-indigenous people to come to Erie County was an enslaved man.
While Pennsylvania was one of the first states to abolish slavery, the practice absolutely existed in this state and in Erie County well before slavery was officially made illegal. According to A History of Erie County Pennsylvania (written in 1884 by Samuel Bates): "The colored population of the county was larger, proportionately, eighty years ago than now (meaning circa 1800). Most of those who were here then were brought in as slaves, some of the most reputable families having been owners of this kind of property." These families include names that are easily recognizable for anyone with a cursory knowledge of Erie history including: Hamot, Reed, Kelso, Moorhead, Burton, and Grubb.
In the first part of her comprehensive book Journey From Jerusalem: An Illustrated Introduction to Erie's African American History 1795-1995, Sarah Thompson writes, "The first settlers of what would become Erie County brought with them the social conditions and maladies of the eastern U.S. They brought with them, as a matter of course and as part of their personal property, men, women, and children serving as slaves. One of the first parties of surveyors and militia included in their number a male slave."
This "male slave" was Boe Bladen, and his story (pieced together from various small fragments of remaining information) tells the harsh truth of early Erie County. As traditionally told, Boe's is a tale featuring the trope of a benevolent former-master bestowing freedom upon his slave and "allowing" him to flourish in his freedom, but Bladen's actual story is likely a lot less rose-colored.
The traditional story of Boe Bladen was recounted in the same paragraph in A History of Erie County Pennsylvania as quoted above: "One of the most prosperous colored men who ever lived in the county was Boe Bladen. He was born in Guinea, was brought to America on a slave ship, worked out his freedom, came to Erie and took up a tract of land in Mill Creek Township, three miles from Erie. When he died, in 1829, he owned 200 acres." Modern research shows us a less white-washed story. Bladen was actually purchased in Maryland, enslaved, and brought to Erie County by Captain John Grubb, one of the first white pioneers to settle in Millcreek Township in 1796.
While Grubb eventually changed his tune and was understood, as time passed, to be a great proponent of abolition, he was (at least for a while) a man of his times. While he granted Bladen his freedom (or Bladen purchased his freedom) shortly after arriving in Erie and likely assisted him in purchasing a 400 acre tract of farmland in Millcreek, what is often left unsaid is that Grubb retained Bladen's sons (Jacob and William) as indentured servants until they reached the age of 28 (his son Jacob died at age 32, allowing him only four years of life as a free man), and Bladen's wife remained enslaved likely for the remainder of her life (although it is unclear if she was enslaved by Grubb or elsewhere. She was never a resident on Bladen's property). Bladen's last will and testament states that the farmland that Bladen intended to pass onto his sons would actually be held by Grubb until his sons reached the age of 28, thereby reinforcing the supposition that Bladen's sons were held in servitude to Grubb (in accordance with the law) until that time.
According to Pennsylvania law passed in 1780, all people enslaved before 1780 remained enslaved for life, while their children, if born after 1780, were indentured to servitude until they turned 28 years of age. This was a gradual form of abolition that allowed for slavery's continuation, meaning slavery remained in Erie County (although largely not officially) until at least 1820, with more than half of the "Free Persons of Color" reported in census information remaining in residence within white households, and likely in some form of servitude.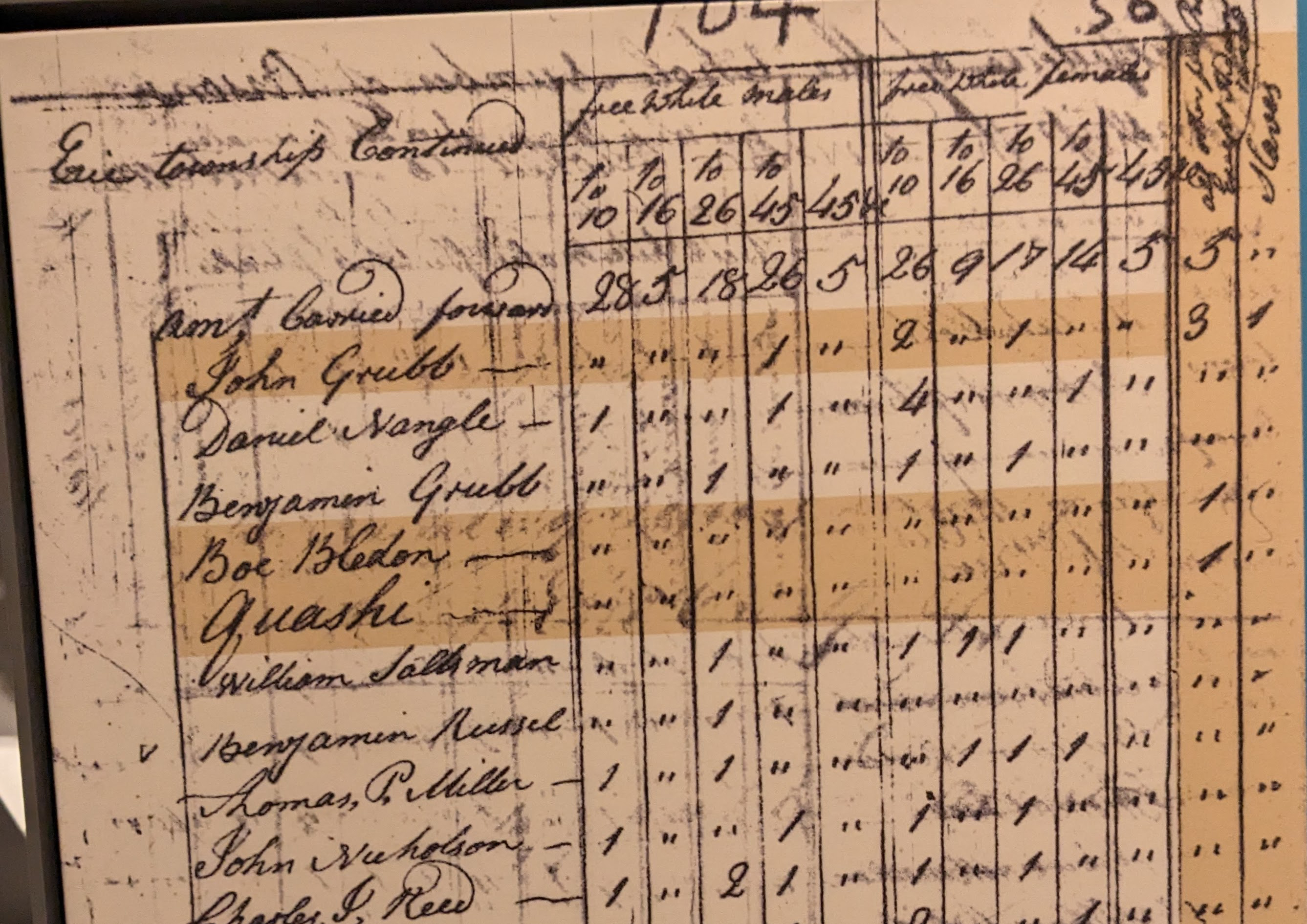 On this copy of the 1800 census (displayed at the Hagen History Center), which was the first completed in Erie County, one can see the name of Boe Bladen and an unknown occupant of his home, Quashi. Bladen was the first Black man to own property in Erie County.
Regardless of how it happened, Boe Bladen was the first Black man to own property in Erie County. His name appears on the first census conducted in Erie County in 1800 as the head of the household along with another person named Quashi (any information on who this person was has been lost to history), and his son's name (William Bladen) appears on the land ownership map of Millcreek Township drawn in 1876. According to an Erie Times News Article published upon the death of Boe's grandson Alfred Bladen on Sept. 24, 1914, "He is the owner of what is said to have been the only farm in Erie County to remain continuously in possession of colored owners. His grandfather, Bob (sic) Bladen, came to this section with three survivors in 1796 and purchased a track of 400 acres. The original deed, on sheepskin parchment, is still in possession of the family."
Bladen was able to provide a safe place for his family (at least for those members who were free at the time) to thrive on a working farm that, according to census information, by 1860 had a total land value of $5,000 (approximately $180,000 today). His two sons, Jacob and William Bladen continued on the farm and eventually William's son Alfred lived and worked there until his death in 1914, after which the family seems to have left the area (which also happens to correspond with the establishment of the Glenwood neighborhood). That amounts to over 100 years of earliest recorded Erie County history and multiple generations sustaining the same property (which, at the time of its eventual sale, amounted to about 100 acres, as the property was sold off in parcels through the years).
The farmland is now a residential neighborhood off of Cherry Street extension and all that remains is the street name Bladen Road to commemorate the homestead. Thompson (Journey From Jerusalem) points out that this property "lies just south of an exclusive neighborhood which in the early 20th century forbade the sale of homes to African Americans." According to the Glenwood Association neighborhood charter established in 1913, "This property shall not be conveyed, assigned, or sold to any person of Negro or Mongolian descent, nor to any person of Hungarian, Austrian, Italian, Russian, Polish, Slavish, or Romanian descent without the consent in writing of the Company … This property shall not be sold to any person whose occupancy would be undesirable or injurious to the general welfare of the property." This clause was in effect until 1969 when federal courts declared these prejudices unconstitutional and unlawful. The Bladen family would not have been permitted to reside in the neighborhood developed on the land that they called home for over 100 years.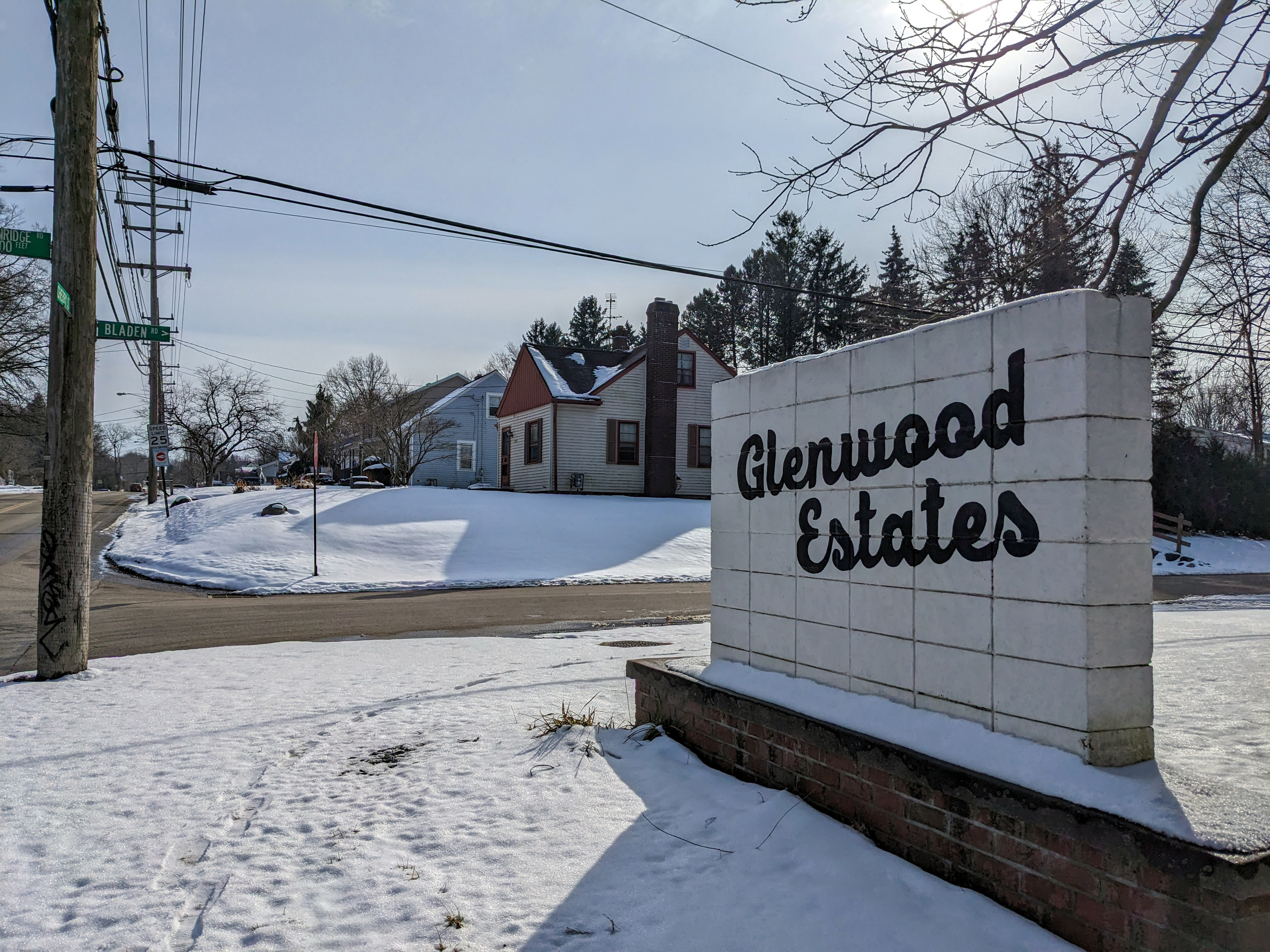 Bladen Road lies just south of Gore Road off of Cherry Street Extension, the only remaining reminder of the land that once belonged to the Bladen family for generations.
So who was Boe Bladen before he came to America? This question is much harder to answer and any answer we have comes through the lens of white experience, as there are no known primary sources from the Bladen family available. There are (as of this writing) no known portraits or photographs of Bladen or his descendents. Even his name is impossible to truly know. Boe Bladen was certainly not the name that his parents gave him in West Africa and even this given name and its spellings vary depending on the source. Just in the research I have done for this article, I have seen iterations including Boe, Bo, Boo, Bob, Bow, Bough, Belden, and Citizen Bo.
In 1880, nearly 50 years after Bladen's death, this description of him was printed in the Feb. 28 edition of the Erie Morning Dispatch: "Among (Grubb's) slaves was Bow, a fine athletic commanding looking African. He had been recently brought from the African seaboard. He claimed to be a prince or chief, and the tattoo marks on his person, and his fine clear cut regular features gave substance to his claim and stamped him as being far superior to the average African."
These "tattoo marks" as described in the 123 year old newspaper article have, through modern historic research on Bladen's life, come into question. According to African Americans in Erie County: A Trail of Shared Heritage, a project compiled by local historians Johnny Johnson, Melinda Meyer, and Chris Magoc, "Conflicting accounts hold that the markings were indicators either of his tribal identity or savage treatment by a previous owner."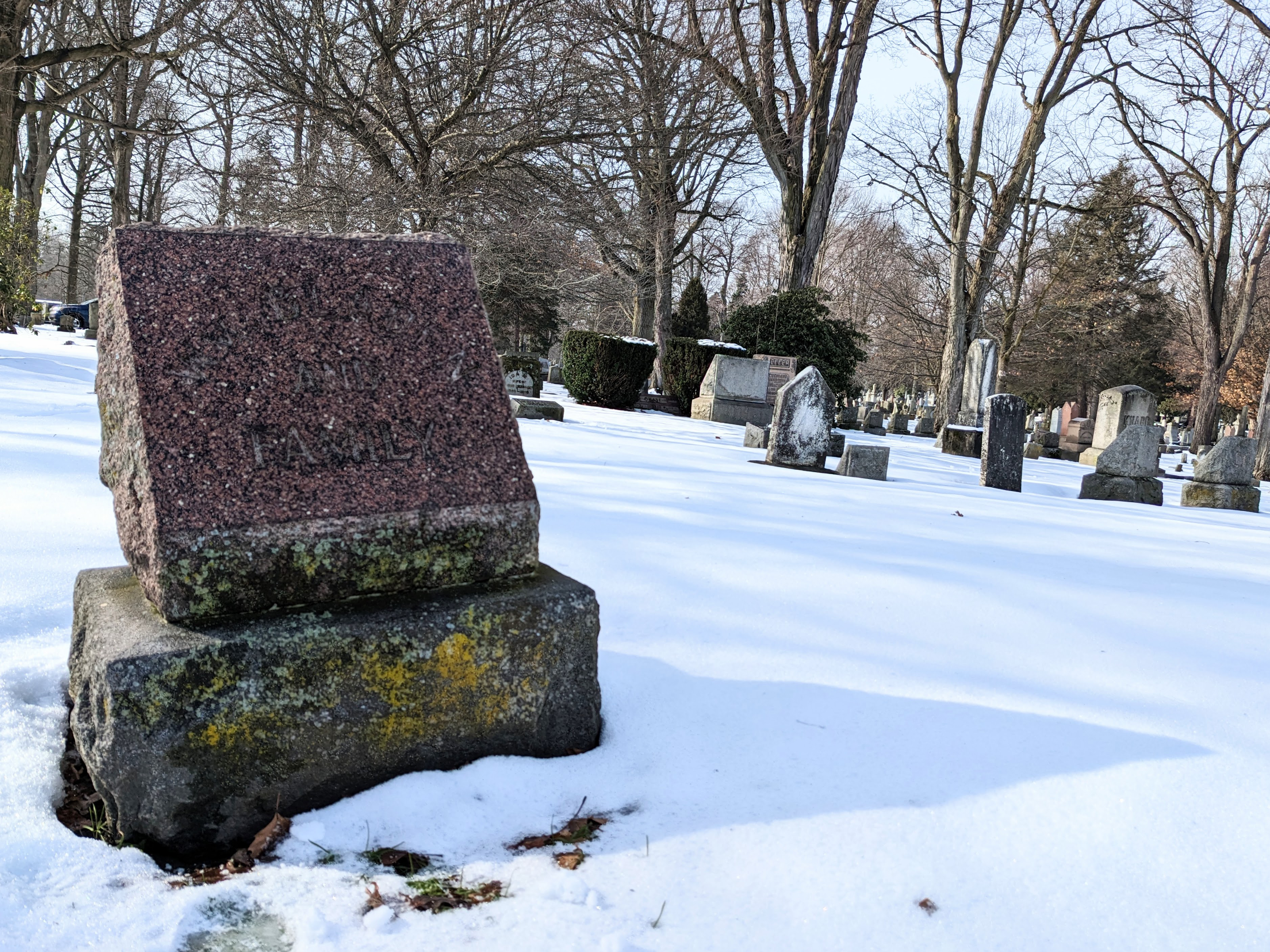 The Bladen family plot in the Erie Cemetery is located in section O-3 along Chestnut Street, just north of the hill up to 26th Street. Walking through a historic cemetery can often inspire a curiosity to learn more about local history.
I first learned about Boe Bladen from reading the aforementioned publication (and corresponding comprehensive website, sharedheritage.org) and was reminded of him again when I stumbled upon the Bladen family plot in the Erie Cemetery. And then, I was reminded yet again when visiting the newest exhibit. "The Story of Us" on the second floor of the recent addition to the Hagen History Center, built onto the carriage house of the Watson Curtze Mansion in 2022. The new 3,000 square foot exhibit explores the cultural heritage of all people throughout history who have called Erie home including Indigenous people as well as early Black settlers (enslaved or otherwise) and Boe Bladen's name, short biography, and presumed silhouette are front and center on one display.
Museum educator Jeff Sherry comments, "We already know the stories of immigration that have been told over and over again: the Irish, the Germans, the Italians, the French, and it's not that they're not important, but immigrants of color have pretty much not been covered." And it isn't only the early African American citizens who are featured (and they are, including Booker T. Washington, Hamilton Waters, Rev. Ernest F. Smith, and Boe Bladen, to name a few), but additionally, the more recent immigrants that are bolstering Erie's population and contributing to the vibrancy of our neighborhoods. Sherry adds, "We just commissioned MenajErie to make a film for us that we hope to premiere in March about the recent immigration story of Erie: those from Nepal, Bhutan and South Asia, and West Africa, who have recently come here to Erie."
It is exhibits like "The Story of Us," publications like A Shared Heritage or Journey From Jerusalem, articles or presentations given by local historians, or even just a glance at a historical marker or street sign, an errant gravestone, or a newspaper clipping that can spark a curiosity to dig deeper to find out more about the real history of our county. By collecting all the available information together, we are able to piece together a story of Black history in Erie, to sort out the facts from white-washing, and uncover the life of a man, Boe Bladen, who did his best under unconscionable circumstances to create a better life for his own children and grandchildren.
Erin Phillips feels that nothing inspires a curiosity about local history more than a cemetery walk. She can be reached (while not rambling among the gravestones) at erin@eriereader.com