The Unmistakable Anuszkiewicz
Erie-born Op Art pioneer's work spoke for itself
December 16, 2020 at 11:00 AM
While recently teaching about the 1950s in my high school U.S. History course, a few students chose to research the art from the decade. Naturally, I recommended that they check out familiar names like Jackson Pollock, Elaine de Kooning, and others who popularized abstract expressionism as their starting point.
"One of these sold for $140 million?!" one Google-savvy student exclaimed.
"My little brother could do that," another added, thoroughly unimpressed. 
"The art world is complicated," I responded matter-of-factly.
I did my best to explain action painting as a technique during which I remembered the Erie born-and-raised Richard Anuszkiewicz. While his optical art (better known as Op Art) was more associated with the '60s and '70s, he established himself and began to refine his innovative ideas during the '50s. I certainly can't claim to be a connoisseur and am not even remotely an art historian, but with my limited knowledge, I decided that my students might find Anuszkiewicz's mathematical approach to art to be an interesting contrast to the controlled chaos of Pollock's canvases. 
"Oh wow, he just died in May!" the Google-savvy student said. This surprised me. We found his obituary in the New York Times confirming his death, which was only a few days shy of his 90th birthday. Local journalist Kevin Cuneo had mentioned his death in his Erie Times-News column the following week, but I had somehow missed it — perhaps too absorbed with the pandemic and looming election.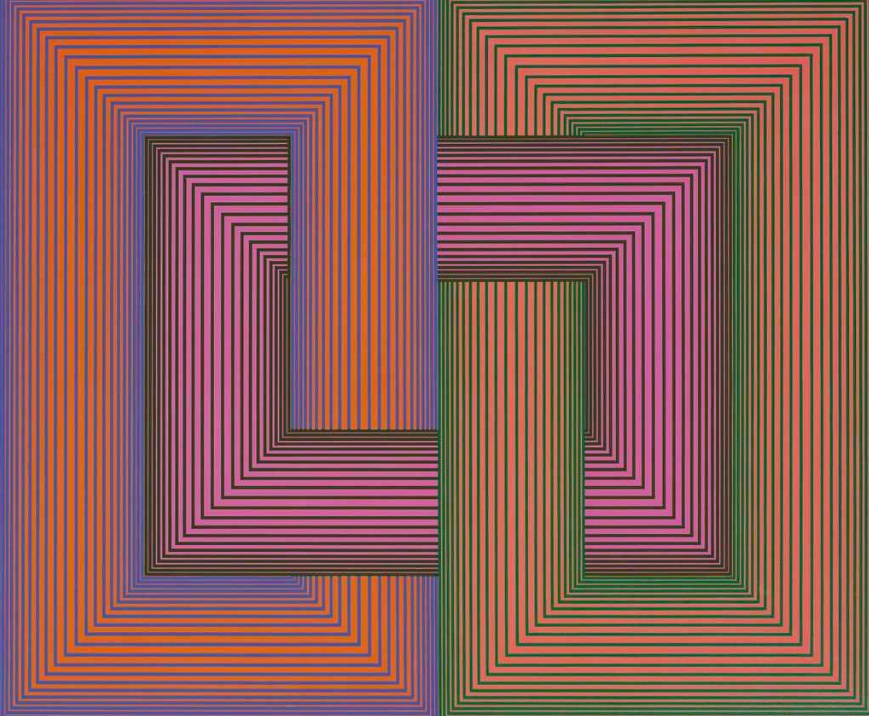 The 1986 painting "Orange, Rose and Magenta Knot" [top left] demonstrates several of Erie-born artist Richard Anuszkiewicz's signature touches — such as high contrast colors and intricate interlocking geometries through the use of lines. // RichardAnuszkiewicz.com 
Anuszkiewicz was born in Erie to Polish immigrants in 1930. It was the early years of the Great Depression and he came early and unexpectedly, forcing his mother, Victoria, to deliver him in their east Erie home. He was his mother's sixth child. She had been widowed with five children before meeting and marrying Richard's father, Adam. Their household was strictly Catholic and they always lived on the brink of poverty, but Anuszkiewicz described his childhood as happy and full of companionship and affection. His father, who worked at the Watson Paper Mill, would bring his young son home scrap tablets of paper to draw on, fueling a love of art early on. 
"[Richard] brought out a scrapbook that his mother had kept chronicling his career, which demonstrated the great pride she had in her son's accomplishments," artist and friend Curlee Raven Holton remembered in an essay on their collaboration. "He spoke of the committed support of his family who had no real notion of the world he was entering, but who had great faith in his abilities."
Anuszkiewicz attended St. Stanislaus Parochial School on East 13th Street for grade school. He was a good and attentive student. According to one account, a nun once noticed his artistic abilities with crayons and assigned him to decorate the classroom blackboard. In 1944, he transferred to Erie Technical High School where he could enroll in more art classes and spent up to three hours a day studying different theories of art under Joseph Plavcan, an established and renowned artist in his own right who taught at the school for four decades and who Anuszkiewicz described as his most significant influence. 
Even as a teenager, Anuszkiewicz was a disciplined artist. He won a National Scholastic Art Award as a senior and was awarded a full scholarship to the Cleveland Institute of Art. He then completed his MFA at Yale under the influential German-born artist and teacher Josef Albers, where he worked with oils, watercolors, and ink and, more importantly, began to seriously study color theory. Albers convinced Anuszkiewicz not to pursue Realism and his thesis ultimately focused on the more experimental: an analysis of the creation of space using line drawings. 
After graduating in 1957, he moved to New York City and secured a job at The Metropolitan Museum of Art. During this time, he began refining his experimental ideas further, focusing his art on visual tension, high contrast colors, and negative space. His work was continuously rejected by gallery owners. Yet, he was undeterred. 
"My work was unique in the sense that there was nothing like it," Anuszkiewicz said in 1980. "But this made it difficult for me. People didn't know what to do with me when I took my work around to the galleries."
In 1960, he married a schoolteacher named Elizabeth Sally Feeney. That same year, he secured his first solo show. Nothing sold for two weeks until on the very last day of the exhibit, influential figures such as Alfred Barr and Nelson Rockefeller purchased pieces. His career took off. His newly-coined Op Art, which explored our perceptions of light, color, and line, was both beloved and reviled. He spent many of these early years fighting the urge to constantly defend his work from those who he felt were misrepresenting his intentions. By 1964 though, LIFE Magazine was describing him as "one of the new wizards" of the Op Art movement and he was routinely selling out his one-man shows. Art critic Stuart Preston described him as "the non-objective painter as scientist."
"I'm interested in making something romantic out of a very, very mechanistic geometry," Anuszkiewicz said of his geometrical abstract approach. "Geometry and color represent to me an idealized, classical place that's very clear and very pure."  
He elaborated how his art was about problem-solving and experimenting with visual ideas and contrasts of colors that intrigued him. Creating his art was less about the hand and more about the mind and he desired to create art that was timeless. He viewed what he did similar to that of an architect.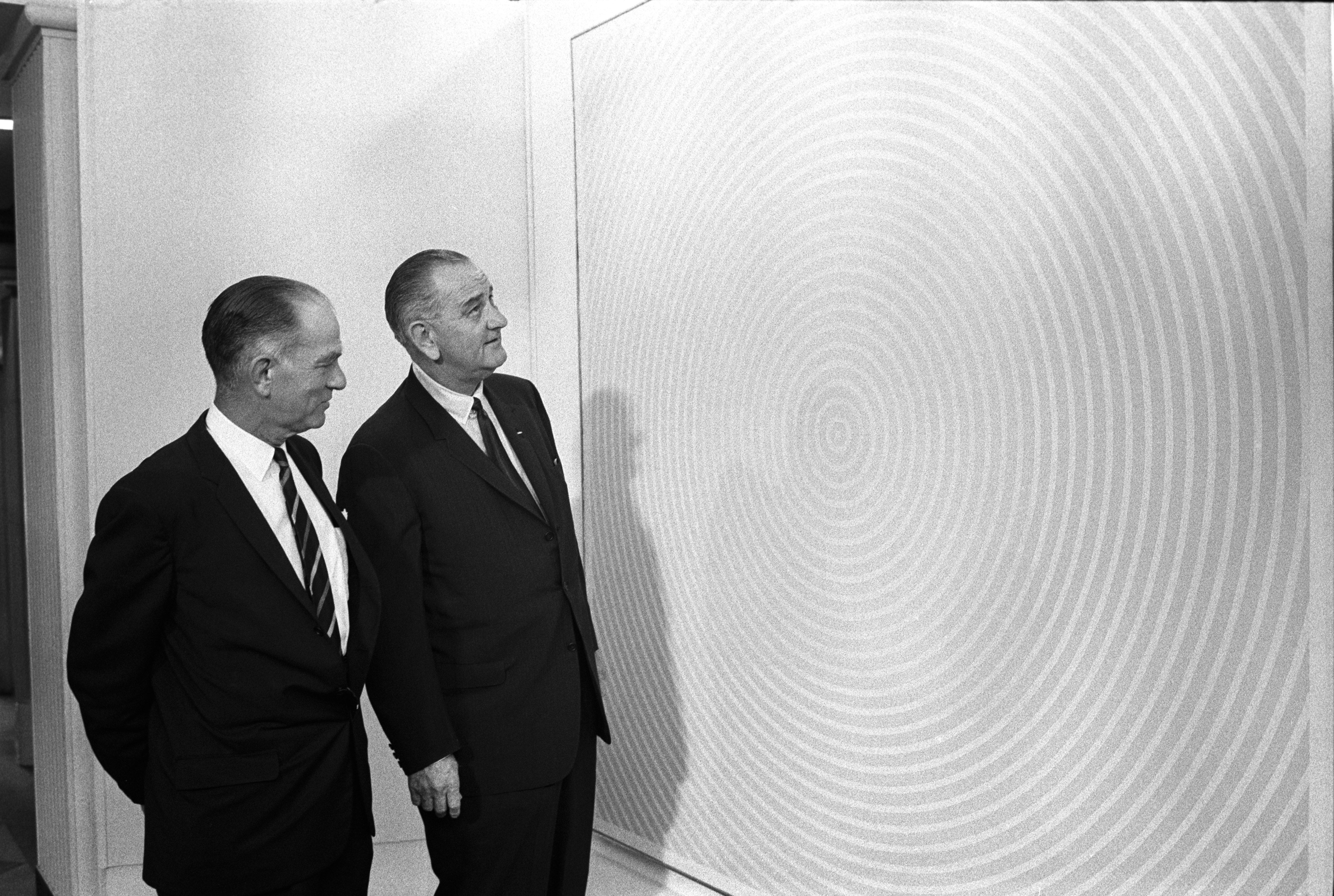 Senator J. William Fulbright (left) and President Lyndon Baines Johnson view Anuszkiewicz's 1963 "Squaring the Circle," at the White House Arts Festival in 1965. // Lyndon Baines Johnson Presidential Library
"People thought that I always wanted to shock the eye," he once said. "I didn't want to shock the eye. I wanted to use colors together that had never been used together before."
Instead of mixing colors on a palette, he wanted viewers of his art to mix the colors in their own eyes.
"[I]f you want to change a color you don't have to change that color, you can just change the color around it," he once explained. "[T]he image in my work has always been determined by what I wanted the color to do. Color function becomes my subject matter and its performance is my painting."
In 1967, he moved out of the city to nearby Englewood, N.J. with Elizabeth and their three children, where he remained the rest of his life (although with many trips back to Erie). As his fame grew though, he continued to stay grounded.
"Unlike most artists I know, he is neither a limelight hog nor a bore, but a very straight, very likable fellow," writer Jay Jacobs said of Anuszkiewicz.
Critical views of his art fluctuated over the years, but he continued to push the envelope on the ideas that interested him. Abstract expressionism and pop art received much of the critical praise and attention and, despite early adorations, Anuszkiewicz's work was increasingly dismissed.
"What was so hurtful, as far as I was concerned, was that as much as I was given praise and popularity before the [Op Art] movement, once the movement really got on the way, I was attacked — and vehemently so," he reflected. "I felt betrayed by my own critics in this country … [but] I feel I've explored areas that hadn't been touched by other artists." 
As the years passed, appreciation for his work again grew. Youngstown Vindicator art columnist Clyde Singer wrote in 1984 that his art had been "a welcome relief to many because it slowed down the bombardment of abstract expressionism that reigned supreme."
Others, like art critic Marcia Corbino, admired the "tremulous disorientation" of Anuszkiewicz's squares: "It retreats, it advances, it seems to hover over the canvas. ... [It] is so distinctive that his dazzling canvases need no signature."
"To keep from jeopardizing their visual effect, Mr. Anuszkiewicz does not put his signature on his canvases," The New York Times explained. "But he really does not need to. His signature is the canvas itself. An Anuszkiewicz is unmistakable."
That had always been his intent.
"I thought it was an interesting idea to pit illusion against reality," he said. "The mind tells you that it's a square, but then the eye starts to play tricks. ... An artist always likes to have people think. Art is an intellectual activity. There is always the challenge for the eye and mind."
In the digital age, Op Art may not seem quite as impressive as computer software makes the creation of such art less difficult. As artist Shelley Esaak wrote in 2019 though, "Op Art represents a great deal of math, planning and technical skill, as none of it came freshly-inked out of a computer peripheral. Original, hand-created Op Art deserves respect."
Anuszkiewicz lived his last years in relative solitude with his wife and studio in New Jersey. While his name recognition may have faded somewhat over the years, including in his hometown of Erie, perhaps the most important part of Richard Anuszkiewicz's legacy is his persistence in following his vision and the willingness he had to take risks as he developed his signature style. 
"There are no formulas in this profession," he once said. "In order to find your own style, your own direction, you have to go through the process of finding out for yourself."
Indeed, that is what he did throughout his life and it is a lesson worth nurturing and encouraging.
"Art has been a way of life for me," he told the New York Times in 1985. "I have never done anything else. Art was something I needed to say. It made life more than existence."
Jonathan Burdick runs the historical blog Rust & Dirt. He can be reached at jburdick@eriereader.com