The URO Comes to Erie
The URO Will Rock You as Erie native Sal Clemente comes home with the Ultrasonic Rock Orchestra for a special five-night engagement at the Erie Playhouse
June 29, 2011 at 12:05 PM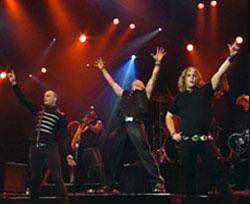 I still vividly remember the first time I saw Sal Clemente take the stage. It was in early October 2008, the weekend of my 26th birthday. Several friends planned a trip to Cleveland for a day that would live up to the "Cleveland Rocks" moniker the city is known for. We ate at the Hard Rock Café, we barhopped around the Fourth and Euclid district, we made an attempt to go to the Rock and Roll Hall of Fame and Museum (alas they close early on Saturdays), we contemplated the meaning of the weird hieroglyphics on all the city's trash cans, and we ended the night with a trip to the Playhouse Square to see the Ultrasonic Rock Orchestra.
At that point, none of us had any idea who this group was but their poster, promising "A Night at the Rock Opera" and the music of David Bowie, the Who, Queen, and the Beatles, sung out to our musical sensibilities.
The group wasn't even halfway through their opening number, Queen's "Flash's Theme" from Flash Gordon, yet I was already transfixed on that stage. I had never seen rock music so theatrically produced and sounding so honest, raw, and polished all at the same time. Dozens of musicians and singers, dressed to match the glitz of the music, filled the stage with a sound so loud and powerful, you could've sworn there were hundreds of them. By the time they announced they would be performing the entire second half of "Abbey Road"—my favorite Beatles' album—I was enamored with this group. And then the jaw dropper, the bald gentleman wearing the gothic-looking Sgt. Pepper-esque jacket introduced himself as Sal Clemente, a native of nearby Erie, Pennsylvania. And thus my fanaticism and fascination for the URO was born.
Sal will once again bring the Ultrasonic Rock Orchestra to his hometown Erie for a special five-night engagement beginning June 28. It will be the second time the Erie Playhouse hosts this eclectic group of rockers—the last time was in June 2008—who normally reside in Boston. And for all in attendance, the URO will rock you.
The group was founded in 2006 by Clemente and his creative partner, Allen Weir, after a failed attempt to stage a production of "Jesus Christ Superstar" in a Boston theatre. When they couldn't get permission from "Superstar" scribe Andrew Lloyd Webber to put on the show, the duo assembled a production touting some of the most decadent acts in rock history – Bowie, Zeppelin, Queen, the Who, the Beatles, all legends whose music has been relegated over time to being mercilessly—and often soullessly—covered by tribute acts or bands playing the corner bar. The URO is not one of these acts.
"This is music that should be celebrated. These songs are milestones of art. They aren't just pop or rock songs, they are art," says Clemente. "We play songs that could've or should've been in rock operas. These are songs that are hard to be reproduced live unless you have the number of singers and the band that we have. And having the experience to listen to them live is great. People really can't hear this music live anymore – the original artists aren't playing them or they aren't around to play it. So to experience it live and have the kind of production quality that people are used to hearing on their stereos is unique."
In the years since their inception, and their last visit to the region, the URO has gained momentum swiftly.
The group has toured rather steadily playing venues of all sizes from 500-seat theatres to a 10,000+ crowd at the MGM Grand Arena in Las Vegas, a show Clemente calls a "turning point" for the group. They've expanded their repertoire to feature Led Zeppelin's catalogue, as well as songs by Fleetwood Mac and the Electric Light Orchestra. Their website is now loaded with videos and photos from their travels, as well as merchandise including CDs and T-shirts, and most notably, the band has gotten leaner. The URO currently has nine singers and five core musicians on their roster.
"There was nothing wrong with where the band was at, but we decided that we had proved ourselves in our ability to win over the audience in the past couple years so we owed it to ourselves to try and make this into a career. That meant some people had to make a choice if they wanted to commit to playing 100 dates in the next year," reveals Clemente, who notes that the shortened number of members only helped to fine tune their production. "Like anything, you are always trying to improve what you do. We are not going to try and change what the band does, we are just going to make it as good as we can make it and then expand on it by playing different places and doing new material. We still haven't gotten to the full potential or concept, but we are further along than we were a few years ago. I think we were always a good band and we are getting on the verge of being a really good band."
Born and raised in Erie, Sal is a natural performer. His father was a noted local writer, designer, director, and playwright, while his sister, Almitra Clerkin is the current executive director of the Erie Playhouse. Sal began his life in music at the age of 15 when he received his first acoustic guitar—at the behest of his parents, he states. He soon began playing in bands with friends who are now standard names in the story of Erie's famed local music scene including Rick DiBello and future Nine Inch Nails-drummer Chris Vrenna. Sal cut his teeth theatrically in productions at the Playhouse, Penn State Erie, The Behrend College, and Gannon University, among other venues, appearing in performances including "Boys in the Band," "Hamlet," "Man of La Mancha," and "A Funny Thing Happened on the Way to the Forum." His theatre work culminated in a role as Judas in a Gannon production of "Jesus Christ Superstar," what Sal considers his dream role, stating he wore out the original record as a kid. Though he left Erie in his early 20s for Boston to make a career in music, Sal remains committed to his hometown, spending several weeks of the summer every year vacationing at a cottage in North East with his family. He also notes what the significance of bringing his band home again means to him.
"I'm a little anxious [about performing with the URO in Erie]…as anxious as I get about performing, anyways," he reveals. "But with the responses I got from the last performances here, there's more confidence that if we do a good job, which I think we will, people will like it. If you came and saw us before, you are going to have a good time, and if you've never seen us, then we want to present something unique that will leave a lasting impression. It's all about trying to connect with people whatever way we can."
The Ultrasonic Rock Orchestra will perform five shows at the Erie Playhouse from June 28 to July 2. For more information on tickets and show times, visit erieplayhouse.org. For more information on the Ultrasonic Rock Orchestra, visit ultrasonicrockorchestra.com.