The Value of a Dollar
Evaluating the impact of local investment by small businesses.
January 6, 2016 at 2:30 PM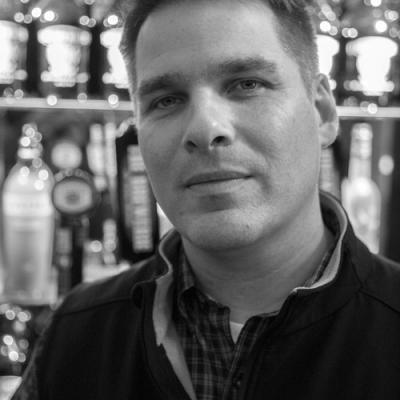 There are many routes on the map that charts success for small-business owners. If the options were to be stretched out across a success continuum, at one end might be the prudent planner who studies each step and consults those who've gone before. At the other end, there'd be the daredevil decider, the risk-taker who favors immediacy over restraint.
Examples of both are present in Erie's growing small-business climate. If a common thread connects their tales of success, it's the importance of relationships that help guarantee a brighter future for the entire community through investment and reinvestment.
Correlating the success of small-business owners with the relationships they build may be a study in abstraction – from measuring the firmness of handshakes to calculating exchanged smiles – because they aren't clear benchmarks on the success abacus. But the per-dollar investment and reinvestment are.
According to the American Independent Business Alliance, which compiled nine studies from the Civic Economics firm in 2012, local recirculation of independent businesses' initial local investment of revenue amounts to nearly 50 percent. Non-locally-owned businesses recirculate a paltry 14 percent.
According to the U.S. Small Business Association (SBA), which cites studies ranging from Austin, Texas to Grand Rapids, Mich., roughly 68 percent of money spent locally stays local. That two-thirds of every dollar goes toward taxes (which support things like public schools and police), local supplies (paper, eggs, signage, etc.), wages (local employees), local services (accounting, marketing, legal services, etc.), and donations (to wit: direct investment in the community). The remaining one-third of each dollar, which leaves the community, goes toward obtaining supplies they cannot (or choose not to) acquire locally.
In contrast, 57 cents per dollar spent at a non-local business leaves the community. Businesses with weaker ties to a community, cites the SBA, spend significantly more on out-of-town supplies and services, often as a means of keeping overhead low and the bookwork simpler by channeling these streams through other larger corporations and businesses.
What's more, according to the American Independent Business Alliance, which compiled nine studies from the Civic Economics firm in 2012, local recirculation of independent businesses' initial local investment of revenue amounts to nearly 50 percent. Non-locally-owned businesses recirculate a paltry 14 percent.
Thus, money spent at locally-owned stores is stickier in the overall economy, fueling it again and again and encouraging more rapid economic growth.
Money spent elsewhere fuels someone else's fire. And we can't warm our hands next to that fire.
And then there's induced impact. The money businesses pay employees will inevitably be spent. Where and how it's spent, however, varies.
If you're noticing a trend, then you correctly deduced that employees of small businesses – based on the fostering of spend-local, buy-local culture – spend more money locally than their big-box counterparts.
Perhaps more significant, though: SBA found that locally-owned businesses donate nearly 250 percent more to local nonprofits and community causes than their big-box competitors. Civic Economics confirms this, reporting that in 2012, more than 7 cents from every locally-spent dollar was reinvested through charitable giving.
But like the intangibles for measuring success, absent from these numbers are the volunteer hours, the donations of venue space and of products, and more – all of which can add up to much more than 7 cents per dollar.
Regardless of their differences, the prudent planner and the daredevil decider are each aware of this. They also know – irrespective of whether they can prove it on paper – that it affects their businesses, because this give-back-to-those-who-support-you model anchors each of their business plans.
Chris Sirianni, President and General Manager of The Brewerie at Union Station, represents the former. An Erie native, Sirianni has followed a deliberate, linear, and carefully plotted path to small-business success. After graduating from the Indiana University of Pennsylvania in 2000 with a degree in business management, he headed straight back to Erie to launch his career in the craft beer world.
He started with a yearlong internship with Erie Brewing Company, which at the time occupied the space at Union Station that The Brewerie now calls home. While the craft beer boom was swelling throughout the states, the ripples hadn't quite reached our shores. Sirianni recalls EBC's early distribution model that left a scarcity of locally-brewed beer in Erie. He didn't want to reinvent the wheel; he was just seeking a way to bring it to Erie to help the city move forward more quickly.
Because he wanted to steer the craft beer conversation in Erie, Sirianni, like many prudent planners, met with industry leaders, the torchbearers who had set out ahead of him, so he wouldn't have to blaze his own trail. He spent the next five years developing a business plan, tweaking and fine-tuning it as he amassed experience and observed trends. Along the way, he made a lot of connections and fostered a lot of relationships, which led to the opening of The Brewerie at Union Station in 2006.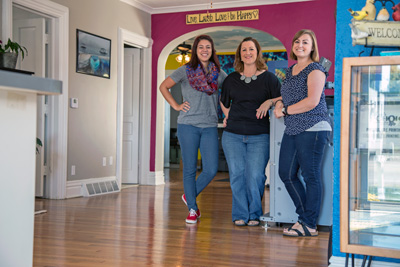 On the other end of that continuum is Alice DeGeorge, owner of Presque Isle Printing. A Quincy, Ill. native, DeGeorge grew up in a family of mechanics and artists, which explains her penchant for graphic design and the free-spirit air about her.
DeGeorge happened upon Erie in a roundabout way. After a start at Quincy University taught her that college wasn't right for her at that moment of her life, she rejoined her family, who had since relocated in Erie. A self-described worker-bee, DeGeorge says she never envisioned owning her own business, but after a string of various opportunities and experiences – including a decade-long stint as a waitress, work in website design, and several stops at print shops – she decided to start her own hive.
After a degree from Fortis University (then Tri-State) in website design and management with a minor in graphic design, DeGeorge launched Presque Isle Printing in 2008. She started her own business the day after she would have lost her job because the printing company she was working for had been acquired by another company.
While DeGeorge's path to small-business ownership was more indirect compared to Sirianni's, they've each found success. DeGeorge has since relocated her business after outgrowing the initial location. In 10 years, Sirianni has added 20 employees to his roster and, within the last year, off-premise distribution. Each cite relationships and community connectivity as vehicles that drove – and still drive – their own successes.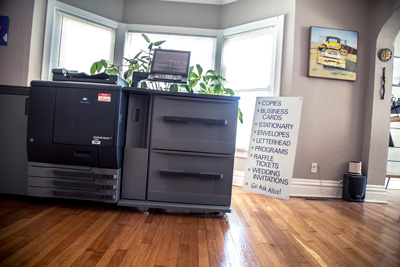 "When companies get too big, the caring for the customer starts to fade and you just can't rely on them to have your best interest in mind," DeGeorge says. "The money that you spend with us stays in Erie. We are eating out in Erie restaurants, going to local events, and donating to your nonprofit event. I get told a lot, 'Well I can get printing done cheaper with VistaPrint,' and I think, 'Yes – yes, you can. But will they donate to your fundraiser? Will they even come and support your event?'"
For Sirianni, keeping his company community-minded boils down to the Three C Philosophy he has always featured in his employee handbook.
"Craft a better product, from the beer you drink to the food that's on your plate; Care for employees and customers like family; and build Community: give back to those who give to us," he explains, adding that "building that network and building bridges with schools, nonprofits, and charities around town was part of [his business plan] from the get-go."
"I personally volunteer as much as I can with nonprofits and other events around Erie," DeGeorge adds. "I recently co-sponsored a tree at the Festival of Trees with ErieDAWN" (for which she excitedly notes that this organization, which has provided housing and support for homeless women and children since 1995, won third place).
DeGeorge and Sirianni aren't alone in their give-back, reinvest-in-your-community approach. The Haggertys, who own the Plymouth Tavern, gave DeGeorge her first waitressing gig in Erie – a post she held for a decade. She now designs the menus for the restaurant notorious for its contributions to local charities.
Sirianni credits establishments like Calamari's Squid Row and Jr.'s Last Laugh for paving the way for downtown redevelopment while also giving back to the community – which encouraged him to follow suit. Most recently, Calamari's hosted its yearly free Thanksgiving dinner, open to anyone, while Jr.'s supported the Community Shelter Services' Angel Tree last month that ensured those in need were still able to celebrate the holidays.
"Business is about relationships that you build with another person or another entity," Sirianni says. "That has been a huge part of our success, because it's great to get out there and do great things for the people in your town."
Despite the differences in the prudent planner's and daredevil decider's paths to small-business success, their aim remains similar: Invest in the community you serve and the community you serve will invest in you.
A dollar here and there can add up to big opportunities and great potential. But it's up to the community to unlock that potential by supporting our local businesses.
Ben Speggen can be contacted at bSpeggen@ErieReader.com, and you can follow him on Twitter @BenSpeggen.