The Way I See It: Airport Runway Expansion
Fresh from last issue's exclusive interview with Glenn Beck, Rebecca Styn's back! She's giving thanks and talking runways in this issue's "The Way I See It."
November 14, 2012 at 11:59 AM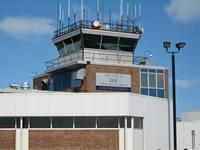 Airport Runway Expansion
Recently, the Erie International Airport opened its $83 million runway extension. Originally, plans to extend the runway to 7,500 feet were given the go-ahead by Federal Aviation Administration (FAA) officials back in 2005. Until now, the airport had been operating with 80 and 500-foot safety areas under a special FAA waiver that was set to expire in 2014.
I have always been a huge proponent of this project. Aside from the dramatic improvement in safety, the expansion affords other opportunities, such as additional airlines, additional destinations, and larger aircraft – because heavier planes take longer to both accelerate and decelerate, the pre-expansion runway airport simply couldn't accommodate them.
As it stands, four airlines averaging 19 daily scheduled nonstop flights to and from five major destinations currently serve the airport, and nearly 900 travelers pass through Erie each day.
According to Chris Rodgers, executive director of the airport, "Statistically, Orlando is the No. 1 destination spot of the people who use this airport. More people fly to Orlando than any other place and air service to this location looks especially promising." Other destinations, such as Atlanta and Cancun, also look to connect from Erie.
And there's the Erie weather – whether you love or hate it. More planes can now land safely when conditions aren't the greatest, whereas before many flights would have been cancelled or delayed because of the shorter runway.
While there haven't yet been any commitments from the major airlines, the extension was designed under a "build it and they will come" mentality; the only way airlines were going to take notice of the runway was once it was already in place.
Finally, kudos to all those involved – this project was originally supposed to be completed sometime in 2014 or 2015. Sad to say, but around Erie, not too many projects are completed, well, ahead of schedule.
Giving Thanks
You've probably noticed this issue covers a wide variety of food topics. And with all the talk about food, let's not forget about those less fortunate over the holiday season. Lucky for you, there's still plenty of time to help those in need get a meal on Thanksgiving. Below are several local agencies that can use your help – your money or your time:
Erie City Mission – The mission is looking for pies for Thanksgiving dinner. You can drop off pie donations at the mission's kitchen dock door, at East 11th and French streets, from Nov. 19 at 1 p.m. to Nov. 21 at 9 a.m.
Sisters of St. Joseph  - Their Annual Thanksgiving dinner is served Thanksgiving Day from 11 a.m. until 12:30 p.m. to anyone in need. Last year, close to 1,000 meals, including approximately 400 home deliveries, were made. Monetary donations help cover the cost of the dinner and provide needed resources to local shelters, food banks, and agencies throughout the year. Donations can be made online www.ssjerie.org or sent to "Thanksgiving Dinner Fund" c/o Sisters of St. Joseph, 5031 West Ridge Road.
Second Harvest Food Bank and Lilly Broadcasting – "Holiday Drive-thru Food Drive" occurs Wednesday, Nov. 14, until 6:30 p.m. This event is a fundraiser to benefit Second Harvest and its member agencies. All food collected at each location will remain in the community. Drop off locations include: WICU12, 3514 State St.; Northwest Savings Bank, 80 W. Columbus Ave., Corry; Nick's Place, 12246 Edinboro Road, Edinboro; All Saints Parish, 11264 Route 97 N, Waterford; and The Federated Church, 11995 Main St., East Springfield. Reading this after Wednesday? Monetary donations can still be made online: www.eriefoodbank.org.
Love? Hate? Agree? Disagree? I want to hear from you. Email me at rStyn@ErieReader.com and follow me on Twitter at @rStyn.