The Week of the Pope
Pope Francis, Accountants, and Patti Smith. Only in Rome.
November 15, 2014 at 2:57 PM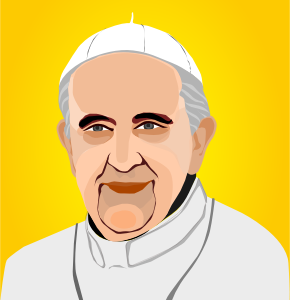 The Pope has had an interesting week.
Pope Francis spoke before the World Congress of Accountants in Rome on Friday. His brief message to the annual meeting of accountants and "accounting experts" comes as the global financial community struggles to stabilize in the wake of the economic crisis precipitated by the 2008 implosion of the world bank markets.
Francis reminded the audience of more than 7,000 accountants that they are, for many people, the bridge between families, corporations and governments.
"You accountants, in your work, place yourselves alongside businesses, but also families and individuals, offering your economic and financial counsel. I encourage you always to work responsibly, favouring relationships of loyalty, of justice, and, if possible, of fraternity; confronting with courage, above all, the problems of the weakest and the poorest members of society. It is not enough to give concrete answers to economic and material questions; you must encourage and cultivate an ethics of the economy, of finance, and of labour; you must keep alive the value of solidarity as a moral attitude, an expression of care for others in all their legitimate demands."
While this may seem a rather congenial crowd for the Holy Father, the tenor of his message will likely raise the ire of conservatives who continue to see the Pontiff as a polarizing voice on issues of equality and fairness.
In that vein, the Pope called on the audience to look beyond numbers to find the families and common social variables that foster solidarity.
That sense of solidarity and common mission may also have been on the Pope's mind earlier this week when he invited iconic 70s punk-rocker Patti Smith to the Vatican for it's Christmas concert.
Smith's "Gloria," anthem of youthful independence and self-awareness, begins with a verse about her separation from the tenets of the Church:
Jesus died for somebody's sins but not mine

meltin' in a pot of thieves

wild card up my sleeve

thick heart of stone

my sins my own

they belong to me, me.
This is how Smith set herself apart in her youth and early adulthood while she ransacked the streets of New York City with her best friend, photographer Robert Mapplethorpe, which she chronicled in Just Kids, her National Book Award winning memoir.
But that was the youthful, cantankerous Smith. The elder-stateswoman of rock n' roll has reconciled much about herself, her world, and the world around her since then and this year she'll celebrate Christmas with the Pope.
There's no word on whether or not she'll bring her accountant.
Jim Wertz is a non-practicing non-Catholic. Any correction to papal nomenclature can be sent to jWertz@ErieReader.com or via twitter @jim_wertz. Please be sure to include @Pontifex in your 140 characterization.