The Winter Wonderettes
The Erie Playhouse gets you in the yule tide spirit with sweet Christmas harmonies
December 14, 2011 at 12:00 PM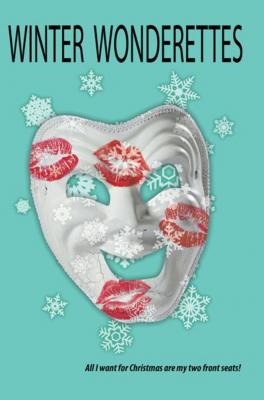 Singing the holiday blues and looking for some cheer to rescue you from your not so festive funk? Roger Bean's Wonderettes are the answer and you'll currently find them at the Erie Playhouse.
Bean first introduced us to his quartet in his successful off-Broadway comedy "The Marvelous Wonderettes," where we first meet Springfield High Songleaders: Betty Jean, Cindy Lou, Missy and Suzy, who rally together to entertain their classmates in four-part harmony. Fast-forward a few months in 1968, and we find the ladies celebrating Christmas, having been asked to entertain at the Holiday Party for Harper's Hardware, where Betty Jean has worked since high school.
"Festive holiday tunes reign supreme,'" said Sue Lechner, marketing director for the Playhouse. "Each of the four girls brings her own special flare to her role."
While the girls are bringing the flare to the party—where everyone's expecting Mr. Harper, dressed as Santa, to bring in holiday bonuses—something goes terribly wrong: Santa keeps missing his cue to enter. But the ever-ready Betty Jean springs to action and sets off to find Santa. And while Betty Jean doesn't bring back Santa, she doesn't come back empty handed, as she comes on waving envelopes with holiday bonuses.
"Julie Kulin, as Betty Jean, while in the holiday spirit, is trying to get over a romance gone wrong and is hopeful for something to happen during this magical time of year," said Lechner. Just the kind of hope she need, right?
Wrong. Instead of bonuses, the envelopes contain pink slips for all Harper's Hardware employees.
But Act II opens with the Wonderettes in full force as Missy tries to rally everyone and lift their spirits.
"Ellise Chase, the newlywed, Missy, is filled with love, good cheer, and the excitement of her first Christmas with her new husband, who she refers to quite often since he is 'sitting' in the audience, which is hypothetically made up of the employees from Harpers Hardware store and their families," Lechner added.
Marann Curtis, as Suzy, and Megan Rainbow, as Cindy Lou, round of the quartet.
"Curtis provides non-stop fun as she banters with her husband who just happens to be running the lights.  Suzy is perhaps the most excited by the holidays.  We could take a lesson from her unending exuberance," Lechner said. "Rainbow is making her Mainstage debut and makes an impressive one."
The performance thrives on the interaction and harmonious of four women, and the 90-minute musical gives each lady a chance to shine. But the performance gets better with the audience interaction and participation.
"Audiences really enjoy the interaction between the cast and the audience," Lechner said. "There is a game and several audience members get a chance to perform onstage with the girls."
So is everyone fired? Did Santa disappear for good? Can the Wonderettes save the day again? You'll have to swing by the Playhouse and catch the last round of performances to find out.
"You can't help but get into the holiday spirit with this toe-tapping, parkly Christmas musical," said Lechner.
Tickets for this Richard Davis-directed-and-choreographed production can be purchased by calling the Erie Playhouse Box Office as 454.2852 ext. 0 or visiting the Playhouse's website at erieplayhouse.org. The show, which features Andrew Rainbow as the music and vocal director, continues December 15 to December 18. You can see the Angela Howell-designed costumes and the Joe Hassler-designed set at evening shows, which are 7:30 p.m., and an afternoon show at 2 p.m.