Theater Review: ?reasons to be pretty?
Dramashop made its debut with ?reasons to be pretty.? Is contemporary theater back in Erie? Ben Speggen weighs in.
October 19, 2011 at 11:30 AM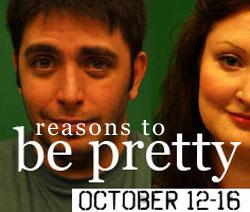 At the center of Neil LaBute?s Tony-Award nominated ?reasons to be pretty,? four blue collar friends struggle to know and say what they mean and then convey that to those close to them as their relationships begin crumbling at the seams.  And after two characters exchange a volley of awkward profanity in the first thirty seconds, it?s clear to see that one relationship is ending before the play hardly has a chance to begin.  
Alaina Manchester?s Steph confronts Domenic Del Greco?s Greg about something she heard he?s said to a friend. She just wants honesty; he just wants her to drop it.
Del Greco and Manchester soar tightly together at the center of the Dramashop production as tension abounds on stage at Gannon University?s Schuster Theatre. So much so, any viewer would be hard pressed to say these two haven?t dated and broken up before. Manchester?s Steph swells with anger and frustration, speaking in heated bursts while Del Greco?s Greg absorbs the assault, standing, sitting, shifting, trying his damnest to first understand the outbursts and then apologize for something we?re not even clear of.
But then, Greg shrugs, hangs his shoulders, and we get it: he told his co-worker, Kent, that when compared to the face of a new co-worker, Steph?s is ?regular.?
Not ugly. Not fat. Not grotesque. Not unbearable. Regular.
The fight is one we?ve heard before, maybe even have been part of before?we?re misunderstood, we said something stupid, we made a mistake. We did something that seemed so small and insignificant at the time that there was no way we thought this would be the one thing that cripples our relationship.
But back to ?regular.? Such concern with physical appearance is at the heart of LaBute?s play, the final installment of his trilogy including ?The Shape of Things? and ?Fat Pig.? And Del Greco and Manchester?s tug-o-war of emotions exemplified in the first scene and carried strongly throughout can leave you smiling one second, wincing the next because of their raw rendering of two people falling out of a four-year relationship.
Also sharing the stage with Del Greco and Manchester is the other couple: husband and wife Kent and Carly, played by Evan O?Polka and Jess Ciccone.
Ciccone delivers Carly in a reserved nature that counters Manchester?s explosive Steph. But the two women head in opposite direction as Ciccone captures Carly?s growing paranoia and desperation as Kent?s time with her shrinks as her body swells pregnancy?all the while Steph?s temper takes longer to come to boil each time she interacts with Greg.
O?Polka breathes believable life into the two-dimension testosterone-driven guy who?s as deep as the T-shirts he wears proclaiming: I Do Dumb Things. But while many an actor could simply ride out the air-humping, belching, and butt-grabbing nature of Kent?who exemplifies the height of love being skin deep?to steal laughs from the audience, O?Polka captures a blinding intensity in his final appearance on stage as he wrestles with Greg, loses the physical fight, and is left wrestling with his emotions and abandonment. Kent?s face pierces the audience as he yells out at his former friend who?s now abandoned him after he earlier saddled him with a secret that will forever alter his marriage to Carly.
Director Zach Flock draws out the naturalness of LaBute?s work as the character interactions and staging seem so realistic and genuine it?s hard to not imagine that these are your friends fighting, laughing, lying, crying right in front of you. And the simplicity of setting lends to the focus being squarely on the characters. And Flock?s keen sense of framing allows the often?but so delicately worked?deliberately aimlessness of the conversation to envelop the audience.
From jokes over power bar supplements to the heart-crippling process of a breakup?seeing that person for the first time after, giving back keys, seeing them out on dates with other people?the conversations are the movement of this production. And these characters and their actions don?t always make sense, but then again, natural human actions and reactions don?t either, and Flock and Dramashop reveals LaBute?s notions with depth and vision and a welcomed breath of fresh air into the life of contemporary theater in Erie.
##
If you missed Dramashop?s inaugural production, ?reasons to be pretty,? you missed a combination of talent, vision, and drive that is one of the best new things to happen to Erie. You can make up for that by catching any of Dramashop?s upcoming plans: a staged reading of ?God of Carnage? January 19 and 20, ?The Killing of Sister George? as part of Gannon University?s mini-fringe festival March 2012, and ?The Pillowman? in June 2012. For more information, check out the group?s website at dramashop.org.