There's More Here Than Green Beer
Serving up your St. Patty's weekend
March 15, 2017 at 2:45 PM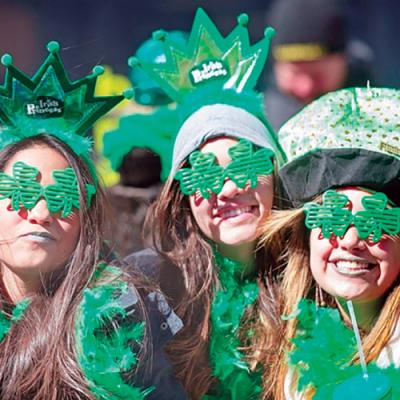 In his writings about the Prohibition Era, local author John G. Carney remarked, "About the only dry thing in Erie was the inside of a light bulb."
The more things change, the more things stay the same – especially come St. Patrick's Day. Erie "boasts" approximately 12 bars per 10,000 people, among the highest ratios in the country. Many of them will be turning their lights on as early as 7 a.m., so revelers will have plenty of time to get their fill before the filaments flicker out. (Irish or not, don't press your luck, or the only things you'll be kissing are: a) the cement and/or b) the hood of a police cruiser.)
Public intoxication not entertainment enough? Here are some venues that might wheedle a jig out of you.
Public intoxication not entertainment enough? Here are some venues that might wheedle a jig out of you.
LAVERY BREWING COMPANY (128 W. 12th St., Unit 101)
The Laverys are very invested in their heritage, drawing inspiration for their handcrafted ales and lagers from Irish folklore (e.g., Dulachan IPA, named after a headless Irish goblin) and culture (e.g., La Bealtine American Wheat, named after the spring planting festivals of Ireland and Scotland). Patrons will be transported even closer to the Emerald Isle as The Mulligans fill the air with traditional Irish and pub songs from 8 to 11 p.m. The trio has played everything from preschools to wakes and is known to put on a rollicking show.
THE BREWERIE AT UNION STATION (123 W. 14th St.)
The Brewerie will cater to both early birds and night owls with its St. Patty's Day celebration. Free music (with The Mulligans) and free breakfast (with the Rocket 101 Morning Crew) highlight the morning session (7 to 10 a.m.). Neo-Celtic folk group Bangerz will play two evening sets, starting at 5 p.m. The Veterans Memorial Pipes and Drums will perform during the intermission at 7 p.m. (Remember: If you have to blame the bagpipes for your headache, you're probably already hung over).
MOLLY BRANNIGAN'S (506 State St.) & UPICK 6 PUBLIC HOUSE (4575 W. Ridge Rd.)
You're not going to escape the hooligans no matter where you go, so you might as well embrace a proper bunch of them. The Celtic Hooligans enlist the penny whistle, bodhrán (drum), fiddle, accordion, banjo, and guitar in recreating the authentic Irish sound that grandfathered our own American folk and bluegrass traditions. Expect to hear instrumentals and songs about (among other things) whiskey. Both the Molly's (at 1 p.m.) and Public House (at 7:30 p.m.) gigs promise to be straight-up enjoyable.
THE KINGS ROOK CLUB (1921 Peach St.)
Beloved local rockabilly trio Matty B & The Dirty Pickles will take the stage from 10 p.m. to 2 a.m. at the Rook. Consisting of guitarist Matty B, drummer Dig-It Dave, and bassist Ben Jammin', the combo stews together early rock n' roll and punk, funk, blues, and jazz influences into energetic sets. Chances are that Sakura Taco Island, purveyors of culinary gold, will have something appropriately-themed cooked up for the holiday.
BOBBY'S PLACE (1202 W. 18th St.)
If you'd rather your St. Patty's Day be served black, Bobby's Bash has you covered. Prepare to be punished with some of the heaviest metal the area has to offer, including Brotherhood of the Jam (9 to 10 p.m.), Requiem for Oblivion (10:15 to 11:15 p.m.), Obelus (11:30 p.m. to 12:30 a.m.), and Slaughter in the Meridian (12:45 to 1:45 a.m.).
Saturday's St. Patty's Day Rock & Punk Party will brighten the tonal palette somewhat, with No Person (surfy ska punk), The Cartwrights (alt-rock), JC Nickles (alt-rock/punk), Til the End (90s-style aggressive punk), and goo (experimental punk/lo-fi) splitting the bill – but none of yours (no cover – again, Bobby's Place seems especially averse to green).
"THE LOCAL" AT DARCY'S GRUB & PUB (3746 W. 12th St.)
Feeling like a flogged Molly or a dropkicked Murphy in the wake of St. Patrick's Day? Then you'll feel a certain kinship with the Tradesmen, a raucous Celtic punk sextet who describe themselves as "a drinking band with a working problem." No less active locally are the Mulligans, who return for more shenanigans Saturday. 
Matt Swanseger can be reached at mswanseger@eriereader.com. You can follow him on Twitter @SwazzySwagga.