Things Get Loopy at King's Rook with Abadon Faluz, The New Morning Sunrise, and Uncle Tony's Pizza Shop
One-man musical act Abadon Faluz provides some lessons on the art of looping at the King's Rook Club.
January 7, 2015 at 4:00 AM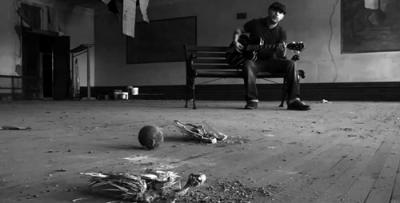 Michael Edgerly likes to throw his audiences for a loop. One minute, he'll be laying down a riff on his guitar, the next, he'll be knocking out a drum beat, adding different elements to a song
until it all comes together into one fully-realized tune.
Edgerly is a one-man music-making machine under the moniker Abadon Faluz, carefully piecing together musical creations with a few different instruments and a know-how of looping (the act of recording different sections in order to repeat them through a song. The talented man known as Abadon Faluz – when he's not rocking out some alternative techno-folk as London Underground, that is – will headline a free show at the King's Rook Club Friday, Jan. 9, dabbling in themes like murder and mayhem during his self-described "Mississippi blood blues" songs.
The one-man-band will be joined by neo-folk outfit The New Morning Sunshine and the amusingly-titled jam/rock/folk/pop quartet Uncle Tony's Pizza Shop. So dig some looping goodness – and enjoy some pretty sweet music from a trio of acts as well – when Abadon Faluz, The New Morning Sunshine, and Uncle Tony's Pizza Shop take to the Rook's stage. 
9 p.m. Friday, Jan. 9 // 1921 Peach St. // facebook.com/kingsrookclub