Think Globally, Learn Locally at Global Summit XIV
Jefferson Educational Society's annual conference welcomes big names, big opportunities
October 14, 2022 at 1:00 PM
For years, the Jefferson Educational Society's Global Summit has invited a world of thought to Erie. Although the annual event's scope has expanded significantly since its inception, the goal has always been the same — "to welcome civil civic dialogue in the community," according to Dr. Ferki Ferati, JES president.
Beginning as a two-and-a-half day conference at JES headquarters in 2009, the event now spans months and draws thousands of attendees annually, hosted at venues across Erie County. Audiences are drawn to listen and engage with some of the most prominent minds on topics such as politics, race, immigration, digitalization, economic development, foreign policy, and other vital issues facing not only our nation, but nations around the globe.
Inspired and modeled after the Chautauqua Movement of the late 19th and early 20th centuries (in nearby Chautauqua County, N.Y.) that was the focus of Dr. Ferati's dissertative work, the Jefferson Educational Society champions high-quality civic discourse in towns just like ours — the Global Summit is the culmination of that vision. Guests and speakers have noted a growing energy and excitement around the conference, and some — like James and Deborah Fallows of the Our Towns Civic Foundation (OTCF)— have wondered how they might replicate it in similar areas elsewhere.
To that end, JES and the OTCF are partnering on a pilot program to host Global Summit events in Redlands, Calif. in association with the University of Redlands and the Environmental Systems Research Institute (ESRI) later this year. "We are grateful to our partners there for opening the doors of their community to us, and believe that what we will accomplish there this year will serve as a model to other communities that JES Global Summit programming can happen there, too," expressed Dr. Ferati.
The JES has successfully settled into new territories before — including satellite locations across Erie County and the World Wide Web (the all-virtual Global Summit XII in May 2021) — so it's easy to be optimistic about this latest venture. Nonetheless, Dr. Ferati encourages locals to take advantage of what's being provided right here.
"The Global Summit ensures that Erie-area residents have access to some of the best and brightest minds right in their own backyard," Ferati says. "What's more, the Summit draws residents from throughout the region to Erie. It provides a place where people can be active participants in the learning process. They can absorb new ideas and exchange thoughts with fellow patrons and speakers. The Summit gives those in the Erie region – and now Redlands – the opportunity to think globally by learning locally."
Globalize your mind at any one of the following lectures or panels below. General admission to all events is $25 (early bird) or $35 (regular); VIP admission is $50 (early bird) or $60 (regular) and includes preferred seating.
Tuesday, Oct. 11
The Future of Collegiate Sports with John Calipari and L. Jon Wertheim
Global Summit XIV tips off with an appearance from Basketball Hall of Famer and three-time Naismith College Coach of the Year John Calipari, who has helmed the University of Kentucky men's program since 2009, winning an NCAA championship in 2012. Joining him will be Sports Illustrated Executive Editor L. Jon Wertheim to discuss the status of college sports in the era of NIL — Name, Image, and Likeness. What does the future look like for student athletes, college coaches, and universities? Watch them air it all out on the court (but really in the auditorium) at Cathedral Preparatory School.
7:30 p.m. // Cathedral Preparatory School, 225 W. 9th St.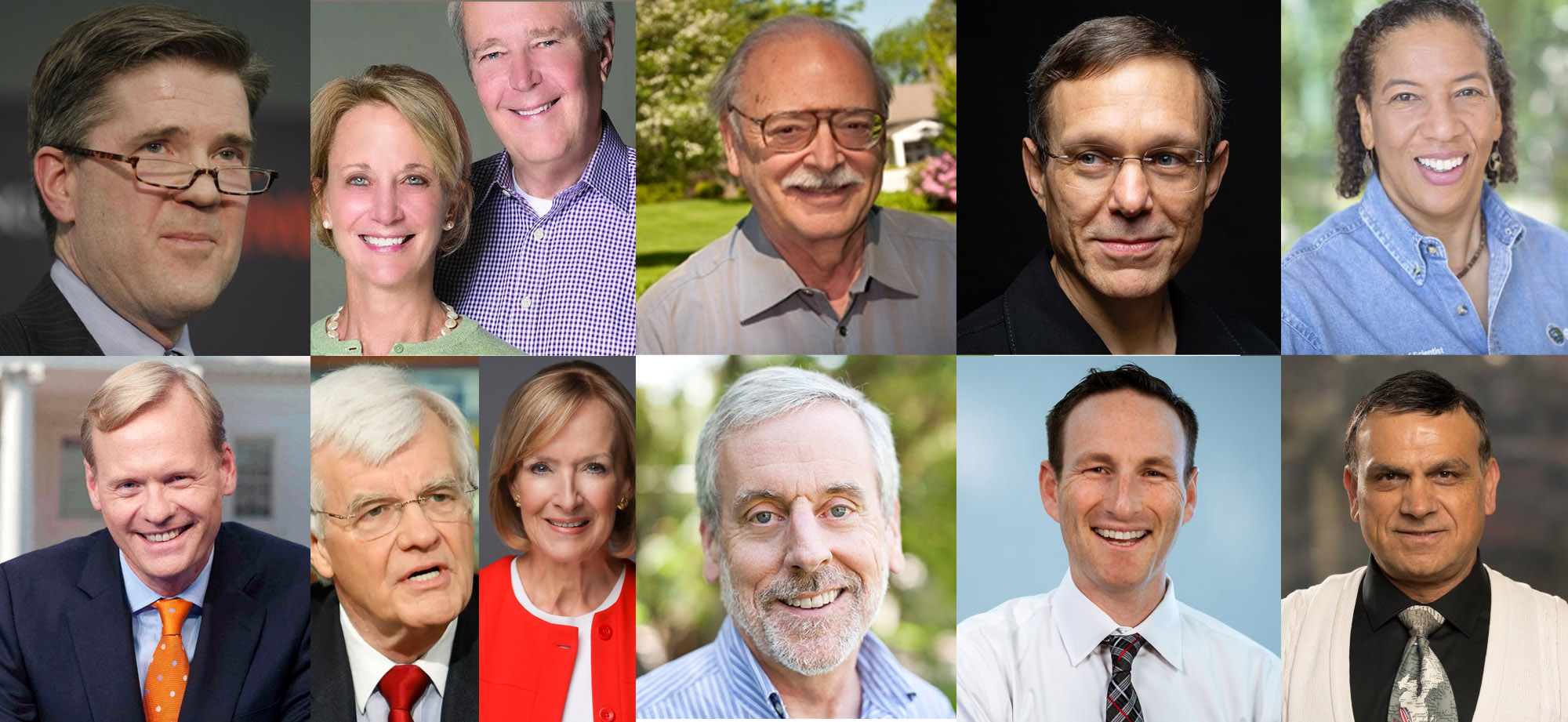 Additionally appearing at this year's JES Global Summit XIV will be [top row, left to right] John Austin, James and Deborah Fallows, Rev. Charles Brock, Avi Loeb (Redlands, CA), Dawn Wright (Redlands), [bottom row, left to right] John Dickerson, Al Hunt and Judy Woodruff, Allen Carroll, Josh Fryday (Redlands), and Baher Ghosheh (Redlands).
Sunday, Oct. 23
The Future of the GOP with Karl Rove
Can our country build any kind of stable future on the tremulous political landscape of today? How does/should the modern Republican Party brand itself? Ask the "Architect," aka Karl Rove, one of conservative politics' most revered minds. Currently a Fox News and Wall Street Journal contributor, Rove was one of former U.S. President George W. Bush's most trusted counsels, directing the Offices of Strategic Initiatives, Political Affairs, Public Liaison, and Intergovernmental Affairs during dual appointments as Senior Advisor (2000-07) and Deputy Chief of Staff (2004-07).
7:30 p.m. // Cathedral Preparatory School, 225 W. 9th St.
Tuesday, Oct. 25
Future of the Virtual World: Strategies for Business, Storytelling, Culture, Cryptocurrency with Elizabeth Strickler, MFA
As more and more of the world goes virtual, what sort of metaversal principles should we all abide by? Ask Elizabeth Strickler, founding director of the Creative Industries Blockchain Lab and Director of Media Entrepreneurship at Georgia State University. From this position, she explores extended realty (XR) innovations in education, in addition to the ways Web3, blockchain, and NFT strategies can be employed to uplift the future of business, storytelling, and the cultural economy. Speaking at the Global Summit for a second consecutive year, Strickler's lectures offer plenty of food for thought — we hope you (and/or your avatars) are hungry.
7:30 p.m. // Jefferson Educational Society, 3207 State St.
Wednesday, Oct. 26
The Future of Race in America with Rashawn Ray, Ph.D.
The mechanisms that produce and sustain racial and social inequality are deeply embedded into our society, and Dr. Rashawn Ray has made a career of prying the lid off and exposing those inner workings. Dr. Ray, a senior fellow at The Brookings Institution and a professor of sociology at the University of Maryland, College Park (where he directs the Lab for Applied Social Science Research), returns for another speaking engagement after the Jefferson's Digital Summit (aka Global Summit XII) in 2021. The widely published author and academic will discuss how activism and social policy can help level the playing field.
7:30 p.m. // Gannon University's Yehl Ballroom, 124 W. 7th St.
Thursday, Oct. 27
The Future of Immigration in America with Anahita Panahi, M.A.
Being a New American isn't exactly new — after all, the United States is a nation of immigrants. But being a New American in the 21st century brings some unprecedented challenges, which Anahita Panahi is well-acquainted with as a daughter of refugees. The refugee campaign manager for the Coalition for Humane Immigrant Rights (CHIRLA) will speak to these issues from first-hand experience, drawing from a career in activism and advocacy that has taken her to Turkey, Iran, and Spain. She currently lives in California where she continues to passionately advocate for immigrant and refugee rights.
7:30 p.m. // Gannon University's Yehl Ballroom, 124 W. 7th St.
Thursday, Nov. 3
Community Schools: A Model Locally, A Model Nationally with José Muñoz
Expanding upon the support offered at public schools, the community schools model integrates stakeholders throughout the community for the holistic betterment of students and their families. Of course, what this looks like and how it manifests may vary. Take it from José Muñoz, director of the Coalition for Community Schools initiative at the Institute for Educational Leadership (IEL) since 2017. During his time as the executive director at the ABC Community School Partnership in New Mexico, he added 22 new schools to that program while tirelessly pursuing funding and partnerships between state and local governments, school districts, teachers' unions, and local businesses.
7:30 p.m. // Jefferson Educational Society, 3207 State St.
Friday, Nov. 4
Policy, Politics, and International Affairs: From U.S.-Russian Relations, to Her Critically Acclaimed Book 'There Is Nothing for You Here' with Fiona Hill, Ph.D.
What's up with Russia? It's been the preeminent question in our foreign relations department for the better part of the last century, and certainly now as Russian President Vladimir Putin wages war against Ukraine. The answer, of course, is "it's complicated." Dr. Fiona Hill, an expert in U.S.-Russian relations and a scholar of Russian history who has served the past three presidential administrations, will lend her insights to her first-ever Global Summit audience. The author and academic is currently a senior fellow in the Center on the United States and Europe in the Foreign Policy program at The Brookings Institution.
7 p.m. // Gannon University's Yehl Ballroom, 124 W. 7th St.
Monday, Nov. 7
James Madison: America's First Politician with Jay Cost, Ph.D.
What does James Madison, the fourth President of the United States, have to do with today? More than you might think, actually, and Dr. Jay Cost is able to draw some intriguing parallels, even having written a book on it (The Price of Greatness: James Madison, Alexander Hamilton, and the Creation of American Oligarchy). In addition to provocatively-titled books, the scholar of civic republicanism also regularly writes columns for National Review, The Weekly Standard, and the Pittsburgh Post-Gazette, while also co-hosting the podcast Constitutionally Speaking. He returns to the Global Summit for the first time since 2017.
7:30 p.m. // Jefferson Educational Society, 3207 State St.
Wednesday, Nov. 9
Rejuvenating Industrial Heartlands: Key to Heal Polarized Politics and Strengthening Western Democracy with John Austin MPA
Industry and agriculture are the nuts and bolts/bread and butter of the Midwest's cultural and economic identity, and politicians have long latched onto these hooks to turn sentiment in their favor with each election season. This can have a powerful impact at the polls, especially in the swing states surrounding the Great Lakes. John Austin MPA, director of the Michigan Economic Center and former president of the Michigan State Board of Education, will discuss how a divided electorate might rally around a "Green and Blue" sustainable economy, with the bountiful assets of the Great Lakes at its center.
7:30 p.m. // Gannon University's Yehl Ballroom, 124 W. 7th St.
Thursday, Nov. 10
How America's Towns Are Writing the Future of the Country with James and Deborah Fallows
Several years ago, the husband-and-wife team of James and Deborah Fallows climbed into a Cirrus SR22 single-engine plane and methodically made their way across the country. During that trip, they landed in more than 20 small to mid-sized cities, and also upon an epiphany — that these municipalities (including Erie) were the truest barometer of the America to come. The co-pilots became co-authors shortly thereafter, releasing Our Towns: A 100,000-Mile Journey into the Heart of America, a 2018 best-seller that was later adapted into an HBO documentary. The longtime friends of the Jefferson make their latest fly-by at Global Summit XIV.
7:30 p.m. // Gannon University's Yehl Ballroom, 124 W. 7th St.
Friday, Nov. 11
John Milton, Abigail Adams, and Thomas Jefferson: Revolution Yesterday and Tyranny Today? with Charles Brock, M.Litt.
The Rev. Charles Brock — Jefferson Educational Society founding board member and longtime educator and minister — is this year's distinguished Thomas B. Hagen Dignitas Award honoree. Born in Erie in 1935, Rev. Brock has maintained an active curiosity in political science and religion well into his 80s, acting as a senior research associate at Penn State Behrend, director of the Institute on the American Dream, and founding director of the Brock Institute at the Jefferson, for which he writes and presents regularly. This lecture, first delivered at Oxford University earlier this year, reexamines key figures from the American Revolution in a modern light.
7:30 p.m. // Jefferson Educational Society, 3207 State St.
Sunday, Dec. 11
Future of the American Presidency with John Dickerson, B.A.
There may not be a person more heavily scrutinized than the President of the United States of America. John Dickerson, chief political analyst and senior national correspondent for CBS News, definitely understands the gravity of the position, having covered every presidential campaign since 2005 (for Slate magazine from 2005-2015, for CBS thereafter), culminating in moderatorship of two presidential debates between Hilary Clinton and Donald Trump in 2016. In this Global Summit appearance, he will pull insights from his recently published third book and New York Time best-seller, The Hardest Job in the World: The American Presidency.
7:30 p.m. // Gannon University's Yehl Ballroom, 124 W. 7th St.
Monday, Dec. 12
An Evening with Al Hunt and Judy Woodruff
Journalists Al Hunt and Judy Woodruff are the exemplification of power couple, each with media careers spanning over 40 years. Hunt made his imprint with Bloomberg News, Bloomberg Television, and the Wall Street Journal, covering policy and politics. In addition to continued contributions to Bloomberg, he co-hosts the Politics War Room podcast with James Carville. Woodruff, a veteran of network, cable, and public television news, has covered every presidential election and convention since 1976. The founder of the Internal Women's Media Foundation now serves as anchor and managing editor of PBS NewsHour. Collectively, these two have seen a lot, making them well worth seeing.
7:30 p.m. // Gannon University's Yehl Ballroom, 124 W. 7th St.
Stay tuned for schedule updates at jes.org. Matt Swanseger can be reached at mswanseger@eriereader.com