Three Ways to Welcome Autumn
You can take it and leaf it
October 15, 2022 at 8:30 AM
For leaf-peepers, autumn means a leisurely drive to admire the foliage, but this season I fell for the pleasantries of fall at a branch library, a Sunday brunch, and a farmers' market.
In September, Jessica Stefano, manager of the Iroquois Library, organized a bunch of tree-centered activities, including an energizing and educational stroll in leafy Lawrence Park Township.
Mark Spitulski, owner of MKS Arborist Services, led the walk and promised that within about an hour, we would see up to 30 different species, arching over streets, growing in front yards, and populating the township's treasured Elbow Tree Park.
As we walked, we sampled red fruit from Kousa dogwoods, learned that crabapples are edible, and that we could also eat acorns, although they "taste terrible," said Stefano, a former environmental educator at Asbury Woods. Hickory nuts are sweet enough to nibble, too; Native Americans used them to create a drink akin to almond milk.
Spitulski pointed out serviceberry trees, which produce edible fruit and are a great alternative to ornamental Bradford pears. As a bonus, they also attract birds such as cedar waxwings.
Locust trees serve like a natural pergola, providing shade and filtering light.
Don't worry about the bark peeling from sycamore trees, he said. That's part of the natural process. "Shedding its bark is kind of like a snake shedding," added Stefano.
But Spitulski cautioned that certain gardening habits, like piling on too much mulch, will damage healthy trees. And if the same species are planted and aligned along streets for beautification, the trees will age out about the same time. "Biodiversity is so important right now," he said.
Stefano is a huge fan of ginkgo trees, which she described as "living fossils," and also the red oak, which she described as the No. 1 tree in the U.S. for biodiversity. Although not native to this country, it's not invasive, and red oaks provide a "huge food source for other wildlife," she said.
Spitulski said that autumn is a good time to evaluate your own trees for insects and diseases, when you can see bare branches and observe the crown for signs of stress. Arborists don't do treatments in the fall but "scout this time of year, identify those problems, then have a plan for next spring," he said.
Spitulski also described threats to specific species: insect galls and Rhizosphaera (a needle cast fungus) on spruces; beech leaf disease; spider mites and the wooly adelgid on hemlocks, Pennsylvania's state tree. The Emerald ash borer remains a threat in the Erie area but infected trees can be treated and saved. He expects the spotted lantern fly to make its way here, harming grapevines and orchards.
"Trees are a living thing. The sooner you find out what the problem is, the better it is in the long run," he said.
Of course, tree walks are meant to be fun as well as informative, and Spitulski, who spends "all day, every day, looking at trees," also pointed out the good things he spotted along our route, such as the graceful drooping of Norway spruce branches and the artsy leaves of tulip poplars.
To boost your tree IQ, you can organize your own walk, he suggests — at the Lake Erie Arboretum at Frontier Park, Asbury Woods, or at your church, school, neighborhood, or nearby university campus. Take notes. Compare what you see. Delight in the sights, and remember that being around trees makes people healthier. Some countries, he said, even have a name for the tree-human connection: forest bathing.
Janet Woods, co-founder of Hurry Hill Maple Farm and Museum, 11424 Fry Road in Edinboro, is well aware of the health benefits of trees — specifically, maples.
Hurry Hill is abuzz with activity during maple sugaring season in March, but fall is also a great time for a self-guided walking tour of Hurry Hill's woods. Visit hurryhillfarm.org for a printable map or to scan QR codes for the 14-stop trail. You will learn about the trees that were cleared to create the original farmland, the maple stands that started to take root in 1998 for the sugaring operation, and the big ancient maple that is more than 200 years old.
In the museum, you can immerse yourself in the story of Miracles on Maple Hill, the Newberry Award-winning children's book by Virginia Sorensen, set in Edinboro. You will also find Woods' new cookbook, Maple Syrup Recipes, featuring 10 food categories and 170 recipes, from appetizers to entrees. I felt like a farm-to-table proprietor when I recently served homemade waffles with pure maple syrup from Hurry Hill for Sunday brunch.
Woods reminds her readers that Pennsylvania residents should hold a special affection for trees. "'Sylvania is Latin for forest. So Pennsylvania means Penn's Sylvania or Penn's Woods," she writes in her book. "Maples give us the spectacular fall yellow, red and orange colors."
She sprinkles maple-themed facts on every page of her book. This is where I learned that Grandma Moses was in her 80s when, in the 1940s, she painted her beloved "Sugaring Off" art depicting the old-fashioned syrup-making process. Hailed as an exemplary example of primitive art, it sold for $1.2 million in 2006.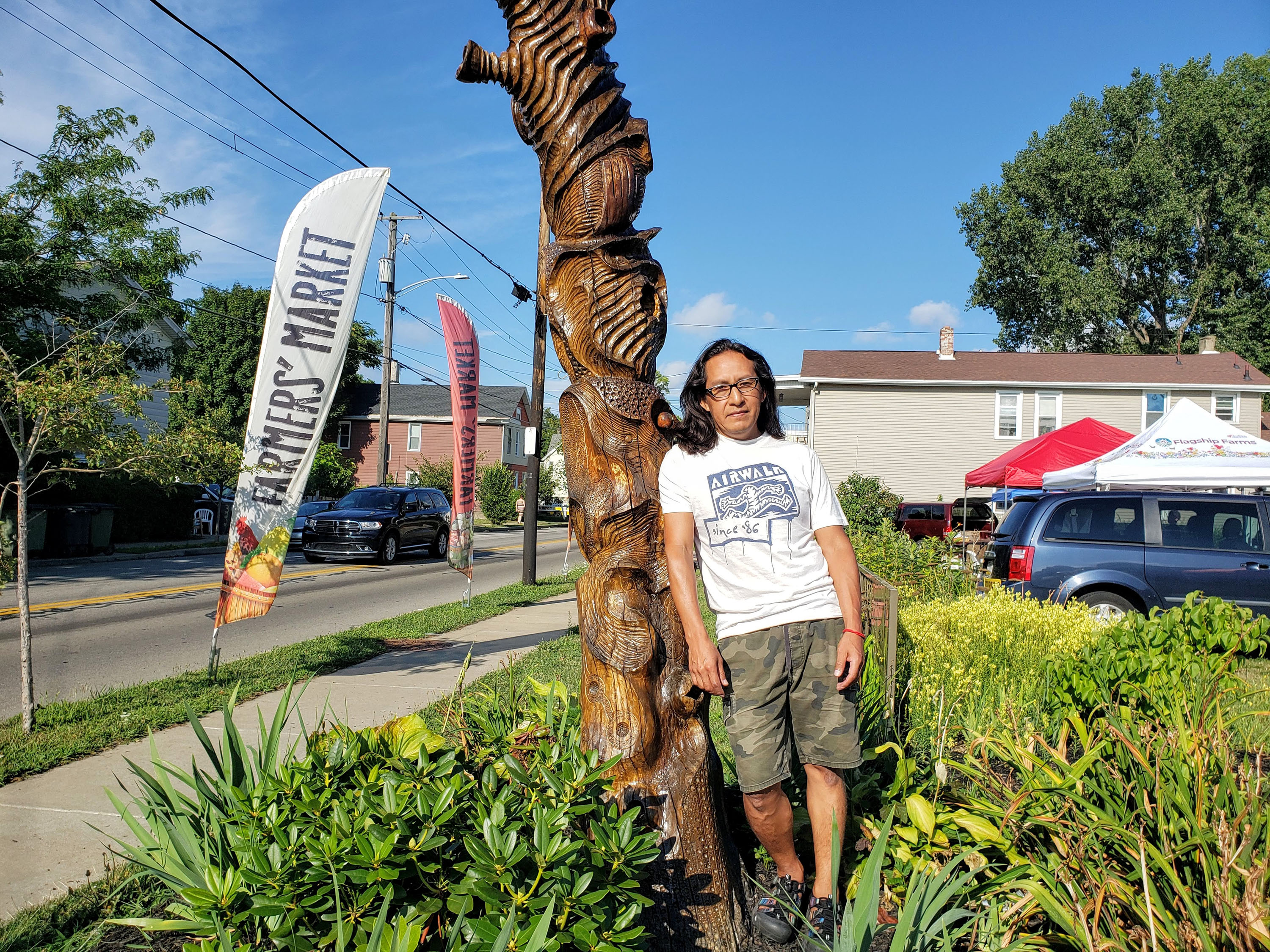 Fredy Huaman Mallqui, a classical wood carver originally from Peru, calls the sculpture he crafted from a storm-damanged maple tree "Nest of Dreams." It is part of the public art on display at the "Field of Dreams" property used by the Sisters of St. Joseph Neighborhood Network for its farmers market, in the 300 block of West 18th Street.
Fredy Huaman Mallqui also employs beautiful trees in his art but at a different stage of their existence — after they've been damaged or died.
A classical woodcarver since age 9 in his native Peru, "I've been doing this my whole life," said Huaman Mallqui, 42, who lives in Erie with his family.
He likes working with walnut or basswood for his art, which includes fine furniture pieces, but when the Sisters of St. Joseph Neighborhood Network asked for proposals to repurpose a damaged maple tree, he applied and was picked for the project.
His tree carving is part of the landscape of the SSJNN's Field of Dreams in the 300 block of West 18th Street, where the weekly Little Italy Farmers Market has just wrapped up its season.
"When a storm damaged the tree … but left the trunk intact, we immediately saw the potential for a new form of public art we'd never before been able to install," said Heather May Caspar, SSJNN executive director.
"As with many of our public art projects, we published a request for proposals, and we met Fredy simply as one who responded to our RFP. Of course, his submission blew us away and was the clear choice," she said. "Fredy had previously taken time to observe exactly how we and the neighbors already used the space as a farmers market, and created a remarkably thoughtful sculpture that captured the growth and caring and life-sustaining mission behind our market's goal of increasing access to locally-grown, healthy produce," she said.
Huaman Mallqui's design began as "a one-dimensional image" on paper, he said. "The challenge is how to translate one dimension into three dimensions."
The tree trunk also presented another obstacle — it couldn't be moved around as he worked with a variety of grinders (but no sanders) to create a sculpture that features a face, hands, sun, flowers, and seeds. Huaman Mallqui is also an art teacher, including at the university level, and he invited people to join him as he worked. "At almost any time there were two or three others there working alongside him, which was unanticipated and also wonderful to see," said May Caspar.
Huaman Mallqui's sculpture stands in good public art company. "Fredy's piece joins an interactive art fence installed by Designs in Iron, a triptych mural designed by Tom Ferraro and Ed Grout, and some beautiful flowers and landscaping on site," May Caspar said.
"Art is meant to make you 'feel' something, and all these elements do just that. The fence is playful; the mural tells a story linking the past, present, and future of the neighborhood; and the landscaping changes with the seasons," she said. "Fredy named his sculpture 'Nest of Dreams' and when you look closely, you see the entire trunk is made to look like it's full-to-bursting with seeds. It truly makes you want to reach out and touch — literally feel — the forms and textures that represent growth and life and potential."
Huaman Mallqui knows that each observer will walk away with their own interpretation of his wood carving. But he hopes that they will "think about life itself, how we repurpose nature, and how that nature gives us everything we have."
How fortunate we are to have Erie people who help us all to see the forest and the trees.
Liz Allen, who grew up climbing trees and building treehouses with her brother and their friends, can be reached at lizallenerie@gmail.com.
Learn more
When Jessica Stefano was hired as the branch manager for the Iroquois Library, she immediately noticed the abundance and variety of trees in Lawrence Park Township where the library is located. Libraries help to connect patrons to the places and things in the ordinary lives of patrons, so offering programs for both adults and children was a natural fit for the Iroquois branch, she said.
A former environmental educator at Asbury Woods, Stefano can recommend lots of good tree books from the library's collection, but two of her favorites are The Nature of Oaks, by Douglas W Tallamy, for older readers, and Little Sap, for kids, written by Jan Hughes and illustrated by Ruth Hengeveld.
"The Nature of Oaks," she said, "really digs deeply into the role of oak trees in the world and to biodiversity in both the forest and just the backyard."
Little Sap explains to kids how trees fit into the greater environment.