Timbuktu (2015) Film
Timbuktu Offers a Thoughtful Response to Islamic Fundamentalism.
September 30, 2015 at 12:30 PM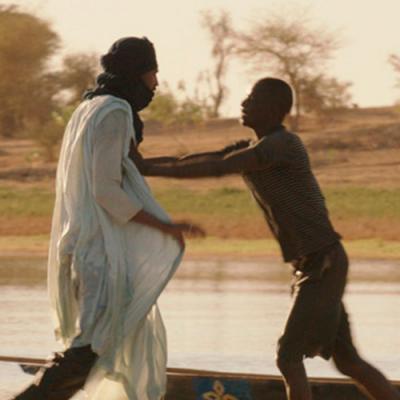 Sunday, Oct. 4
Abderrahmane Sissako's 2015 film Timbuktu is worth seeing on account of what it avoids as much as what it depicts.
The film concerns the small Malian city from which it takes its name as jihadists arrive and attempt to impose shariah law. Sensational as this premise may sound, don't expect tyrannical lunatics or indulgent depictions of torture. While you're at it, don't assume some benevolent Western do-gooder will arrive to work everything out, either.
Instead, Sissako offers a nuanced, philosophical examination of power, religious doctrine, and their abuses. It's a straightforward story: A cattle herder named Kidane finds his quiet life disrupted following a conflict over a slain cow. The region's new fundamentalist rulers must resolve the dispute, which leads to tragic consequences. 
But this synopsis leaves out the complex, understated performances – and the way that little details reveal a rich emotional landscape. Sissako's jihadis are confused, conflicted, and occasionally bored – they seem almost as uneasy about their objectives as the folks they oppress. Their victims aren't idealized martyrs either. Many are defiant and outspoken; one or two are incredibly thoughtful. Above all, Timbuktu is rendered in three dimensions. Set aside some time to take it all in. — Dan Schank
2 p.m. // Taylor Little Theater, Mercyhurst University // 501 E. 38th St. // miac.mercyhurst.edu