Time Served
Exiting the criminal justice system in Erie
March 15, 2017 at 3:30 PM
The Problem of Recidivism
I'm about to throw a lot of statistics at you, so let's begin with an important one. About 90 percent of the people currently serving time in a Pennsylvania state correctional institution will eventually be released.
That number comes from a detailed 2013 report on recidivism from the Pennsylvania Department of Corrections. "Recidivism" is the term used to address a criminal's likelihood to re-offend. In 2013, the report found that six out of 10 ex-offenders would end up rearrested or re-incarcerated within three years. And more than half of those returns would occur within one year of release.
If you find those numbers alarming – and you probably should – there are more encouraging trends as well. Of those reoffending, the majority are (thankfully) not committing violent crimes. An estimated 51 percent of rearrests were for property or drug offenses, while 17 percent were for violent offenses. Murder accounts for only 1.3 percent of rearrests. Age also plays a significant role – a 21-year-old is more than twice as likely to re-offend as someone over the age of 50.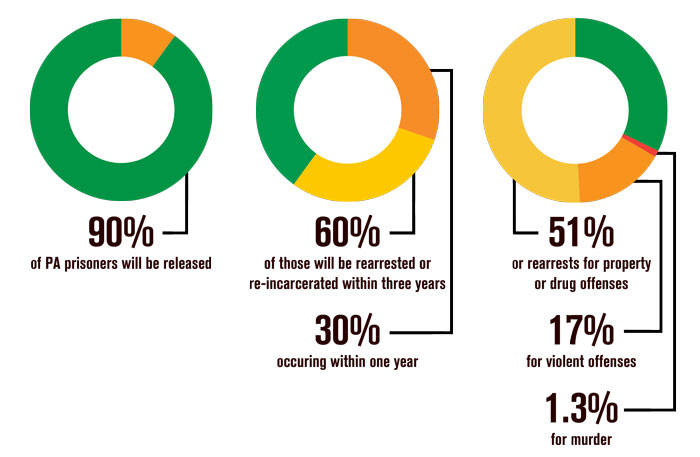 According to the Bureau of Justice Statistics, 1.53 million prisoners were in state and federal facilities by the end of 2015. An additional 4.65 million adults – roughly one out of every 53 people – were on "probation, parole, or some other form of post-prison supervision" during that year. Most of those people will eventually exit the criminal justice system. And when they do, they'll need to find employment, permanent housing, and medical care. In a city like Erie, where good jobs are often hard to find without a criminal record, re-entry can be tremendously difficult.
Fortunately, a growing coalition of concerned local citizens – including public officials, community activists, religious leaders, law enforcement officers, small business owners, and ex-offenders – are working to address these needs. They don't always agree with each other, and a healthy debate has emerged about which approaches make the most sense. Although the good work being done in Erie is too vast for a single article, here is a quick introduction to a few noteworthy efforts.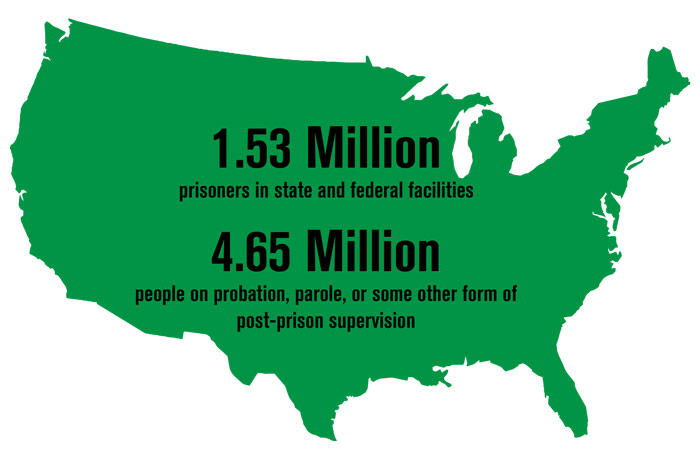 The Erie County Services and Support Alliance (ECRSSA)
Assistant U.S. Attorney Marshall Piccinini characterizes the problem of recidivism in our community very effectively: "When you've got more than 1,250 people coming from the federal, state, and local systems back to Erie County every year, and between 60 and 70 percent we know are likely to re-offend, we've got to do better to reduce that number."
"When you've got more than 1,250 people coming from the federal, state, and local systems back to Erie County every year, and between 60 and 70 percent we know are likely to re-offend, we've got to do better to reduce that number."
Through Unified Erie, our county's multifaceted plan to reduce violence, a dialogue began three years ago to address this problem. Piccinini explains the process: "With the leadership of the United Way – Mary Bula in particular – we started meeting every other Friday for a period of many months and brought together teams of folks, including transitioning clients (or ex-cons), the service providers, probation officers, and other people who are in tune with these challenges."
These meetings allowed Unified Erie to focus on two tiers of assistance for ex-offenders. First, they considered tangible needs, which Piccinini identifies as "shelter, clothing, education, drug and alcohol treatment, job skills, employment, and transportation." Next, they considered intangibles, like an ex-offender's need for "individuals in their lives to walk alongside them as they exit prison."
This led to the formation of the Erie County Services and Support Alliance (ECRSSA), which opened last September in downtown Erie. The project is funded through a $1.2 million grant from the United Way and the Erie Community Foundation, which was awarded to the Greater Erie Community Action Committee (GECAC). On a rainy Wednesday in March, ECRSSA's director Sheila Silman introduced me to the services they provide for Erie County residents exiting federal, state, and county prisons.
ECRSSA's case management team focuses primarily on two things: resource coordination and intensive support. According to Silman, resource coordination is often quite simple: they're helping low-level offenders "to draft a resume or to get onto job-related websites. And many of them don't have an email address, so we get them connected to free email." Because many ex-offenders lack practical items like birth certificates, social security cards, and photo IDs, major obstacles can arise on the path to employment.
The intensive support at ECRSSA is geared toward people who are considered medium-to-high risk for parole purposes. These clients are typically either violent offenders or people who have multiple non-violent offenses. In some cases, they may be trying to transition out of the Erie Community Corrections Center, but lack access to adequate housing. For these individuals, ECRSSA offers more long-term counseling and mentorship. "Typical case management eligibility in our community has been focused around the seriously mentally ill," says Silman. "Or people who are homeless and in need of housing. This is very different – we're trying to provide support to people who are returning, to help correct those thinking patterns and to improve their decision-making skills. Because many have burned their bridges beyond belief."
Much of ECRSSA's work involves aligning people with other organizations in the community. At the end of September, they coordinated a Re-entry Workforce Summit at the Sheraton Erie Bayfront Hotel, which included lectures, workshops, and a job fair. Local companies like Engineered Plastics Inc. and Grimm Industries expressed interest in hiring responsible ex-offenders. ECRSSA also works closely with Erie County Care Management to refer clients to places like Stairways Behavioral Health, Corry Counseling Services, and the Barber National Institute for mental health needs.
ECRSSA's work is often done in partnership with Unified Erie's controversial call-in program, which has been the source of great debate in our community. The program identifies people who show up repeatedly in incident reports and official arrest data, and invites them to take part in a dialogue at a local church with members of clergy, law enforcement officers, ex-offenders, and the families of victims of violent crime. Individuals who decline to participate will be targeted for more aggressive legal enforcement, which has led members of the NAACP and the African American Concerned Clergy to raise concerns that the program could increase incarceration rates for non-violent offenders or incentivize racial profiling.
This is a case with good faith arguments on both sides of the issue. Bishop Dwayne Brock, NAACP Erie Chapter President Tiffany McCloud, and County Councilman Andre Horton have all raised substantive objections to Unified Erie's call-in framework. For example, during a public forum in early February, Horton suggested that its funding could be diverted to Erie's multiple neighborhood centers, which have been providing opportunities in vulnerable communities for many years. On the other hand, it may be too soon to tell whether or not the call-in approach will lead to increased incarceration or racial profiling, and Unified Erie has made a concerted effort to bring in diverse perspectives from outside of law enforcement. ECRSSA began its work only six months ago, and the call-in project is still in the early stages. Hopefully, as these dialogues continue, some common ground can be found over time.
Climate Changers, Inc.
Don't be fooled by the name – the work being done by Climate Changers, Inc. doesn't have anything in common with our disturbingly mild winter. The name refers to a non-profit dedicated to helping ex-offenders (as well as people living in extreme poverty) to change the "climate" that led them to make poor choices.
To cultivate meaningful change, founder Frederick Esquire Williams and CEO Curtis Jones, Sr. have created a three-phased system known as the Total Change Re-entry Program. Phase one begins prior to release, as inmates prepare to re-enter society. According to Williams, "the level of freedom for an individual exiting incarceration is far too great for them. In prison, all you have to be is compliant." Accordingly, they begin by discussing the transitions that ex-offenders often face when they're no longer under the strict surveillance of a prison. At the same time, they prepare inmates with the practical documents they'll need upon release.
Phase two of the program is currently in the works through a facility that is being expanded on East 11th Street, in close proximity to the Emmaus Soup Kitchen and the Erie City Mission. Williams describes the facility as a "one-stop shop," designed to provide a variety of services at one location through various community partnerships. Drug and alcohol treatment will be offered by UPMC. Safe Harbor Behavioral Health will provide counseling services, as well as programming designed to promote effective parenting. G.E.D. training, tutoring, and testing will come from GECAC. Finally, the facility will also serve as a residence that can house up to 14 ex-offenders in need of shelter. Williams estimates that 70-75 people are making use of their services already – and that number is sure to expand.
The Total Change Program is also working in partnership with Bonnell's Collision, which donated several computers for vocational training and has begun to offer employment opportunities in their body shop.
Climate Changers, Inc. recently received a $150,000 promissory note from Brent Davis of B. Davis Enterprises, LLC. The funding arrives in conjunction with Operation Jump Start, Davis' 12-week apprenticeship program designed to introduce ex-offenders to the construction trade. The Total Change Program is also working in partnership with Bonnell's Collision, which donated several computers for vocational training and has begun to offer employment opportunities in their body shop.
Phase three of the Total Change Re-entry Program will ensure that tools remain accessible to participants over an eight-year period following release. Although the program is still fairly new, Climate Changers, Inc. envisions long-term mentorship with strong community connections. According to Williams, "if we're going to make the community better, it's going to take a collective initiative from many different businesses – from many different genres – working together to solve these problems in the city."
This combination of diversity and collaboration seems essential to addressing the problem of recidivism. Making it work will require hard work and tough, adult conversations. Concerned people in Erie might not always come to a consensus, and public debate about these issues is tremendously important. I don't want to sound overly optimistic as I conclude – there are a myriad of deeply rooted institutional problems within our criminal justice system. But there does seem to be substantial local momentum – an eagerness for reform that reflects the multifaceted needs of the whole community. Sometimes that eagerness takes the form of dissent, and sometimes it takes the form of direct action. Ex-offenders returning to Erie County can't expect to be greeted with open arms, but they can count on plenty of helping hands.
Dan Schank can be contacted at dschank@eriereader.com.