'Tis the Season with Babes in Toyland – a dance concert for the holiday season
A sure sign of the season.
November 26, 2014 at 6:45 AM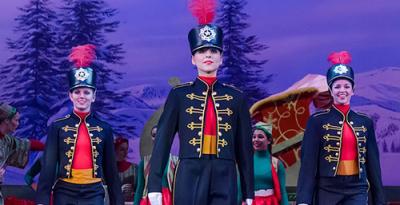 The snow is already flying in Erie, Christmas carols are flooding the airwaves, and the most intrepid (or most foresighted) among us have already strung up holiday decorations and lights in store windows and on front porches.
The time is right, then, for a Christmas classic and sure sign of the season: Babes in Toyland.
Presented by the Mercyhurst Dancers and Liturgical Dance Ensemble next weekend, 'Tis the Season with Babes in Toyland is an hour-long dance concert that features the ballet from which it takes its title, a heart-warming Christmas production that in turn has been an operetta, a musical, a ballet and movie – one which, in 1961, the New York Times said that with a finish "as colorful, busy and cheerful as a Grandma Moses winter scene, this 'Toyland' should be a Christmas joy to every moppet everywhere." Dated language from the Grey Lady maybe, but the subject is still charming as ever.
But this Babes is an original ballet, choreographed by Mercyhurst assistant professor of dance Melissa Bobick, who took elements from the operetta and score to create new work, completely different from the beloved movie. In Bobick's work, two little girls are allowed to open one present each on Christmas Eve, transporting them to the world of Toyland. Eventually, however, Bobick said, the girls realize that the toys, while delightful, are just toys.
"In the end, they decide that spending time with your family is what Christmas is all about," Bobick said.
The evenings at the Mary D'Angelo Performing Arts Center also include a spiritual work to the music of Johann Sebastian Bach titled "Passion Sculpture," and an original seasonal premiere called "Christmas Fun on Fa-La-La-Lane."
"It's a fun way to jump into the holidays," Bobick said. 
4:30 and 7:30 p.m. Friday, Dec. 5; 11 a.m. and 2 p.m. Saturday, Dec. 6 // 501 E. 38th St. // 824.3000