To Do List
Miss neither London Underground nor Free Comic Book Day!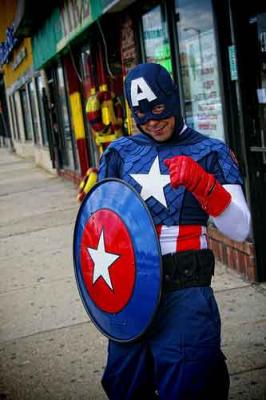 London Underground
Sometimes things just don't work out. When it comes to breaking up, there are all sorts of reasons as to why people go their separate ways with ranging levels of blame doled out to those involved. A separation could be due to frustration or constant bickering, but Mike Edgerly decided that he just needed something a little different.
"I wanted to change, but I couldn't figure out what I wanted to do," he said. "It came to the point where I got frustrated and told people 'Look, I'm just doing some acoustic gigs, Abadon Faluz is done.'"
Yes, it appears Mike's one-man Mississippi blood blues act is no more, but don't you Reader readers fret too much, as this breakup with, well, himself has resulted in a new musical relationship: London Underground. The hard-at-work musician has taken quickly to the new name, offering listeners plenty of opportunities to catch a London Underground performance, including a Saturday, May 4 show out at Mound Grove Golf Course in Waterford and a May 11 gig at The Villa in Cambridge Springs. Of course, if you're familiar with Mike's work, just know that with this new moniker comes a whole new style and big breath of fresh air.
"Basically what it was, Abadon Faluz had been around forever, and my wife [Laurie] wanted to start doing some shows with me," Mike said."It ended up being that Abadon Faluz is its own thing, and it really wasn't meant to be more than just me. So when she came into the picture I said that we should just change everything and just get a new name, develop a new sound, and we expanded to more instruments and just looping and more stuff."
Moving away from the horror-based tunes of Abadon Faluz, London Underground finds Mike and Laurie exploring a sound that mixes elements of Neil Young and electronica, creating a sort of alternative techno-folk. Of course, London Underground shows will still feature their fair share of crowd-pleasing covers, part of an experience that Mike calls "live instrument DJ-ing."
While we may all mourn the loss of Abadon Faluz, we've got plenty of good memories that still need to be made with London Underground, so go out, raise a glass, and celebrate the beginnings of a beautiful relationship.
Free Comic Book Day
In the last issue of the Erie Reader, you may have noticed a story produced by Matthew Flowers, one of our many fine writers, on a little event called National Record Store Day. In his piece, the roguishly handsome Flowers (everyone saw you ogling his picture whilst you perused the pages of the April 17 issue, so you can just admit it) detailed the joys of a day meant to "commemorate the non-commercialized culture surrounding independent record stores and the art of music."
Now, I know that National Record Store Day has come and gone, but there are other 24-hour celebrations that you should know about. Readers, I hereby invite you to partake in Free Comic Book Day.
For every first Saturday in May since 2002, Free Comic Book Day has been helping to spread the joys of comics to an increasing audience of appreciative fans. Luckily for us Erie folk, Books Galore at 5546 Peach St. and Above & Beyond Comics at 1126 W. 26th St. will be participating in this year's May 4 bash, giving out a free comic to any interested person, all in the spirit of the event.
"It's our busiest day of the year," said Doug Phillips, assistant manager and comic guru at Books Galore. "It's absolutely jam-packed. Last year we had a non-stop line for the comics from the time we opened at 10 a.m. until about 4 o'clock."
As the comic-book culture continues to grow through the successes of print-based smash hits, like AMC's "The Walking Dead" and the various superhero blockbuster films, the masses have a day to cheer on their inner comic geek. Hell, even those naysayers who still think that comic books are just for kids can head to these havens of printed products to see what the fun is about.
"People still kind of think comics are for kids, but I think the stigma is going away a little bit more now that our generation are now that parents and leaders," Doug said. "I mean, I'm 40, and the stigma is now being leeched away that it's not a respectable art form or a respectable form of literature. I don't think anybody can argue that the more your kid reads, the more they'll be better off."
Of course, if you want to really get into the spirit of the day, Doug said that if you wear a comic, sci-fi, or fantasy-related costume to Books Galore on Free Comic Book Day, you'll get another free comic on top of the one you've already earned for just showing up. They'll also be holding a food drive, so bring down a non-perishable donation for another chance for a free comic to bring your potential overall haul to three free books.
If you're drawn to comics or like investigating something fun, don't be afraid to tap into your inner nerd and curiosity on Free Comic Book Day. Who knows, maybe next year you'll be moderating debates on Deadpool and heading the Rorschach Appreciation Club.
Alex Bieler can be contacted at aBieler@ErieReader.com, and you can follow him on Twitter @Catch20Q.