To-Do List
The Eerie Horror Film Festival and Expo and Big John Bates round out this week's To-Do List.
October 3, 2012 at 11:30 AM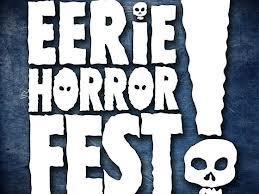 Eerie Horror Film Festival and Expo

Now that it's finally October, Halloween fever is starting to creep up on everyone. There's a chill in the air, the leaves start turning different shades of red and orange, and, of course, Tim Burton has a movie coming out.
Naturally, the horror genre fits right into the spirit of the month. For those who believe that terrifying is a synonym of terrific, the Eerie Horror Film Festival and Expo has been a prime event for nearly a decade.
"This is unbelievably our ninth year. I can't even believe I'm saying this," Greg Ropp says. Ropp, the president of the Eerie Horror Fest, has been running the event since it was originally held in the now-defunct Roadhouse Theatre. After a stint at the Erie Playhouse, the event is now housed at the Warner Theatre, where it will kick off at 3 p.m. Thursday, Oct. 11 and run through the weekend until Sunday, Oct. 14.
"What I'm really excited about is the return of the Badfritter Films Company, which had a film called 'Paper Dolls' shown at our fest a few years ago, and it won every major award," Ropp says. "It's the best movie I ever had at our fest, it's the most requested film, and honestly, even if we had a major celebrity, I would be talking about this movie more than the celebrity."
In addition to "Paper Dolls," other films will be presented throughout the four-day run of the festival. This year's featured guests will include Vernon Wells from "Mad Max 2: The Road Warrior," a cast reunion for "Dawn of the Dead," and the cast and crew of the soon-to-be released "Zombie Girl Diary."
While ticket sales have been up so far this year, Ropp knows that the budget is always a concern, but he continues to provide a quality experience, even with the financial struggles in this country.
"What happened in short – and people are afraid to tell people this – is that the economy sucks. Obviously the arts have had their funding cut by the state, but I'm one of the few arts organizations to tell you that I don't care, because there are more important things than entertainment out there. It's not lost upon me that we had to tighten our bill, along with the rest of the world."
Budgets and bills can be a scary thing, but with your help, Ropp can continue to make sure that Erie stays properly horrified.
"If you want the Horror Fest to stick around and get bigger people, then buy a ticket," Ropp says. "It's as simple as that."
A year without the Eerie Horror Fest? Now that's a scary thought.
Big John Bates

It's been almost a whole year since Big John Bates has been to Erie, but the band couldn't stay away from the Flagship City.
"It's one of our favorite places to play," says Brandy Bones, upright bassist for self-proclaimed 'rustic-punk' band. "We've got a pretty good following [in Erie.] It's a pretty neat place."
After playing a show following last year's Eerie Horror Fest, the Bates and his group returns to the crooked i at 9 p.m. Friday, Oct. 12, while on tour to support their latest album "Battered Bones." The grittily dark quartet has brand-new tracks of small-town stories they're ready to share–although some elements of the band's live show have changed over the years.
Part of a series of different stages in Bates's career, the band used to tour with burlesque dancers as part of the show, but as time progressed and the years went by, the group decided that they needed a change.
"People have been taking it pretty well," Bones says of the loss of scantily clad ladies. "We were just over with that, that we did everything we could do with that outlet and that crowd. We decided to concentrate more on the music, and the band appreciated it, because it was kind of a distraction from the music."
Now, the quartet can focus on wowing the crowd with their energetic live show, as the members rotate between different instruments to create a sound to match their soulful screams. It's a dark, exciting twist on the traditional throwback-roots music, while Bates makes his guitar sing amid the hammering bass.
You could always wait another year for Bates and company to come back to Erie, but why would you punish yourself like that? If you haven't seen the band before, make sure you make this part of a ritual to check out the rustic-punk group whenever they come into town.