To Do List
If you don't know what to do by now, you're...well, you're in need of a good talking to by Alex Bieler.
December 27, 2012 at 6:05 PM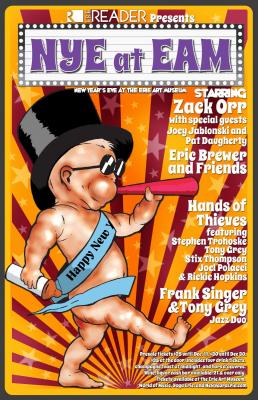 NYE at EAM

I would hope that by now you will have realized that the folks at the Erie Reader love Erie. Whether we were born and raised in this town or came to it from other less Flagship-like areas, Erie holds a special place in each of our hearts, regardless of Grinch sizes.
Of course, that means that all of you are part of city appreciation. Without you, Erie wouldn't be quite the same. In fact, it would be a lot quieter. We care about each and every one of you, and we'd like to give you a chance to celebrate with us on a very special night. That being said, we would like to take this chance to invite the fun-loving adults of this wonderful city to New Year's Eve at the Erie Art Museum, presented by none other than the Erie Reader.
As fans of good entertainment, we decided that an event like NYE at EAM would be in order, and for just $30, any person of legal drinking age can purchase a ticket to the event at the Erie Art Museum, World of Music, Yoga Erie, or at NewYearsErie.com/tickets to ensure their entrance. For those that like to wait until the last minute, don't worry, tickets will also be available at the door for $35.
As part of this smokin' deal, you will receive a champagne toast for the magical midnight moment, as well as four coupons for free beers, courtesy of Goose Island, sponsor and brewer of fine brews. Of course, NYE at EAM is more than just another opportunity to celebrate the end of the year with liquid libations – it's a concert in a wonderful venue.
"I think that anyone that is musically inclined and wants to see some live music in a beautiful space is going to be at this event," says Zack Orr, the musical mastermind behind the event.
Orr, along with special guests Joey Jablonski and Pat Daugherty, will headline NYE at EAM. The local singer/songwriter has been praised by former Rolling Stone Senior Editor Ben Fong-Torres and nominated for an Independent Music Award for his richly layered indie folk-meets-electronica tunes.
Before Orr and company take the Erie Art Museum stage, the event will feature the likes Eric Brewer & Friends, who Orr calls "the area's No. 1 jam band." Internationally-acclaimed bassist Tony Grey and local guitar legend Frank Singer will be pairing up for a duo epitomizing jazz excellence. Not to be outdone, Stephen Trohoske, an ace at bass himself, will trot out his experimental hard-bop/hip-hop/Euro-pop outfit Hands of Thieves, comprised of himself, Grey, Elly Vahey, Stix Thompson, Joel Polacci, and Rickie Hopkins.
With all that talent in one wonderful setting, Orr is very excited for what the night should hold, even whipping up something special just for NYE at EAM.
"I've written music specifically for this night, specifically for when the ball is dropping," Orr says. "It's something I've always wanted to do. On top of it, I think all of the musicians involved are pumped for the event, and it's going to be a celebratory event where there's going to be a lot of collaboration between the musicians in Erie that night. With the drinks and everything being included, it seems like a no-brainer to me."
2012 has been one exciting year for Erie, so let's kick it off in fine fashion. There's nobody else we'd rather spend the night with than you, so head down to the Erie Art Museum and join in on the fun.

The Blue Pike Independent Music Awards

As many music fans know, there can be gold in them sonic hills. While some bands dominate the airwaves, there are thousands of others that will never reach a contemporary hits station. That doesn't mean that they aren't worth a listen, however. From the bands that draw the attention of influential indie outlets like Pitchfork or Stereogum to those that play endless shows in front of miniscule crowds, there is a lot of talent out there that deserves recognition.
Luckily for you, the folks behind the Blue Pike Independent Music Awards want to provide a spotlight for these underappreciated acts, from the under-21 groups to the experienced local troupes.
"The reason that I wanted to put on the award show is that I felt that a lot of the bands locally were not being recognized," says Bob Jensen, co-owner of Basement Transmissions. "[Rock Erie Music Awards] happens, but not a lot of bands get the recognition they deserve, because, in my eyes, the bands shouldn't have to nominate themselves; people need to recognize them."
With around 80 local acts nominated, Blue Pike will honor all these original artists starting at 4 p.m. Sunday, Jan. 6 at the Performing Artist's Collective Alliance. Winners of a popular vote will receive hand-carved awards created by local artist Brian Millspaw. With performances from Optimistic Apocalypse, Kevlar, The Jargonauts, and house band Is What It Is, Blue Pike should be a celebration of artists that you might not know just yet.
"People go to a certain place, a certain watering hole and see whatever they see at that specific spot, but really, there's a lot more out there and lot more places for people to go," Jensen says."The scene is actually a lot bigger than what most people think it is and there's a lot more bands out there."
While not every band comes away with an award for the event, Blue Pike should make winners out of all those golden bands that you'll know soon enough.
 
Alex Bieler can be contacted at aBieler@ErieReader.com.