To Uber or Not to Uber
Reader riders test out Erie's Uber and Yellow Cab services.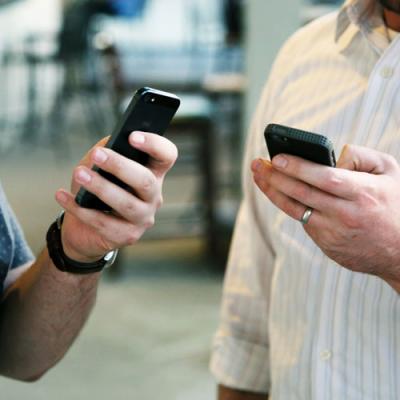 Ever since Uber arrived in Erie April 10, there's been an array of questions related to the ridesharing service that is disrupting traditional taxi service around the country. The generally skeptical public questions the safety of getting into a stranger's car, the cost of something that amounts to low-rent limo service, and the quality of the ride related to both the drivers and their cars.
The taxi mafia PR mill has filled the airwaves and newspapers in cities and towns across the country with stories of bad Ubers and, for that matter, bad Uber riders. But if you've spent enough hours and lost nights trying to cab your way around Erie, you know that Erie Yellow Cab is not necessarily the reliable choice. Stories abound of dispatch hanging up on needy riders at the midnight hour because they have a cross street, but no street address. It's one thing when you're standing on State Street waiting with friends outside a bar. It's another when you're a female college student on the tail end of bad date in a questionable neighborhood.
To face these truths and challenge some stereotypes, the Erie Reader assembled a team of riders to put the ridesharing service in direct competition with the city's stalwart Yellow Cab. There were four riders in teams of two: one "Team Yellow Cab," and one "Team Uber." The Reader's fearsome foursome hit the town with the same agenda, a couple of smart phones, and enough cash to eat, drink, and – for the cab set – take care of your driver.
The Agenda
The Reader riders selected locations that provided enough distance from one another to compare the cost of the rides and geographic variance that would test Uber and Yellow Cab's abilities to reach riders in a timely manner. The night began at Lavery Brewing Company on West 12th Street in downtown Erie at happy hour, followed by a crosstown jaunt to The Public House at West Ridge and Asbury Road in Millcreek for dinner, and a return trip to Union Station for art at Urraro Gallery and a nightcap in The Brewerie.
The Rides
Erie Yellow Cab is, well, a cab. It's essentially a fleet of what appear to be recycled police cruisers of various age with variable quality of interior – including everything from seats to smells. Some drivers own their cabs, while others rent, but all of the drivers are required to have clean driving records, according to the cab company's website.
The upshot with Yellow Cab is that if you've had a dispatch horror story, some drivers may give you a direct line to their cell phones, allowing you to circumvent what can be a very frustrating exchange. If you've never lived in or spent extended periods of time in bigger cities, Reader readers, getting the driver's number is a move that can make the difference between expensive, frustrating nights and a personal chauffeur for a fraction of the cost. Tip well and behave and you may have something akin to a private car service for the foreseeable future.
Uber drivers, on the other hand, all use their personal vehicles, which must be 2007 or newer, sport four-doors, and cannot be salvaged or reconstructed vehicles. The drivers undergo, what one driver described as, "a serious background check" and must have driven in the U.S. for at least one year. There aren't many Erie Ubers in service, but we met drivers who've been working Erie streets since its inception about a month ago as well as those who were two days on the job. Both said they've seen new Ubers on the map each day.
Because Uber eliminates the middleman of the dispatcher, Uber drivers choose which fares they take when an Uber ping comes across the driver's smartphone. Likewise, riders can spin the wheel to get another driver if they don't like what they see on their handheld device. Drivers and riders rate each other post-ride. So if you want to treat your Uber like Taxicab Confessions, that's fine, but there may be fewer Ubers in your future. And by the way, if you puke or leave bodily fluid in an Uber, you're on the hook for the cleanup and your credit card will be charged between $100-$200 dollars or more depending on the extent of the damage, according to the Uber Cleaning Fee Policy.
The Challenge
Team Yellow Cab put in the call to dispatch and Team Uber tapped the app shortly before 6:30 p.m. on a Thursday night at Lavery Brewing Company. Team Yellow Cab – after enjoying the on-hold playback stylings of the Goo Goo Doll's "Slide" – was told by dispatch that it would be "40 minutes or less" before their chariot would arrive, so they went back in for another round.
Team Uber was in a sporty red Hyundai Elantra in two minutes – before the cabbers even ended the call. The Uber route followed 12th Street to Asbury Road, arriving at the Public House 22 minutes after the app tap for $18.90, tip included. Ubers charge only by distance and don't accept tips. The driver said Uber fares don't include idle time like metered cabs, so traffic – whatever that means in NWPA – is not a factor. But according to the Uber rate card, it does charge 25 cent per minute. If there were time-related charges on our trip, it didn't show on the final bill. No cash is exchanged with Uber. You pay with a credit card pre-registered on the Uber app, with which multiple payment methods can be stored.
Team Uber expected to wait for their counterparts for the better part of an hour. But much to their surprise, the Yellow Cab crew walked through the door just seven minutes later, for a total time of 29 minutes from call to drop off. The cab had arrived in less than 20 minutes and the driver took 12th Street to I-79 to 26th Street. It was a $21 fare with a $4 tip. The riders in the car expressed their concerns about dispatch and the potential 40 minute wait time, to which the driver, who had been cabbing for three years, responded with a business card, cell phone number included.
Both teams expected the ride back from Public House to pose a greater challenge. Looking at the Uber app map, the closest cars were in Fairview and east of I-79.
At 8:30 p.m. the app was tapped and a call to dispatch – for an authentic experience – made. Both teams ended up with different cars, different drivers, and different experiences. Team Uber tracked their driver from West County on the Uber app and watched begrudgingly as Team Yellow Cab drove out of Millcreek. A different driver in a different cab, who's been driving for nine years, noted that he typically posts up around the Erie International Airport, took the same route back downtown – 26th St. to I-79 to 12th St. – arriving at Union Station in just over 20 minutes for the same cost as the outbound trip, $21 fare and a $4 tip. The same concern about dispatch and wait times was made, but no personal contact information was offered by the driver.
By the time Team Yellow Cab had another beer in hand, Team Uber was just slipping into a Kia Soul. He followed the same route as the Yellow Cab and arrived at Union Station 32 minutes after the ride was requested. Because Uber charges by distance and the route was shorter, the total fare cost $17.30.
The Verdict
It was a split decision. Uber's cheaper, but not always faster. However, the quality of an Uber is, well, uber. As Uber continues to scale into the Erie market, the variety and number rides will increase. The disruption that ridesharing causes to Erie Yellow Cab remains to be seen, but neither of the cab drivers said they were concerned, both citing the fact that they served regulars who didn't seem interested in making the Uber switch. The potential for disruption, though, is strong. Nevertheless, as the love for Uber continues to grow, so too must the number of Ubers in town. Uber knows this.
In major markets like New York and San Francisco (the city where the whole rideshare concept started in 2009 and is still headquartered), increased availability led to increased expectations from riders. Between 2013 and 2014, Uber riders' willingness to wait for Uber rides dropped from eight minutes to just four minutes because their experience in the previous year of service had been prompt and cost effective.
Uber mines this type of data in every city in which it operates – which as of March was more than 200 – so by this time next year we should have new transportation data on Uber Erie and the travel habits of the people of the Gem City. Such information could be transformative for city planning as well as our transportation sectors. We might even learn something about what we want and, dare I say, what we need to make Erie just a bit more uber.
Jim Wertz can be reached at jWertz@ErieReader.com, and you can follow him on Twitter @jim_wertz.