To-do List: Judah Friedlander & Marco Benevento
One's the self-proclaimed "World Champion," the other is an experimental pianist -- both are shows you should check out.
January 22, 2014 at 8:39 AM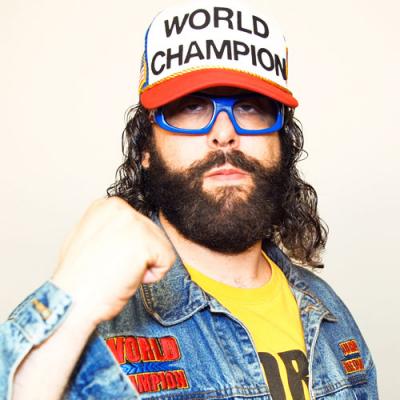 Judah Friedlander
While we're still two years shy of the next presidential election, plenty of people are already looking ahead for potential candidates. Names like Clinton and Christie have been bandied about for consideration, but perhaps the answer lies elsewhere. This country needs a proven winner, so maybe it's time for The World Champion to take over.
The Champ, better known as Judah Friedlander, will be coming to Erie for four shows over the course of two nights, with performances at 6:30 and 9:30 p.m. on Friday, Jan. 31 and Saturday, Feb. 1 at JR's Last Laugh Comedy Club. With ideas like moving Hawaii to Lake Michigan, he's certainly got some interesting plans, but his main goal on his platform is to make people laugh, which the veteran stand-up comedian does quite well.
"I try to make fun of our entire messed up political system," Friedlander says over the phone. "I think that's one area where Democrats and Republicans can agree – that nobody likes what's going on in government. I don't think anybody likes how our country is being run, no matter who is running it. We're still awesome, but things could be better."
Whether he's suggesting to end racism with karate or installing solar panels on the sun, Friedlander's got big ideas as the self-appointed World Champion, although he's had plenty of other roles. Friedlander has acted in numerous films, including an excellent job as Toby Radloff in American Splendor, but TV fans will recognize him as the trucker hat-wearing Frank Rossitano from 30 Rock, although his on-stage shtick is not quite the same as his sarcastic NBC persona.
"The stuff I do in stand-up is more bold and dynamic and joke-driven compared to what I did on 30 Rock. For my character on 30 Rock, it was more pop-culture references and I don't really do that in my act," Friedlander explains."My act [on stage] is, well, I'm basically a superhero. Superheroes don't just have to stand for justice; they can stand for fun, good times, and sex parties."
Soon, Friedlander will be bringing the fun, good times, and potential sex parties to Erie, with some new material to share with the JR's crowd. He's planning on releasing both an album and a stand-up concert documentary sometime this year – something he didn't have time to do during his tenure on 30 Rock – so you can get a chance to hear his latest jokes before they reach recorded status.
The World Champion is great at plenty of things – that's what makes you a World Champion, after all – and eliciting belly laughs is one of them. Not only could you get to see one funny man on stage, you could also be rooting for our next president.
Marco Benevento
Move over Billy Joel, there's a new piano man coming to Erie.
Experimental rock pianist Marco Benevento will be coming to the crooked i Friday, Jan. 24, but don't expect your usual piano ballads while he's on stage. No, the 36-year-old musician is more interested in testing the sonic waters, mixing rock 'n' roll songwriting and some jazz improvisation with circuit bending, drum loops, and other electronic elements.
Benevento won't be alone to help create his signature sounds, as former Ween bassist Dave Dreiwitz and Tom Waits and Norah Jones drummer Andy Borger will join him on stage to create Benevento's layered songs.
"For the most part, it's a pretty dialed-in two-hour show," Benevento says over the phone during an evening chat while in New York City. "All of the drum machine sounds, all of the crazy piano sounds, all of the sounds you hear on the record are definitely replicated live. There are three of us in the band, but there's five or six or seven different sounds going on [in a song]. I trigger all of these things with my laptop and my looper, so it's filled out."
While his tunes are already fascinating little concoctions, Benevento said that he's planning on adding a new ingredient; his voice. While some past songs, most notably "Limbs of a Pine" and "This is How it Goes" off of his 2012 album TigerFace, featured guest vocals, Benevento typically stuck to instrumental compositions. However, the band has been working on tunes for a new album to be produced by Richard Swift, who's worked with Damien Jurado and Foxygen and is a current member of The Shins, and Benevento decided it was time to start singing.
"At first, I was sort of shy about it, but I've always sang in my life in old bands when I was 15 and 16 and while I was growing up, it wasn't even an issue," he says." But then getting into jazz and instrumental music, I just didn't do it, and now opening the door again on it is really fun."
Fortunately, Benevento won't be the only one having fun, as his electric piano tunes should get your feet a'dancin' while Benevento's fingers fly up and down the keys. The shindig starts at 10 p.m., so make sure to come down and catch one of the country's premier piano men and his band at the crooked i.
Alex Bieler can be contacted at aBieler@ErieReader.com, and you can follow him on Twitter @Catch20Q, where he posts things about music and the occasional fluffy, adorable animal.