Tom Green — Still Crazy After All These Years
The comedy legend makes his first Erie appearance.
November 12, 2014 at 7:50 AM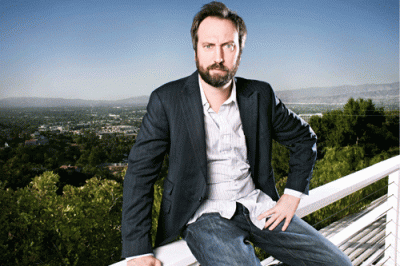 Although comedian Tom Green first gained international notice with his rude, crude, and socially unacceptable brand of jackassery in the late '90s with his uproarious gag-based MTV talker, The Tom Green Show, his comedic roots lie in standup. Performing in Ottawa-area comedy clubs as a 15-year old, Green honed the razor-sharp wit that would one day lead him to guest-host for David Letterman, appear in several movies, and grace the cover of Rolling Stone – all before the age of 30.
Nowadays, Green hosts a popular podcast as well as a weekly TV show on Marc Cuban's AXS-TV network, but he still continues to blur the line between art and life in much the same way Andy Kaufman did (does?), and has been experiencing a bit of a resurgence as a standup comedian of late. Accordingly, he's about to make his first-ever performance in Erie, and I recently had the chance to chat with him – which was, ummm, interesting… as you'd probably expect from a guy who once painted stripes all over his parents' house while they were on vacation.
Cory Vaillancourt: Hi, Tom Green; thanks for your time today.
Tom Green: Hey, great to talk to you.
CV: I'm excited to talk to you because I saw Freddy Got Fingered in the theater years ago, and what I've always wanted to ask you since then is if I could have my money back.
TG: [Laughing] No, it's too late for that.
CV: Awwww… Alright. Have you been to Erie before?
TG: I have not, but I'm looking forward to it.
CV: Oh, it's great, you'll love it. And…
TG: So you're one of the people who didn't get Freddy Got Fingered?
CV: I didn't get Fingered.
TG: You're sort of like a middle-of-the-road kind of guy? You like your comedy bland, do ya?
CV: I've certainly never been accused of being a Paul Reiser fan.
TG: [Laughing] The movie was definitely designed to make fun of people who are closed-minded.
CV: Well, you did win a Razzie for that, and I think you were the only person to ever show up and accept the award?
TG: Yeah, well, that's the worst award show in the history of award shows. They were never even able to get a TV deal for that show, so the Razzies should give themselves a Razzie for having never succeeded as an awards show.
[Growing slightly agitated] But negativity in our society permeates throughout everything, right? It cuts through everything. Negativity is very pervasive in our online society, so it's easy to make fun of things that are different, but the fact is, anybody who's done any sort of research on the matter knows that Freddie Got Fingered is a hugely popular movie worldwide, has millions of fans, and is a very profitable film, which is more than can be said for most films that come out of Hollywood. It's made lots and lots of people laugh, made over $35 million on DVD alone, and it was a very low-budget movie.
So it's one of those things that like, negativity can sort of permeate through the internet and people like yourself can end up getting false perceptions, when it's completely the opposite.
So hopefully you don't write that in your article, that Freddy Got Fingered was not a good movie, because a lot of your readers will probably think that you don't know what you're talking about.
CV: I guess I'll leave that up to them.
TG: Absolutely. You will be amazed at how many people love the movie. I've basically been touring the world for the last 6 or 7 years doing standup, and at the end of my shows I shout out a line from the movie and the entire audience begins shouting out their favorite lines from the movie and it's a hilarious experience when you realize that every city in the world – whether it's Sydney, Australia, or Melbourne, New York City, Chicago, or Erie, Pennsylvania – you have thousands of people who have memorized every line in the film. It's kind of becoming a modern-day Rocky Horror Picture Show.
CV: Perhaps I'll have to give it another shot before you get here, and I'll let you know how that works out.
TG: Sure!
CV: So if you're done crucifying me on Freddy Got Fingered, let's talk about your comedic style, which has always been a bit provocative in an Andy Kaufman kind of way and seems to be mostly about putting people into awkward situations.
TG: Well, Freddy Got Fingered was an example of that. It was definitely something that was supposed to make people uncomfortable, and you have a large segment of people that are laughing at the discomfort of some of the middle-of-the-road people in the audience who don't know what to expect next or can't believe what they're looking at it. That's really the joke.
So I take it you're not a fan of Andy Kaufman either?
CV: It's sacrilegious to say such things to me, Tom.
Kaity [Tom's assistant, who is monitoring the call]: Cory, we're going to have time for just one more question.
CV: How's Tom Green Live on AXS-TV doing?
TG: Yeah, we're having a great time, we're loving it. Tune in every Thursday.
CV: And what can people expect from your upcoming performance here in Erie?
TG: It's going to be hilarious. We're going to have a great time. If anyone's seen the special I did on Showtime, they'll know what to expect – it's sort of a high-energy, ridiculous, stand-up comedy show with lots of crowd interaction. I really look forward to seeing everyone there. It's like a party – lots of jokes and good times. We'll drink some beers and just celebrate life together with a bunch of people who want to come out and enjoy some absurd comedy.
Tom Green appears at Jr.'s Last Laugh, 1402 State St., on Friday, Nov. 14 and Saturday, Nov. 15, where he'll perform two shows each evening. For more information on Tom, visit www.TomGreen.com. For tickets, log on to www.JrsLastLaugh.net or call 461.0911.
Cory Vaillancourt can be contacted at cVaillancourt@ErieReader.com, and you can follow him on Twitter @VLNCRT.