Top 5 Books of 2020
No shortage of escapes in a year stuck at home
December 16, 2020 at 12:45 PM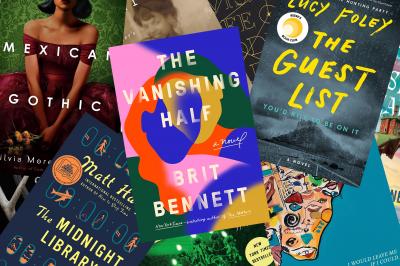 The year 2020 has been…interesting, to say the least. With a pandemic bringing our lives to a complete halt followed by a new normal of masks, social distancing, and self-quarantining, many were left feeling stuck while staying at home. Luckily, 2020 also brought with it an astounding number of great books to help pass the time in isolation and escape to new worlds. Some of the best took us to the Deep South and Los Angeles; to a small mountain mining town in 1950s Mexico; to a remote island off the coast of Ireland; to the mysterious world between living and dying; and into the author's very mind
The Vanishing Half by Brit Bennett
Fiction, Historical Fiction // Riverhead Books // britbennett.com
Following the success of 2016's The Mothers, Brit Bennett's newest release is one of the most talked-about — and celebrated — books of 2020. Set in the fictional small Southern Black community of Mallard, Louisiana, The Vanishing Half centers on twin sisters Desiree and Stella Vignes, who run away at 16 to pursue a new life. Struck by hardships relating to racial identity, the twins choose different paths. Desiree continues to live as a light-skinned Black woman, while Stella secretly passes for white. Although they become physically separated from each other, their lives remain intertwined.
Spanning the 1950s to the 1990s, the timeline woven by Bennett is beautifully written and thought-provoking. Bennett takes readers through various "episodes" in the twins' history, throwing the reader into the throes of late 1960s racial tensions and how one decision can so drastically affect so many lives. With The Vanishing Half, Bennett adds a spectacular piece to the understanding of the inner turmoil of racial identity in mid-20th century America.
Mexican Gothic by Silvia Moreno-Garcia
Horror, Historical Fiction // Del Rey // silviamoreno-garcia.com
Inspired by classics like Jane Eyre and Wuthering Heights, Silvia Moreno-Garcia's new horror novel, Mexican Gothic, was a triumph in the book world this year. The novel takes place in 1950s Mexico and follows 22-year-old Noemí as she goes to investigate a mysterious letter she received from her newly married cousin Catalina. In this letter, Catalina claims to be seeing ghosts and believes that her new husband and his family are poisoning her. Noemí finds herself at High Place, the mansion of the once-wealthy Doyle family into which her cousin has married, and what follows is a horror masterpiece that will make any reader's skin crawl.
Moreno-Garcia puts so much emotion and passion into Noemí that it is difficult not to get swept up in this Gothic horror. With beautifully written prose and excellent character development, there's no guessing as to why Mexican Gothic was so widely admired this year and is being adapted into a Hulu series.
The Guest List by Lucy Foley
Mystery, Thriller // William Morrow // harpercollins.com
Set on a remote island off the coast of Ireland, Lucy Foley weaves an intricate web of mysteries in her newest thriller, The Guest List. While everything on the surface is perfect and polished, what lies beneath each character's façade is something more sinister and ugly. Events leading up to the wedding of a rising television star and a magazine publisher don't go exactly as planned, and the past refuses to stay away from their perfect day. From an old drinking game gone horribly wrong to a purposely ruined bridesmaid's dress, each guest is keeping his or her own secrets that don't stay secret for long. Told from alternating perspectives of the bride, the plus-one, the best man, the wedding planner, and the bridesmaid, this thriller is sure to suck you right in and leave you hanging until the very end.
With sharp contrasts between the days and the nights, Foley creates a mysterious and foreboding world that draws you in and refuses to let you go. With twists at every bend and jaw-dropping revelations throughout, each person begins to realize that their secrets aren't only terrible — they can also be deadly.
The Midnight Library by Matt Haig
Fantasy // Viking // matthaig.com
Matt Haig's newest book is magical in so many ways. The Midnight Library tells the story of Nora Seed, a 35-year-old music store clerk who feels stuck. With parents gone, a brother with whom she barely speaks, a best friend across the globe, and no love life to account for, Nora's situational depression hits a peak and she decides she no longer wants to live. Finding herself in between life and death at the Midnight Library, Nora is given the chance to live all the lives she could've had if she'd made different choices. But as she cycles through these fantastical alternate realities, she begins to understand what makes life worth living in the first place.
Haig's fantastic writing brings to life the magical place that is the Midnight Library, and with it, Nora and her life — well, lives. His own experience with depression translates beautifully onto the page, illustrating for readers the despair in wishing you had made other choices in your life. Truly heartbreaking at times while uplifting at others, Haig has created a masterpiece in The Midnight Library.
I Would Leave Me If I Could. by Halsey
Poetry // Simon & Schuster // iwouldleavemeificould.com
In this heartbreaking, lyrical, and stunning collection, singer-songwriter Halsey — born Ashley Frangipane — weaves together a compelling narrative of love, loss, and dealing with mental illness. I Would Leave Me If I Could. is a phenomenal debut from Halsey, shedding light on the singer's tumultuous relationships ("Stockholm Syndrome Pt.1," "Lighthouse"); her childhood ("I Am Angry Because of My Father," "The Painter"); and her struggles with bipolar disorder ("Bad Day: I," "I Wish That I Were Manic All The Time"). Addressing other important themes and events in her life — bisexuality, sexual assault, and much more — Halsey bares her soul on the page for all to read.
Writing with passion and conviction, Halsey is truly one of the strongest and most compelling voices of her generation.