Top TV Picks of 2021
Some of the best scripted episodics to stream on the small screen
December 17, 2021 at 11:00 AM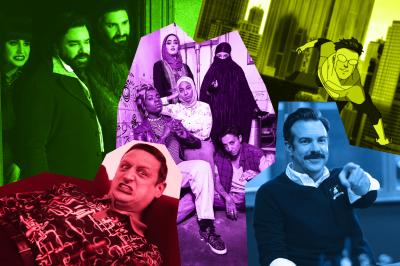 Thank goodness for TV, right? As the winter months set in, it's good to pack a list filled with bingeable content to pass those snow-addled days. This year wasn't too bad for TV either, the word "television" is having less and less to do with the medium than it ever has, with more and more people watching on other devices, and traditional broadcast television slowly going the way of the dinosaur. Streaming is where it's at, and it's frankly getting a little annoying. It only took a decade, but now managing multiple monthly subscriptions is just as expensive as cable was, and maybe even more frustrating. 
There's the streaming giant Netflix, with its ever-devolving slate of shows, with original series highlights like You and Midnight Mass, and returning animation hits like F Is for Family and Big Mouth. Though they do have the numbers in terms of quantity, the quality of their original content continues to become much more populist and broad a la network television. 
Right now, as far as original content, Hulu and HBO Max are the places to be. Hulu has ongoing originals like Shrill, The Handmaid's Tale, and Letterkenny, and new offerings like Dopesick and Reservation Dogs. Not only did we finally get more Succession, this year, HBO Max debuted shows like The White Lotus, Mare of Eastown and — in my opinion, the fourth-best show of the year — Hacks, with the channel's first-run movie streaming making the service worth it unto itself. 
It wasn't a banner year for Amazon Prime's original content, though it's a great way to stream Showtime, with new episodes of Dexter: New Blood, Billions, and criminally underrated shows like Black Monday and Work in Progress. 
Disney Plus has proved its value with MCU hits like Loki, WandaVision, and What If? Peacock has winners like Yellowstone and Rutherford Falls, while Apple + has the nearly undiscovered brilliance of Mythic Quest and Physical. Long story short, there's a lot of great TV out there, and here — along with the above-mentioned — are some of my personal favorites.
Most Deserving of Praise : Ted Lasso // Season Two // Apple TV+
Believe this: Ted Lasso won seven Emmys this year. Is it that good? Yes. This ensemble comedy is overflowing with heart, and the shifts it made from Season One to Season Two are worth notice. Becoming less about Jason Sudeikis' title character, the supporting cast really got a chance to shine in Season Two, with literally four out of eight of the Supporting Actor nominations going to team Lasso. This got a well-deserved win for Brett Goldstein (who needs to play Wolverine), as well as wins for actress Hannah Waddingham (apologies, but the wrong Hannah won; despite category confusion, that award belonged to Hacks' Hannah Einbinder) and Sudeikis himself. The sophomore outing also dials back the outlandishness of the main character, fleshing him out richly, elevating everyone at the AFC Richmond football club. We're Richmond 'til we die.
Best Show You Haven't Watched: We Are Lady Parts // Season One // Peacock 
This six-episode show is reason enough to try out a Peacock subscription. A comedy about a all-female Muslim punk band living in England, it's fantastically easy-to-love. The earnestness of the cast, particularly the show's star, Anjana Vasan is electric and inspiring. At times it's downright cartoony, with sound effects and slapstick, while at others it's emotionally sincere, while never straying from its main path, perfect for young adult audiences in particular. All that, and the band actually plays every one of their instruments! If you watch this, you'll want to recommend it too. Simply put, for the good of all mankind, there needs to be more TV shows like this.
Best Movie Adaptation: What We Do In the Shadows // Season Three // FX
I think the debate should be settled once and for all. The series What We Do In the Shadows is finally better than the original movie. That being said, the movie is freaking great. Now in its third season, the vampire mockumentary has found the perfect balance between its hilariously macabre characters, having them team up in new ways. The six principal cast members have fully hit their stride — with Matt Berry remaining to be the greatest vocal treasure the world has ever seen, and the genius of Colin Robinson, an energy vampire played by the wonderful Mark Proksch. It's also a gorgeous looking show, with some of the best set decoration and costumes around. The character quirks are absurd and addicting, and likely the funniest you'll see on all of cable — it's the only one on this list watchable without an internet connection. 
Most Rewatchable: I Think You Should Leave with Tim Robinson // Season Two // Netflix
There hasn't been something as quotable as the second season of I Think You Should Leave in quite some time. I literally cannot tell you how many times my friends and I referenced lines from this season. From Dan Flashes, to Calico Cut Pants, to Coffin Flops, to tables, there are so many iconic, and meme-ready moments in this six-episode run it's prolific. While Season One was wholly worthwhile, Season Two has truly transcended, banking on Robinson's deceptively immature, avant-garde style in the tradition of Tim & Eric. Who knows what's ahead for the show's third season? Because we know doubles are good, but triples is best.
Best Animated Series: Invincible // Season One // Amazon Prime Video
Though I mentioned earlier that Prime's 2021 slate was a weak one, Invincible is the high-flying exception. It's an adaptation of the long-running Image Comics series created by writer Robert Kirkman, who you may know as the man behind The Walking Dead. The show begins with a teenager discovering he has superpowers, creating the superhero identity of Invincible (and whose suit is basically the comic company's logo). It features the voice talents of Steven Yeun and J.K. Simmons, as well as Gillian Jacobs and Jason Mantzoukas. With an animation style that echoes the source material from Cory Walker, it's a refreshing look.
Honorable Mentions: 
Best Comfort Watch: Only Murders in the Building // Hulu
Best Original Song: "I'm Afraid (Dawn's Song Of Fears)" // Girls5Eva // Peacock
Best Show You Still Need to Watch: Feel Good // Season Two // Netflix
Best Documentary Miniseries: The Lady and the Dale // HBO Max
Most Unlikely Worldwide Sensation: The Squid Game // Season One // Netflix
Nick Warren spent too much time comfort-rewatching Bojack Horseman, The Sopranos, and The West Wing this year, and that's okay. He can be reached at Nick@eriereader.com.