Toys for Tots
Ben Speggen talked with some folks in Erie who are making the giving season quite a bit more interesting.
December 15, 2011 at 11:00 AM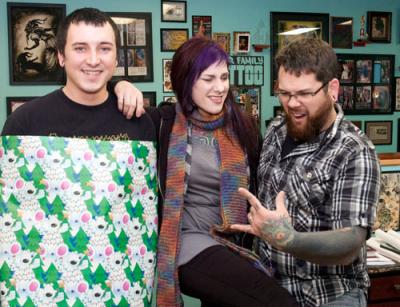 Diane Hendricks felt a stirring deep inside. She knew children were all penning letters to Santa, listing what they wanted most for Christmas, hoping to be on the Nice List to find those toys under the tree or in their stockings hung by the hearth.
But she knew some of those letters would go unanswered since for some good boys and girls face challenges no children should face. Then, she thought, she could donate an old toy of her own, homemade Raggedy Ann doll to a needy child in hopes of helping just one child. But when it came to finding an organization to donate her toy to that would spread cheer to at least one child, she couldn't find one.
Such charitable desire to help those less fortunate than her inspired Hendricks's husband, William, to begin Toys for Tots. William, a reservist major in the United States Marine Corps., gathered a group of local Marine reservists and then coordinated an effort that netted over 5,000 toys for local children. The effort became a national campaign the following year based on the Hendricks' vision. So the story goes.
This year in Erie, there are two Toys for Tots drives that give those donating extra incentives to donate: free tattoos and a chance to meet a real-life clone trooper.
Tats for Toys for Tots
"There'll be a predetermined set of graphics to capture the holiday spirit and the joy of living in Pennsylvania—a poster with predetermined styles and subject matter to entice them into bring more toys for tots," said DJ Minor, pausing. "For tats."
That's right: donate a nice toy that'll bring a smile to a less-fortunate child, and you'll get some stellar new body art from three of Erie's premier artists working out of Catalyst Tattoo Studio. And you'll have a smile of your own—maybe after just a little wincing.
A family-owned-and-operated Tattoo studio in Erie, Catalyst prides itself as a no-ego studio designed to help people's body art dreams become reality in the flesh. And it's clearly true once anyone sees how amiable the three artists working there together are—DJ and Jennifer Minor and Corey Thompson—and all three will be tattooing Saturday, Dec. 17 for free in exchange for a donation of a toy valued at least $20.
"This is the first time I've done it in Erie," said DJ, who through his worldly travels did a stint in the Navy and now finds himself living in Erie, operating a tattoo studio with his wife and fellow artist. "We've done this before in several different towns as a way to give back to those who need it. We're going to drive the toys out to the Marine Corp. and be a drop-off station, but to entice them to drop off the toys, we're going to have that one specific day of Tats for Toys for Tots."
From keystones to Christmas trees to skulls and more, there'll be a vast selection of pre-determined images to choose from. And the trio isn't limiting the selection to blacks and greys, as folks donating can choose from various selected color options as well.
"I've always wanted to do this," said Thompson, a western-Pennsylvania native. "My friends in New Jersey always do it, and when I went out there, it was really a lot fun and a good time and a great way to give back. I never had the chance to do it here, and now that I do, I'm excited."
Since the troupe won't be taking appointments and skin will be inked at a first-come, first-served basis, all three recommended getting in early. Tattoo times will last no more than 30 minutes.
"People can donate without having to get tattooed," Jennifer added. "If they just want to come by and hang out and drop off toys, there's no obligation to get a tattoo.  And donations can be of any amount, but to get a tattoo, the toy has be $20 or greater."
All three artists are contributing to the set of images and all three will tattoo any image from the board in exchange for the donated toy. And for those who just can't wait to see all the options, the images will be posted in the shop before Saturday.
People can donate from now through Saturday, but noon to 9 p.m. Saturday will be the only time of tattooing. And to encourage people to get in the giving spirit even more, Catalyst is sweetening the deal.
"If we get 100 people to come by, that'd be awesome," DJ said. "In fact, there'll be raffle tickets for the special prize: up to $500 worth of tattooing per 100 toys donated during the drive."
So if you're in the giving mood and appreciate great artwork by professional artists Erie's lucky to have, this is how to get into the holiday spirit with a little giving and a little getting.
Today: Real-life Clone Trooper!
So if getting inked isn't quite your scene, how about meeting a real-life clone trooper while supporting Toys for Tots?
"It is always an honor to help less privileged children," said Tom Twohig, a former Marine, who now bills himself a real-live clone trooper. "This event is even more special to me because I get to do so in the name of my beloved Corps. If that weren't enough, I will also be dressing up as a 'Star Wars' character to meet, greet, and pose for photos with kids of all ages!"
Twohig, began building screen-accurate "Star Wars" costumes in 1999. Before the costumes though, Twohig collected "Star Wars" action figures, store displays, and anything else that caught his eye. But then he found himself spending more time working on the costumes, and that led from collecting to costuming. Currently Twohig's network for fellow costumers reaches through the United States to abroad to Australia, Portugal, and beyond.
To get the donations started, Twohig and Patrick Short, the owner of ACTIONTOYMAN, will donate a portion of their own "Star Wars" collections. The shop is also marking select toys down so that folks can donate without paying collector prices.
And of course, Twohig will be in costume—one of his five different clone trooper armor costumes, his specialty, a specialty Twohig takes seriously.
The last event he did was at The Mall at Robinson outside of Pittsburgh, where he wore his Senate Commando, Captain Jayfron armor for a Cartoon Network touring exhibit to promote the "Star Wars: The Clone Wars" TV show.
"My costume had to be approved by Lucasfilm before I could participate in the event," said the happily married father of four. And yes, his wife "is marginally accepting of my Star Wars costuming hobby," he admits. And no, none of his children bare "Star Wars" names. "I'm a fan-boy, but not that big of a fan-boy! Plus, my wife would never stand for it."
So if you're looking to meet a real-life, Lucasfilms-approved clone trooper while donating to Toys for Tots, grab some friends and head to ACTIONTOYMAN, where you're sure to have a good time while giving to those less fortunate.
Tats for Toys for Tots
When: noon to 9 p.m.
Where: Catalyst Tattoo Studio, 3410 W. 26th St.
Contact: 464.6551 or catalysttattoo.com
ACTIONTOYMAN, featuring Real-life Clone Trooper
When: 1:30 to 4 p.m.
Where: ACTIONTOYMAN Action Figures and Collectables, 1215 W. 26th St.
Contact: 454.9900 or actiontoyman.com