Transcendent Riches
Experience four artists' fruitful journeys in "Assembled Visions" at the Erie Art Museum.
January 6, 2016 at 3:15 PM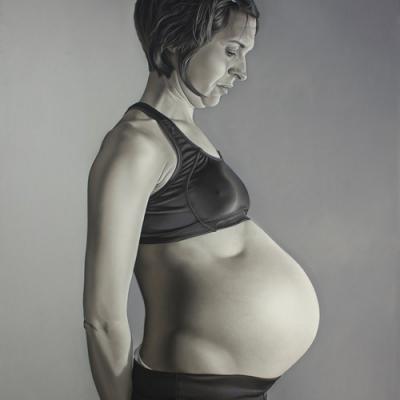 Source material for an artist – whether it be language, form and space, the human condition, or philosophy – is always endless and rich with possibilities. And even the most inconsequential object or idea can set an artist down a fruitful path.
Assembled Visions, on display now through March 26 at the Erie Art Museum, takes us down diverse and productive paths into the creative lives of Shelle Barron, Geoffrey Beadle, Terry McKelvey, and Fred Scruton, all artists and professors in Edinboro University's art department. The show uncovers some of the seeds from which their visions grow and, in a video loop in the gallery, the artists generously share the thoughts and techniques behind their working processes.
Beadle's universe starts and nearly ends in his studio, which is not a critical observation. His exploration of space and the intimacy of family take place there. The most formal of his colleagues here, his work is linear, his figures solid. He says in the video that he does long studies of a scene prior to the final composition. It shows. His mastery of charcoals and pastels is apparent in the drape of clothing, fine wisps of hair, and the folds of skin. In "Thirty-Six Weeks," a very pregnant woman stands in profile looking down. Soft shadows define her swollen abdomen and jutting collarbone; sharp lines delineate the creases of her neck and arm. The play of light on her body is direct, but yields softness despite its crisp linearity. As a result, Beadle has captured the tenderness and anticipation of what appears to be a singular moment.
But Beadle does turn traditional composition on its head in some works by approaching his subject from atypical points of view. In "Studio #5: Interaction #2" (an oil this time) we see from above the artist before an empty canvas, his seated model with her upper body draped over a table in the foreground and her reflection in a mirror behind Beadle (or is the image an earlier study?). He is bringing the viewer into the act of creating, making the meticulous process he goes through part of the final work.
McKelvey also stays close to his studio when it comes to subject matter. Ordinary household objects and the human figure populate the majority of his work. What he is trying to express, however, reaches far beyond the studio. In technique, McKelvey enjoys observing spatial relationships and exploring dynamic tensions between space and form. He utilizes that friction to heighten the ambiguity of subject matter. He chooses allegories, parables, and references to the artworks of past eras, making everyday objects more enigmatic and uncertain.
In "Vermont from Oxford," the window frame, tree trunk, and architecture blur together into a gauzy single plane, reflecting the buzzy warmth of a summer afternoon on a quiet residential street. In "Elegy," however, the lines of the bricks, lattice, and blue jeans on the clothesline are crisply linear. The man leaning over his shovel is whole. There is clearly defined space between objects. Of course, realism does not translate into readily understandable meaning. The man is digging a grave-like hole, an unsmiling woman stands with arms folded just inside the screen door, and the backyard is tidy. That well-defined space is heavy with portent.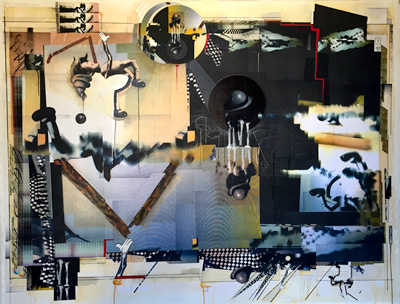 Barron's world is neither indoors nor out, it's a private internal one: a universe of rich vocabulary, where words become totems and objects become symbols. And it's nearly impossible to speak of a single work in this show as an individual piece as Barron's narrative and image-words flow throughout these assembled media collages making a complex whole.
Barron's approach is both literary and image-driven at the same time, with little distinction between the two. It is clear when she quotes Lewis Carroll in her statement – " For first you write a sentence, and then you chop it small; Then mix the bits and sort them out … Just as they chance to fall: The order of the phrases makes no difference at all." – that words and images are easily interchangeable. They are fluid; each stands for the other.
Birds, ladders, wheels, hats, Pinocchio, ribbons, spirals, single words, pages of books, and drips are layered densely across these works. A flat plane of images gives way to a seemingly deep sense of color space. The eye and the mind go back and forth to realize the full compositions. Does the ladder there and there or there all have the same meaning? What exactly does the hat symbolize?
These works reflect the chaos and fast pace of our modern world and Barron's self-proclaimed "overactive habits of mind." References to technology make appearances in works titled "Last Version Saved," "Volume: Mute," and with the ubiquitous red YouTube icon in the very center of "No Damn Cat, No Damn Cradle."
Scruton's work is as straightforward as Barron's (or McKelvey's) is obscure. His photographs do operate on many levels but his cleared-eyed mission to document the self-taught "outsider" artists of our world gives these highly saturated color images a persistent singularity. When he photographs "Prophet Isaiah Robertson; Niagara Falls, NY 2014," Scruton surrounds his subject in Robertson's own work emphasizing that artist's individual presence.
Looking at Scruton's collection here, a casual observer may be tempted to solely focus on the work and personalities of the artists he chooses to document. But that would be a mistake, as Scruton's own mastery should not be overlooked. In "Joe Minter; Birmingham, Al, 2013," Scruton places his subject within the artist's work, framing Minter with gritty rusted metal, chains, and boots. His hands clench the poles, signifying Minter's full immersion in what he makes. Minter's eyes peer out from under the curl of his red knit hat, staring off past the gaze of the lens, suggesting vision beyond the earthly plane.
In one way or another, the four artists here transcend the earthly plane as well, and it's deeply satisfying to spend time with the works of artists who are abundantly mature in vision and technique. One senses their hands steady on the wheel, their eyes clearly surveying the ground for the next seeds of inspiration along their fruitful paths.
Mary Birdsong can be contacted at mBirdsong@ErieReader.com, and you can follow her on Twitter @Mary_Birdsong.