Trapped Explores the Ways that Safe Access to an Abortion Has Become Inaccessible
 Dawn Porter's appropriately-titled 2016 documentary Trapped explores abortion regulations and their impact on women.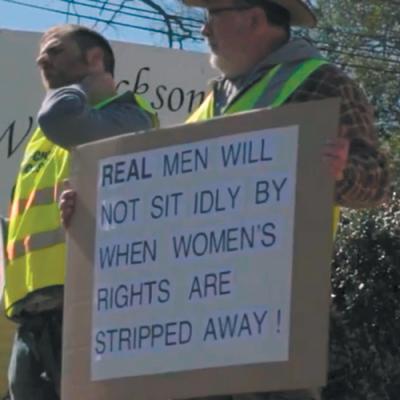 Wednesday, June 1
The American media tends to oversimplify complex debates.
In the case of abortion, our knee-jerk reactions often revolve around Roe v. Wade. Prior to 1973, abortion was illegal. After that year's Supreme Court's decision, it became legal. Some are happy about it. Some are angry. End of story?
Not quite. Legal access to abortion turns out to be very complicated, and our state plays a central role in its evolving legislation.
In 1992, a different Supreme Court ruling allowed state-based restrictions regarding abortion. The case was Planned Parenthood v. Casey, and the Casey in question was Pennsylvania Governor Robert Casey, Sr. His son is currently one of our senators. Twenty-four years ago, the law signed by Gov. Casey allowed for informed consent rules, husband notification, and a 24-hour waiting period for women seeking abortions.
Although Planned Parenthood v. Casey was ostensibly designed to protect women's health, it led to a variety of incremental regulations that made safe procedures much more difficult to access. Anti-abortion activists eventually began drafting TRAP laws, which stand for Targeted Regulation of Abortion Providers. Dawn Porter's appropriately-titled 2016 documentary Trapped explores these regulations and their impact on women.
Although Porter's position is unapologetically pro-choice, you won't need to be an abortion rights activist to recognize the injustices she identifies.
So how do TRAP laws work? Some require cumbersome building standards, like the $2,500 closet that June Ayers was forced to build at Reproductive Health Services in Montgomery, Alabama. Another Alabama restriction requires that no clinic can operate within 2,000 feet of a school. The most disturbing requirements target the patients themselves, forcing people (in some cases) to view ultrasounds, to listen to heartbeats, and to read pseudo-scientific claims about the health risks associated with the procedure.
Trapped explores the ways that TRAP laws have been used and abused, especially in low income communities. Although Porter's position is unapologetically pro-choice, you won't need to be an abortion rights activist to recognize the injustices she identifies. In the four decades following legalization, the degree to which one can access a safe abortion has changed substantially. Trapped provides a much needed reminder of the issue's complexity. – Dan Schank
7 p.m. // Erie Art Museum, 411 State St. // erieartmuseum.org/events/film.html