Tuscany: It's Super!
Marc Berarducci wants to expose Erie to the fruits of his culinary passion.
January 11, 2012 at 10:00 AM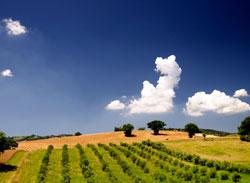 Marc Berarducci wants to expose Erie to the fruits of his culinary passion. Those fruits have spent just the right amount of time on the vine, growing, maturing, and ripening; however, appreciating those fruits is far simpler with a solid understanding of where their roots lay – the Italian region of Tuscany.
Home to almost 4 million residents, Tuscany is a triangular-shaped region in northwestern Italy that is slightly smaller than the U.S. state of New Jersey. Nestled among the Apennine Mountains to the north and east, hemmed in by the Tyrrhenian Sea to the west, and crisscrossed by more than a dozen rivers, this hilly province possesses precious little arable land; but the land it does possess is quite fertile, both in terms of the bounty of nature it provides and the people it produces. Petrarch, da Vinci, Dante, Galileo, Machiavelli, Michelangelo, and Puccini have all called this little corner of the world home at one time or another, so it is not surprising that Tuscany's capital, Florence, is still revered as the epicenter of the Italian renaissance and one of the world's true seats of high culture.
Speaking of high, and culture, most people know Tuscany for the superb quality of wine produced there. The Sangiovese grape flourishes in Tuscany, thanks to the abundant sunshine and slightly elevated hillsides that help to moderate daytime and evening temperatures. While you may not have heard of this particular grape, you have probably heard of some of the world's most popular red wines that made from it, most notably Chianti and Brunello di Montalcino. Beginning in the late 1960s, some Tuscan vintners rebelled against the traditional blending laws of the area and used other grapes, like the cabernet sauvignon, to create "Super Tuscans," one of the trendiest – and tastiest – wines available anywhere.
With such a super viticultural legacy, one would expect the region's cuisine to be equally super; after all, half the fun of drinking fine wine comes from the fine food enjoyed alongside it.  As with all cuisine, Tuscan cuisine has its roots in simple peasant dishes prepared with readily available ingredients – in this case, beef, breads, cheeses, mushrooms, pork, peas, and lentils are common. Additionally, fresh pasta, olive oil, and truffles are vital and ubiquitous components of Tuscan cooking, as are various types of wild game, including deer, boar, and pheasant. Working from this palate, Tuscan chefs usually strive to prepare simple, delicious flavors that can stand out on their own, without excessive adornment or complicated preparation.
Marc Berarducci's time living and working in Tuscany taught him both the theory and the practice of Tuscan cooking; I can think of no better way – aside from booking a plane ticket – for Erie to take advantage of the fruits of his experience than by visiting him at the Stonehouse or Frankie and May's.