Ugly: Saturday at Occupy Denver
Occupy Denver turns ugly Saturday night as police arrest 20 using mace and rubber bulets amid taunts
October 30, 2011 at 9:10 PM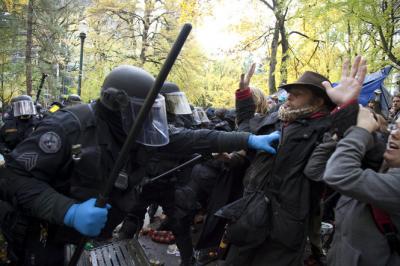 So on Saturday night, some 20 protesters were arrested at the Occupy Denver encampment. During the arrests, police clashed with the demonstrators, using mace and rubber bullets. 
Check out this video taken by a protester. A couple of thoughts:
1) I don't get why police are escalating tensions by enforcing arbitrary ordinances. The group of police in the encampment are there to take a tent down. One tent. 
2) The protesters are barely in control here. This ain't nonviolence, people. Shouting obscenities at police is a form of violence. Continually pressing in on police is a form of violence. Both are forms of provocation. 
This is a lot different than Oakland. 
I've heard reports that mention infighting at various Occupy camps. (Like this one, about a rift at Occupy Los Angeles.) Some conflicts occur between politically active protesters, and the people who wash up on site, many homeless or indigent. While the movement has in many cases taken up the cause of the homeless, there's been undeniable friction. Other conflict occurs between protesters that want to apply nonviolence and other standard political means for not-very-radical reform, and those that see the Occupy movement as a kind of revolutiary society, a chance at real anarchy. And so on. In Denver, on that video, you see some protesters shouting and police and advancing, and others trying to hold them back, keep them nonviolent.
Which is a long way of saying that the Occupy's open environment will cause difficulty. Nonviolent protest doesn't work if even a fraction of your group is violent. Denver wasn't violent or unprovoked, but it was close.
The spin from the right, of course, is worse. Like this from the always wretched Gateway Pundit, whose headline reads, "Occupy Denver Thugs Knock Police Officer Off His Motorcycle & Kick Cops." Naturally, the reality was a bit different: protesters also caught that on tape, too. What really happened was that a motorcycle officer accelerated through the crowd trying to block him, and an angry protester gave the cycle a little push. The officer leapt off his bike, and he and about four other officers leapt on the protester and proceded to beat the sh*t out of him.
At the end of the video, you can see blood dripping from his face.
I have no idea where any of this going. But Denver was ugly for both sides.
UPDATE: The New York Daily News has a piece about the kind of rift I was talking about at Zuccotti Park:
And there's the rub: The "model" civilization that's sprung up at Zuccotti is itself increasingly divided between the stakeholders in the nascent movement who feel invested in the emerging economic, social and cultural causes of "the 99%," and hangers-on, including a fast-growing contingent of lawbreakers and lowlifes, many of whom seem to have come to Zuccotti in the last week with the cynical encouragement of the NYPD.