Unboxing Erie's Ballot
Your 2016 Election Day preview 
November 6, 2016 at 4:15 PM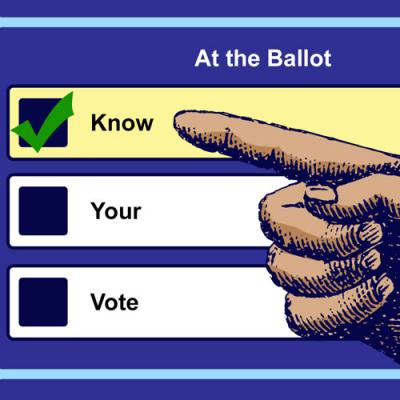 The ballot. It's all anyone can talk about. This election has cast an omnipresent, ever-looming fog over our country for more than a year. At this point, you've no doubt made up your mind one way or the other concerning your vote for president. Undecided voters are an increasingly rare group. For president, that is.
But large swaths of the electorate arrive at the polls with little knowledge of state and local contests. As a registered voter in Erie County, you'll see eight races on that first Tuesday in November. While you're certainly familiar with at least two names at the top, there are dozens more to get acquainted with.
The Big One
Nineteen months prior to election day, former Secretary of State Hillary Clinton announced that she was running for president. Two months later, real estate mogul and television personality Donald J. Trump did the same. After an arduous primary cycle, they emerged as the Democratic and Republican nominees, respectively. Right now, Clinton is up by a margin of 11 points, but that lead could rise and fall several times in the coming weeks. It's a close race, and an undeniably significant one. Partisan rhetoric from both sides has escalated into bitter vitriol. The stakes have never seemed higher.
For millions of people, neither candidate sits well. A growing number of disillusioned voters, including many Bernie Sanders supporters, gave clout to Libertarian candidate Gary Johnson and Green Party candidate Jill Stein.
As of this writing, Johnson is polling at around 7.4 percent. The former Republican governor of New Mexico is an advocate for limited government, marijuana legalization, and privatized healthcare. His running mate is former Massachusetts Gov. William Weld (also a Republican prior to 2016).
Green Party candidate Jill Stein is a physician turned political activist. The Harvard alum has held no major political office, and currently polls at 2.6 percent, just shy of Ralph Nader's supremely consequential Green Party votes in 2000.
Both major third party candidates are reprising their run from 2012, in which they received a total of 1.35 percent of the popular vote. Darrell Castle represents the Constitution Party, a low-funded, largely Christian conservative party, which polls at extremely low numbers.
Pennsylvania is a battleground state this election. In numerous electoral scenarios, our state, with its 20 electoral votes, is needed to win. As seen in other swing states like Florida or Ohio, the candidates will modify their stump speeches to shoehorn in regional concerns. There's a larger push for volunteers, and a substantial increase in personal appearances by the candidates. This swell affects the entire ticket. High voter turnout for one particular candidate or the other almost always echoes throughout the party, sometimes ushering in a change on the national level.
U.S. Senate
By far the next largest race is for Pennsylvania's Senate seat. Dubbed "this year's most consequential Senate race" by columnist George Will, it's one that hangs precariously in the balance. Republicans are in danger of losing their 54 to 45 majority this year, with a small handful of seats polling exceptionally close.
Republican Pat Toomey is facing his first reelection campaign since his 2010 win. Toomey defeated Democrat Joe Sestak by a 2 percent margin of 80,229 votes (Sestak carrying Erie County). Hailing from the Allentown area, Toomey is a former member of the House of Representatives. His views align closely with the conservative GOP establishment, both socially and fiscally; and he is one of the more prominent Republicans who have not endorsed Trump.
On the other hand, Philadelphia native Kathleen "Katie" McGinty has no problem endorsing her party's choice. Serving under President Bill Clinton as head of the Council on Environmental Quality, she later headed Pennsylvania's Department of Environmental Protection in Ed Rendell's administration.
With little to no data on the Libertarian candidate, Delaware County's Edward Clifford III, McGinty and Toomey have polled up and down all season, averaging a less than 1 percent difference. Undoubtedly, this could be an extremely close race.
Attorney General
Another Pennsylvania office has certainly had its share of twists and turns. In August, former Attorney General, Democrat Kathleen Kane, was tried and convicted on multiple counts including perjury, conspiracy, and obstruction of justice and is now awaiting sentencing.
Her indictment occurred amidst the primaries, with Philadelphia's Josh Shapiro emerging victorious. Shapiro, 43, a state Representative from 2005 to 2012, is now chair of the Montgomery County Board of Commissioners.
Four-term Republican state Sen. John Rafferty, 64, also hails from Montgomery County, representing the 44th District. Rafferty chairs the Senate Transportation Committee.
Auditor General
Eugene DePasquale, our state's incumbent Auditor General, was elected to office in 2012. Prior to that, he served as 95th District State Representative for three terms. At 45, the Pittsburgh-born York resident seeks to examine state tax expenditures involving issues like transportation and the environment.
Northampton County Executive John Brown, the GOP challenger, also seeks to reduce wasteful spending, especially in opposition to the Wolf administration. Brown is a lifelong Republican with support from Trump and Toomey.
Small business owner John Jay Sweeney, 63, is the Green Party candidate and current Falls Township auditor (across the Delaware River from Trenton).
Libertarian candidate Ron Minet ran a beer distributorship as well as Intelligent Computer Systems, Inc., which was later sold to 3M.
State Treasurer
The Attorney General seat isn't the only Democratic office wreaked by controversy. In February of 2015, former State Treasurer Rob McCord pleaded guilty on two counts of extortion.
After McCord's resignation, Tim Reese, an independent, was appointed to replace him. Reese, the first African American to hold the office, chose not to run for reelection.
The Republican candidate is Otto Voit III. Hailing from Berks County (Reading), Voit is a Desert Storm veteran and president of the Keystone Dental Group.
Democrat Joe Torsella, 53, is a former U.S. ambassador to the UN for management and reform. Prior to that, the Philadelphia politician was chairman of the Pennsylvania State Board of Education, and has endorsements from Michael Bloomberg and Ed Rendell.
Advertising consultant James Babb is running as a Libertarian and would choose to return Pennsylvania's tax dollars to its residents, essentially defunding the entire state government.
Kristin Combs represents the Green Party. A former high school physics teacher, she is dedicated to education and progressive causes.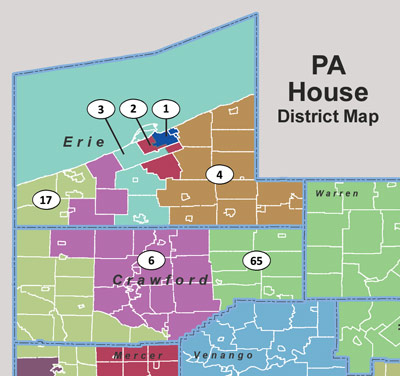 From State to Local
Here's where things start to split up. If you paid attention in civics class, you'll remember most of this. Your district varies depending on where you live. Out of the country's 535, there are 18 U.S. congressional districts in Pennsylvania, with representatives like Mike Kelly and Glenn Thompson. Just as the U.S. Senate has 50 seats, so does Pennsylvania, along with 50 separate districts led by people such as Sean Wiley and Michele Brooks.
Further down the line are state representatives. Erie County is a part of six different districts, with elected officials like Ryan Bizzarro and Curt Sonney.
U.S. senators serve six-year terms, with state senators serving four-year terms, while U.S. and state representatives serve two-year terms. Your ballot will feature one race for each office. This year, there will be two senators and two representatives to vote for.
U.S. House of Representatives
Erie County residents live in either the 3rd or the 5th Congressional District. The 3rd is served by Republican Mike Kelly, a former car dealer from Butler County, who is running unopposed for his fourth term. An ardent Trump supporter, Kelly is assigned to the House Ways and Means Committee.
The 3rd District runs from Lawrence Park to Ohio and down the I-79 corridor to Butler. The city of Erie is part of the 3rd as well, as are sections of Millcreek, torn along East and West Grandview Boulevard.
The 5th District splits the county, with Summit Township, Harborcreek, Edinboro, and Waterford making up the westernmost section. There, Republican Glenn Thompson is seeking his fifth term in office. No stranger to mandates, his congressional elections have averaged him a winning margin of 27.75 percent. The Howard Township resident chairs the House Agriculture Committee Subcommittee on Forestry, Conservation, and Energy, as well as committee assignments to Agriculture, Education and the Workforce, and Natural Resources.
Democrat Kerith Strano Taylor is running against Thompson as she did in 2014. Taylor is an attorney from Jefferson County with a background in children's services.
Pennsylvania State Senate
Pennsylvania State Senate's 49th Senate District is housed primarily in the upper area of Erie County from West Springfield to North East. There, Democratic Sen. Sean Wiley is seeking reelection for Pennsylvania's General Assembly. During his tenure, he has been assigned to numerous committees, serving as Chairman of the Banking & Insurance Committee and the Intergovernmental Operations Committee (as well as contributing columns to the Erie Reader's "Harrisburg Happenings").
Both Wiley, 45, and his opponent, Republican Dan Laughlin, were born in Erie and reside in Millcreek. Starting in construction, Laughlin helped form Laughlin Builders, as well as Waste Away disposal. The 53-year-old chooses to distance himself from establishment politics, reacting against Gov. Tom Wolf's budget.
The 50th District encompasses the southern half of Erie County, as well as Crawford, Mercer, and parts of Warren counties. Republican Michele Brooks is up for reelection in 2020.
Pennsylvania State Representatives
Erie County is home to six of Pennsylvania's 203 legislative districts. The 1st District comprises much of the east side of the City of Erie and is served by Democrat Patrick Harkins, 52. A former UPS driver and Judge of Elections, Erie-born Harkins serves on seven committees (chairing two) and is running for his sixth term.
Republican challenger William Crotty, 29, is running for the second time against Harkins. Crotty formerly worked at the radio station HAPPI 92.7, and is member of the Wesleyville Borough Council.
Our state's 2nd District has been represented by Florindo "Flo" Fabrizio since 2002. Having run unopposed in the Democratic primaries for 14 years, Fabrizio is seeking an eighth term at the age of 71. The district houses Summit Township, Belle Valley, and much of Erie's west side. Fabrizio serves on the House Policy, Rules, and Health committees (chairing Health).
Running against him is Republican Pat Fuller. Besting Michael Pace in the primary, Fuller, 42, is a customer service specialist and longtime supporter of the GOP.
Pennsylvania's 3rd District is made of up Millcreek, McKean, and Washington townships, including Presque Isle and Pennsylvania's portion of Lake Erie. Running for a third term is Democrat Ryan Bizzarro. Sworn in at age 27, he was the youngest member of the 197th session.
Pennsylvania's 3rd District is made of up Millcreek, McKean, and Washington townships, including Presque Isle and Pennsylvania's portion of Lake Erie. Running for a third term is Democrat Ryan Bizzarro. Sworn in at age 27, he was the youngest member of the 197th session. Bizzarro serves on six committees (as an officer in three), and is a member of 10 different Pennsylvania caucuses.
Bizzarro's opponent, Greg Lucas, 56, was a former State Representative for Pennsylvania's 5th, before it was redistricted to Berks County in 2014. Similar to Laughlin, Lucas is a contractor. He was born in Edinboro, later serving as its mayor.
On the eastern side of Erie County, we see Pennsylvania's 4th District. From North East to Union City, the district is represented by Curt Sonney. He is the third former contractor on this list, and is a member of the United Auto Workers Local 832. Running for a seventh term, the Republican found himself unopposed in April's primary. He goes into the general election unopposed, as well.
Erie County's portion of the 6th District is comprised of Fairview, Franklin, and Elk Creek townships. Much of Crawford County's central region makes up its lower half. Republican Brad Roae of Meadville has served the area since 2007. Roae, 49, serves on the House Finance, Human Services, and Insurance and State Government committees.
Running for his sixth term, the conservative Roae is challenged by Democratic newcomer Peter Zimmer, 29. Having worked at the Voodoo Brewery, Zimmer is an advocate for healthy food and worker's rights, and other progressive concerns.
The westernmost side of Erie County hosts the state's 17th District, from West Springfield and Girard, down to Conneaut Lake, Jamestown, and New Wilmington. Democrat Parke Wentling is seeking a second term for the House. Wentling, 43, was a teacher before going into politics. The Mercer County native serves on the House Game & Fisheries, Human Services, Local Government, and Tourism & Recreational Development committees.
Returning to challenge Wentling is former District Judge Wayne Hanson. The Conneautville Republican and Marine Corps veteran is 73. Hanson ran against Wentling in 2014, and is also a former teacher.
In addition to the standard races, there will be a proposed constitutional amendment concerning judicial retirement age. A "yes" vote will raise the age limit for retirement from 70 to 75.
So there you have it! This is, of course, only the tip of the iceberg. If you want to know more about any candidate, they're usually only a few mouse clicks away. The good thing is, you still have plenty of time to do your homework.
For list of candidates, go to http://www.eriecountypa.gov/media/462333/2016-official-general-candidates-list-update.pdf

For interactive maps showing your district, go to http://www.redistricting.state.pa.us/Maps/index.cfm
Visit a few of the campaigns online: 
Senate:
Katie McGinty - http://katiemcginty.com/
Pat Toomey - https://www.toomeyforsenate.com/
Attorney General
Josh Shapiro - https://www.joshshapiro.org/
John Rafferty - http://www.raffertyforag.com/
Auditor General 
Eugene DePasquale - http://www.eugene4pa.com/home.html
John Brown - http://www.brownforag.com/
Treasurer
Joe Torsella - http://www.joetorsella.com/
Otto Voit - http://www.voitforpatreasurer.com/
U.S. House of Representatives
Mike Kelly - http://www.mikekellyforcongress.com/
Glenn Thompson - http://www.friendsofglennthompson.com/
Kerith Strano Taylor - http://kstforcongress.com/
PA State Senate
Sean Wiley - http://www.votewiley.com/
Dan Laughlin - http://www.votelaughlin.com/
Nick Warren can be contacted at nick@ErieReader.com.