United Way Kicks off Free Tax Service
Let the United Way of Erie County make your tax season a little easier this year.
January 23, 2015 at 2:00 PM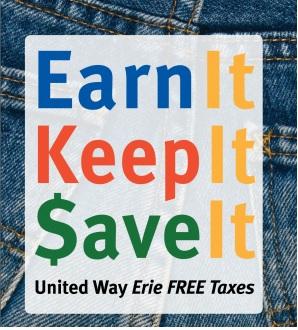 Tax season is coming rapidly upon us, which for many means a headache of paperwork and documents. While some opt to hire a professional to help them through the process of filing a tax return, many of us don't have that as an option. Thankfully, the United Way of Erie County is here to help.

On Saturday, January 24, the United Way will kick off its United Way's Super Saturday EITC Awareness event, providing free tax filing assistance for those whose income is less than $53,000 annually. The service includes: federal, state, and local taxes, and will be conducted by IRS-certified volunteer tax preparers. Also in attendance will be Gary Lee, the Director of Administration for Erie County government. There will also be light refreshments available, making the otherwise taxing event a little more enjoyable.

The event is by appointment only, so call 1.888.829.5680 to make your reservation. The event will be held in the United Way of Erie County office, located at 420 W. Eighth Street, Suite 200, and will take place from 9 a.m. until 1 p.m. Last year the program helped over 5,100 people gain over $7.9 million in federal refunds, so don't miss out on this opportunity.