Upfront: Cory's on vacation
Cory's in Vegas. He told us he's doing research for some past and future columns. Luckily he left us a maze for us to entertain ourselves. Try it out.
June 23, 2011 at 10:21 PM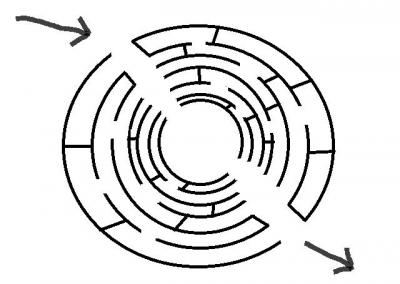 Cory Vaillancourt is vacationing in Las Vegas this week; in lieu of his regular column, he submitted this challenging maze. See how long it takes you to complete it! Time yourself, and compare your results to the chart below to find a frank evaluation of your intelligence!
-          60 seconds:        Never read my column again, please.
-          30 seconds:        Going to pre-school still?
-          10 seconds:        Give yourself a pat on the back. With a knife.
-          5  seconds:          You must be some sort of rocket surgeon.
-          1 second:             Up here it's lonely, like Rick Astley.
Cory Vaillancourt is a brilliant writer/complete hack and can be complimented/heckled at cVaillancourt@ErieReader.com.