UPFRONT: Obamacare is in the hands of machete-wielding maniac
It's not just a devil in disguise, and all they can do is run, run, run.
February 29, 2012 at 9:00 AM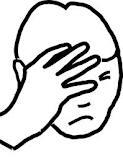 In early February, an elderly man, his elderly wife, her elderly sister, and her presumably elderly friend were undoubtedly surprised to see 28-year-old Rastafarian gardener Vedel Browne in their home; he was uninvited and carrying a machete, which was not for gardening. Allegedly, Browne then proceeded to weed the greens from their wallets – about a thousand bucks – and make haste into the dark Nevis night, unaware of his fleeting brush with one of the world's most powerful people, U.S. Supreme Court Justice Steven G. Breyer.
Vedel Browne had no idea who he was robbing; he also had no idea he would star in a future UPFRONT by starting a discussion about the relative lack of security for a group of men and women known affectionately as "The Supremes." Okay, I made that last part up. The first part of the last part. The part about affection.
As we learned that early-February morning, Justice Breyer's security detail consisted of exactly zero Navy Seals. Zero Secret Service. Zero Marshalls. Zero guns. Zero, Zero, Zero, Zero; only a facepalm.
But wait, there's more facepalm! Justice Clarence Thomas is a well-known RV enthusiast; he and wife Ginny are on the road so frequently that they're like Jack Kerouac plus Willie Nelson minus weed. Amazingly, they often spend the night asleep at highway rest stops – unguarded. Zero F-22s. Zero AC-130s. Zero Jetpacks. Zero missiles. Zero, Zero, Zero, Zero. Still, just a lonely facepalm at an isolated truck stop 90 miles from nowhere.
Justice Souter was mugged by the world's fastest criminal while jogging. Facepalm. Justice Ginsburg had her purse snatched. Facepalm. Best-named Supreme Byron "Whizzer" White even took a face-punch back in the day (facepalm is the new face-punch). In Washington, D.C. – which, as they say, is Hollywood for ugly people – one can see them driving by, the Supremes, in their own shocking anonymity, probably texting at stop signs and getting honked at by angry commuters.
Given America's embarrassingly Third-Worldish history of assassinating our own presidents, we might want to rethink this facepalm strategy towards the Supremes. America's pretty good at that sort of thing, you know, the assassinations; there have been four successful attempts since 1789, which works out to about one every 55 years. If you include serious-yet-unsuccessful attempts, like the one that targeted President Ronald Reagan in 1981, that average drops to about 1 every 13 years.
Now, I'm no big-government liberal, but considering that it appears far easier to knock off a Supreme than a president, we ought to give the Supremes the same protection the president gets. After all, they wield just as much power as the president or the legislature. Additionally, there are only nine Supremes; they are awfully rare and hard to replace. Moreover, with the Supreme Court's ruling on constitutionality of President Obama's Affordable Care Act –"Obamacare" – expected by July, we'd better charge someone with the task of protecting these people; Vedel Browne could have unknowingly blundered his way into history as the Rastafarian gardener who hacked Obamacare into tiny indistinguishable pieces.  
Cory Vaillancourt is a brilliant writer/complete hack and can be complimented/heckled at cVaillancourt@ErieReader.com.