Upfront: Trick'd by the Mayor
Thoughts on pogs. And other stuff. Including the four-day street festival that is CelebrateErie.
August 6, 2014 at 4:45 AM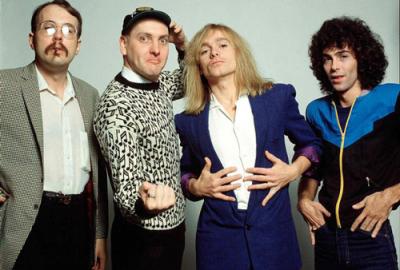 Here in Erie, when we're not demolishing historic buildings, running rail terminals out of town, converting our Bayfront bluffs into billboards, conducting futile feasibility studies, manufacturing clinical depression, utilizing each other for target practice, watching our largest employers leave town, or giving ourselves awards for doing nothing, we hold really sad little low-brow festivals.
CelebrateErie runs from Aug. 14 to 17. There's a country act (Sawyer Brown), a crappy cover band (Michael Jackson), and fireworks. And, oh yeah, there's also a Saturday night headliner - the centerpiece of the whole shebang - that I've skewered Mayor Joe Sinnott for every single year I've had the pleasure of writing this column. Which now is four.
I've previously expressed my displeasure at the fact that he's subjected us to washed-up C-list acts that haven't been relevant since long before pogs were cool; their artistic integrity has been questionable at the very least, laughable at worst, and the majority of you, dear Reader readers, have agreed with me on that point.
There have, though, been rumblings that Mayor Sinnott has been less than pleased with my critique of this festival, even though I feel like I've given him a pretty fair shake overall.
Sure, CE sucks, but I've said this before, and I'll say it again: I think Mayor Sinnott has done a fairly decent job keeping the good ship Erie afloat during stormy weather, and in a town where progress is measured by how little we've lost — not by how much we've gained — he's ably captained that ship into that same warm and comforting cove of mediocrity that most of the mouth-breathers in town have come to know and love over the past 40 years.
So as I sat down — for the fourth year in a row — to sling my arrows at him for choosing yet another fossilized Crap-Rock band, I figured it'd be a turkey shoot.
And damned if he didn't trick me. He tricked me with a treat.
I learned months ago that Kansas is at the Indiana State Fair the weekend of CE, Ace Frehley is safely sequestered somewhere in outer space, and Brett Michaels is in Virginia, which is where I'd like him to stay; however, my money was still on .38 Special or Night Ranger or possibly even Creed making an appearance, so I thusly prepared my screed.
But he tricked me. He tricked me with Cheap Trick. Which is a band I happen to enjoy.
Not only are they from Illinois like me, but unlike me, they're an extremely significant rock act with a 40-year history of producing great music and influencing, oh, just about every band you probably love, if you love bands like Everclear, Foo Fighters, Green Day, Hüsker Dü, Jet, Kings of Leon, Pearl Jam, Red Hot Chili Peppers, Slipknot, Smashing Pumpkins, Soundgarden, Stone Temple Pilots, Urge Overkill, or Weezer, just to name a few.
So this year Mayor Sinnott snatched that arrow out of my quiver and broke it over his knee and in all likelihood said, "Ha! Take that! A relevant and influential act! Muhuhahahahahaha!"
While I'd like to pretend that he actually gives a rip about my opinion, I'm pretty sure he doesn't, because the fest hasn't been a financial failure and it does what it's supposed to do, which is make you look at Highmark and Erie Insurance banners for four straight days.
However, I do have at least one more arrow in my quiver, so let me bring you to the point.
By definition, CelebrateErie should be the biggest thing this town does every year. And it is. And that's really sad.
The purpose of the thing is not only to show our city to the rest of the country but also to remind ourselves why we still live here, even though we value parking lots over architecture and we value peace and quiet over the comforting hum of industry and we value topiary advertisements over natural beauty and we value groupthink over real action and over on the east side — over on the east side, every night is fireworks night.
And if this is the best that Erie can do, it's no wonder our population's been flat since the 1970s. You see, brain drain is still very real, and the majority of young people in this town have no idea who Robin Zander, Rick Nielsen, Tom Petersson, and Bun E. Carlos even are. Most of these kids with Master's and Bachelor's weren't even born when pogs were cool.
Granted, I can probably convince them that this is an aberration in the grand march of crap-rockery we're used to seeing, and probably persuade them that, as an extremely discriminating music connoisseur who is nearly 40 and who also does a fair bit of music writing, Cheap Trick is worth their time. Bigtime.
What I can't convince them of, however, is that — based on the sordid history of this entire event — it will be this good next year, and every year, and that they should consider putting down roots here because our "bread and circuses" approach to crime and drugs and jobs and sprawl and blight is better than anywhere else's. If I convinced those pre-pog post-pubescents that this year's CelebrateErie was the norm, next year, they'd walk away feeling, well... Tricked.
Cory Vaillancourt is a brilliant writer/complete hack and can be complimented/heckled at cVaillancourt@eriereader.com. Follow him on Twitter @VLNCRT.